Events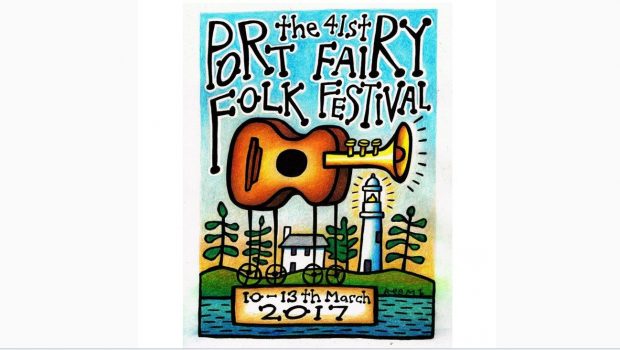 Published on October 5th, 2016 | by Admin
Port Fairy Folk Fest second lineup announcement
The much loved annual Port Fairy Folk Festival promised a melting pot of diverse musical talent for its 41st edition, and if the second lineup announcement is anything to go by, they've delivered just that.
Subscriber tickets sold out in a super quick twenty-one hours, early-bird tickets were snapped up within two weeks and with plenty more acts still to be announced, Port Fairy is at it again!
Running from 10 – 13 March 2017, the beautiful south west coastal village of Port Fairy will play host to an array of local musical masters, including the new announcement of Paul Kelly & Charlie Owen, The Warsaw Village Band, Cookin' on 3 Burners with Tex Perkins & Stella Angelico, and a very special event: Van Morrison's 'Masterpieces', presented by Vince Jones & The Astral Orchestra, which pays homage to two of Van's most acclaimed albums Astral Weeks and Moondance.
Having already unveiled the likes of Deborah Conway & Willy Zygier, Gawurra, Natty Man & Gara, The Pinks play the Blues, Sarah Carroll & the Left Wing, Tash Sultana, singing sister sensations Vika & Linda and festival favourites The Waifs, other national names to now be added to the line-up are Bennett, Bowtell & Urquhart, Mick Thomas & The Roving Commission, Neil Murray, Suzannah Espie, Kerri Simpson, Barb Waters & Alison Ferrier, Melody Pool, Jemma & The Clifton Hillbillies, Fem Belling, Yirrmal, Low Down Riders and Miss Amber & Stukulele.
Further to our pool of Australian performers, some impressive international acts have been added to the line up, including the UK's Roo Panes, Ireland's The Young Folk, Canada's Les Poules a Colin and the Netherlands' Bazzookas all making their Australian debut. Other international guests include Arctic ensemble The Jerry Cans (CAN) who have taken Australia by storm since the success of their performance at WOMADelaide last year, the much loved Seamus Begley Trio (IRE) and Phil Wiggins (USA) playing sets with Australia's own Dom Turner. Also just announced are Martha Tilston (UK), Buckman Coe (CAN), and The Chipolatas (UK). They join previously announced international acts including Patty Griffin (USA), Mundy (Ireland), Manu Dalago (Austria) and many more. Check out the full line up online at www.portfairyfolkfestival.com/artists/
With the first two ticket releases – as expected – selling out extremely quickly, punters are encouraged to snap up their festival pass as soon as possible to guarantee a long weekend of arts, music and colourful culture like nothing before. Book now at www.portfairyfolkfestival.com/tickets/
Van Morrison's "Masterpieces" Presented By Vince Jones & The Astral Orchestra
Vince Jones has invited a selection of the country's finest jazz/rock musicians to form The Astral Orchestra, lead by Music Director, Matt McMahon to join him in this homage to two of Van's most acclaimed albums; the magical Astral Weeks – a poetic, mercurial blend of jazz, folk and blues – and the soul/jazz influenced Moondance. Vince Jones has set the benchmark for Australian jazz vocalists/musicians across a 20 album international career, and his Celtic/Jazz/Blues influence provide the perfect blend for is reading of two of contemporary music's greatest works. Having just recently sold out the Melbourne Recital Centre and Sydney's Recital Hall, Port Fairy is delighted to be presenting this project in its entirety in 2017.
http://vincejones.com.au
Roo Panes (UK)
Since releasing his debut album Little Giant in 2014 to critical acclaim, Roo Panes has racked up an excess of 35 million plays on Spotify and over a million total YouTube views. He has been described by Uncut as a 'Britfolk pin up' whose music "taps a deep well of folk heritage." Q Magazine has said Panes finds "a positive message in thoughts best left in the dark of night." New album 'Paperweights', is equally truthful, with a sound matured, richer but no less authentic.
Watch Roo Panes here
http://www.roopanes.co.uk
Suzannah Espie, Kerri Simpson, Barb Waters & Alison Ferrier
Award winning singer songwriters Suzannah Espie, Kerri Simpson, Barb Waters and Alison Ferrier combine forces with soulful voices, fine playing and songs about raising children and raisin' hell! Having performed sold out concerts to captivated audiences, in the round Kerri, Barb, Ali and Suzannah recount self-penned stories in song about everyday experiences, embellishing each other's work with rich harmonies and instrumental textures, and bringing along a great sense of empathy, fun & camaraderie.
www.suzannahespie.com.au | www.kerrisimpson.com | www.barbwaters.net | www.alisonferrier.com
Bennett, Bowtell & Urquhart
Country luminaries Kevin Bennett, Lyn Bowtell & Felicity Urquhart have joined forces to present Bennett, Bowtell & Urquhart who released their debut self-titled Album at the 2016 Tamworth Country Music Festival. They have recently performed at Norfolk Island Country Music Festival and Gympie Music Muster, and are currently touring nationally in support of their debut album release. 'BBU'is a devastatingly good collaboration – not to be missed under any circumstances! For Port Fairy Folk Festival 2017 they will be joined by Glen Hannah on guitar and dobro.
Watch Bennett, Bowtell & Urquhart here
http://lynbowtell.com.au