Games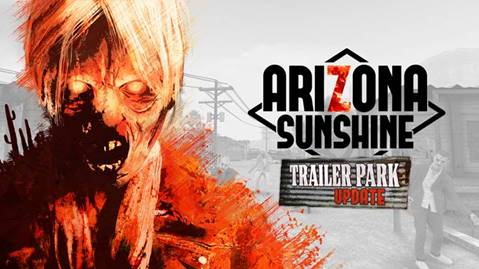 Published on December 12th, 2020 | by Adrian Gunning
Popular VR Zombie Shooter Arizona Sunshine Gets New Horde Mode Map: Trailer Park
Vertigo Games and Jaywalkers Interactive have announced they are adding a brand new horde mode map to the platinum selling VR zombie shooter Arizona Sunshine. This free content update is set in the grungy Trailer Park, one of the more advanced campaign environments of Arizona Sunshine and will arrive on Oculus Quest on December 15, 2020, with a release on major PC VR headsets and PlayStation VR to follow in early 2021
The free Trailer Park map is an entirely new content update for the evergreen zombie shooter Arizona Sunshine, one of virtual reality's first full-feature games. Earning over $1.4 million dollars worldwide in its first month of release, Arizona Sunshine has since brought a slew of content updates and story expansions to fans across all major VR platforms – most recently an overall graphical enhancement for the Quest 2 – and continues to top the charts today as a VR favourite.
The Trailer Park horde mode map will transport up to four players to a closed off-area set in a grungy lot full of scruffy old trailers. Gather your fellow survivors and watch each other's back as you scavenge the rundown trailers for precious loot and explore the alleyways and narrow side streets in a map with many places to hide… or get ambushed. Stand your ground against wave after wave of undead Freddies for as long as you can.
This December, Vertigo Games is celebrating Arizona Sunshine's 4th anniversary with a global contest. For a chance to win an Oculus Quest 2 headset and a whole horde of Arizona Sunshine goodies, visit http://arizona-sunshine.com/horde-mode-challenge-2020/.
If you don't have this must have VR title yet, you can get Arizona Sunshine on all major VR platforms for $59.95 SRP. For more news about Arizona Sunshine, find us on Facebook, Twitter and Instagram and subscribe to the newsletter at arizona-sunshine.com.