Events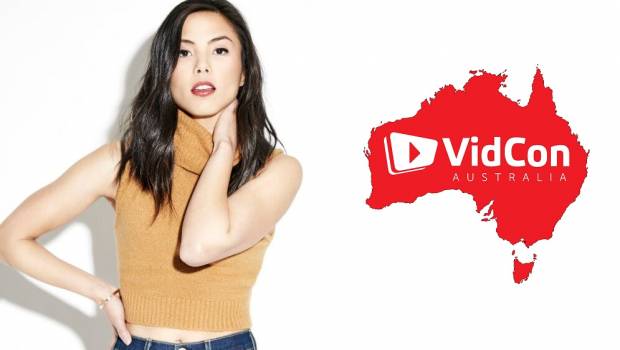 Published on April 26th, 2018 | by Admin
POPULAR SOCIAL MEDIA STARS SKETCHSHE, TANYA HENNESSY, MACDOESIT AND MORE JOIN DRAW WITH JAZZA AND CAKES BY CHOPPA FOR VIDCON AUSTRALIA 2018
MELBOURNE (26 April, 2018) – Top YouTubers and online video creators from Australia, New Zealand, and the United States — with millions of fans and subscribers between them worldwide — are today confirmed as part of the exciting lineup for VIDCON AUSTRALIA 2018.
The latest lineup of video creators who will be present at VidCon Australia from 31 August to 2 September includes Damielou Shavelle, AJ Clementine, Shaaanxo, Lana Kington (SketchSHE), Alright Hey, Maaz, Maya Cumming, Brianne Worth, Jayden Rodrigues, Jordan Sweeto, Eystreem, Tanya Hennessy, Armando Hasudungan Faigl, AngelMelly, Christian Hull, MacDoesIt and Study With Jess.
Each with their own niche, ranging from beauty and fashion to comedy, dance and esports, they have turned creativity into a career and built enormous followings through showcasing their hobbies and sharing relatable aspects of their personal lives online.
The content creators named today join the initial line-up, announced in earlier this year, which includes Ashly Perez (itsashlyperez), Jazza (Draw with Jazza), ChoppA (Cakes by ChoppA), Mathew McKenna, Shae-Lee Shackleford (SketchShe), Anna Akana, Damian Parker (HeyoDamo), Safiya Nygaard, Georgia Productions, Hannah Hart and Hank Green, with more YouTubers announced each month.
Set to return to the Melbourne Convention and Exhibition Centre from 31 August until 2 September, VidCon is the world's largest celebration of online video. Its incredible Australian debut in Melbourne last year resulted in thousands of millennials descending on Australia's creative capital to meet their favourite online stars to learn and create together.
Fans, burgeoning online video creators, and industry professionals alike met at the Melbourne Convention and Exhibition Centre to bring this robust online video community together 'in real life'.
This year, legions of loyal fans will have the chance to meet their favourite online video creators once again at VidCon Australia. Upwards of 7,000 people, from across the country, are expected to attend this massive online video event over the course of the weekend.
At VidCon Australia, these online video stars will participate in a range of Q&As, discussions, interviews, meet and greets, demos, workshops and more. The wealth of content on offer will be carefully curated with a view to inform and educate video creators, fans, and industry professionals alike.
Jim Louderback, VidCon General Manager, said: "It's incredibly exciting to showcase the Southern Hemisphere's most popular and successful social media stars who have found new ways to engage audiences and are now considered key opinion leaders in their individual fields," he said.
"YouTubers, online video creators, and social media stars are now viewed as the new 'celebrities'. Amongst their Millennial and Gen Z followers, they are deemed more accessible and relatable than traditional celebrities, and are far more influential," Mr Louderback said.
VidCon offers a three-track ticketing format, designed to appeal to all levels of interest.  The Community Track is designed for people interested in online video, its creators, and its culture, while the Creator Track is for anyone interested in the more involved ins-and-outs of online video culture, or those looking to create better content, grow their channel, break into the industry, and meet fellow creators.
Finally, the Industry Track is for attendees affiliated with online video in any professional capacity, including anyone who is part of a production company, network, channel,
advertising agency or who works in talent management, software development, branding, sponsorship, venture investment, etc.
Tickets for VidCon Australia are on sale now at vidconaustralia.com
MELBOURNE CONVENTION AND EXHIBITION CENTRE
FRIDAY AUGUST 31 – SUNDAY SEPTEMBER 2