Games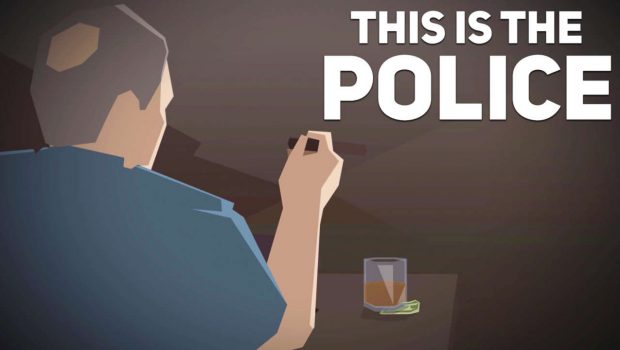 Published on March 9th, 2017 | by Admin
This Is the Police – new trailer shows why console gaming rules big time
Vienna, Austria/Minsk, Belarus – March 8th, 2017: You've heard the news before. Indie smash hit This Is the Police will make its debut on Xbox One and Playstation 4 on March, 22nd 2017 following its release on PC, Mac and Linux in August 2016.
Today, developers Weappy and publisher THQ Nordic have released a new trailer, pointing out all the advantages console gaming can have, compared with the good ol' PC.
About This is the Police
This Is the Police is a strategy/adventure game set in a city spiraling down the drain. Taking the role of gritty Police Chief Jack Boyd, you'll dive into a deep story of crime and intrigue. Will Jack reach his retirement with a nice stack of bills, or will he end up broken … or worse?
Your mission is clear: make $500,000 in 180 days, before Jack Boyd reaches retirement. How? That's up to you!
Decisions, decisions! This Is the Police is all about a dark story and how you react to it. Whatever you decide, your choices will influence the game – and the fate of Jack Boyd.
The Good, the Bad, and… the Ugly? The Chief of Freeburg's Police Department deals with all kind of people. It is up to you to find the bad guys, and decide how to deal with them.
Carry out your duties. As head of Freeburg PD, Jack deals with all sorts of challenges every day: responding to emergencies, managing his officers, defending the department against City Hall and a corrupt mayor, and much more.
Solve Investigations and gather evidence against the criminal gangs of Freeburg.
Deal with the competing powers of the city. Everyone offers you favors, and each one comes at a price.
Rich and fully voiced story: Jack Boyd is portrayed by Jon St. John, the voice of Duke Nukem.
This is the Police is now available for PC, Mac and Linux. The game will be released on PlayStation 4 and Xbox One on March 22nd, 2017 as a digital download and at physical retail.