Hardware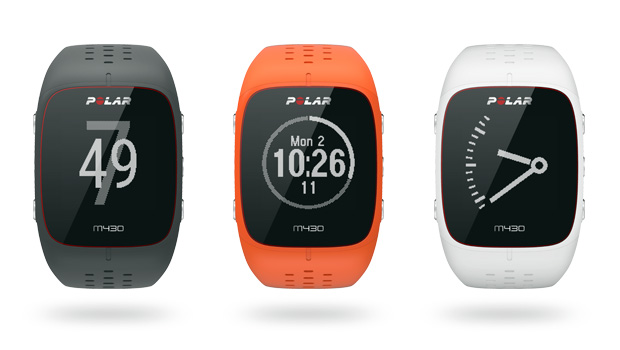 Published on July 10th, 2017 | by James Wright
Polar M430 Running Watch Review
Summary: The Polar M430 Running Watch is fitness tracker for running purists!
Polar have recently released their new GPS Smart Activity Tracker, the M430 GPS Running Watch which specifically targets runners, however anyone interested in fitness will find this product a good 'fit', especially if they engage in outdoor activities. So although it does all the jazz of tracking steps, distance, calories, sleep and daily goals, the running element of this product is where it shines and it shines very well. Besides this smart running watch, the only other thing you need is an app on your smartphone and once you have this, you're ready to start getting and keeping fit.
Besides the integrated GPS, the Polar M430 has an inbuilt heart rate monitor plus a wealth of smart features like sleep monitoring and notifications from your smartphone. However one of the best elements of the Polar M430 is the GPS functionality which increases the scope of how this product monitors your fitness regime that in essence turns it into a virtual coach. More importantly, you don't need your smartphone while training outside as the Polar M430 does all the work. It also serves as a motivator because nothing is more satisfying than getting back home and checking out where you ran with all the useful statistics to help achieve your goals.
What's In The Box?
1 x Polar M430 running watch
1 x Custom USB cable
1 x Getting Started guide
The first thing I noticed about the M430 out of the box is that it's quite a sturdy and well-designed product that only weighs 51grams with a thickness of 12mm. Overall, It's quite a low impact design which means you will hardly notice that you're wearing it. Although the screen is not colour, the resolution is 128 x 128 pixels that boasts sharp images and text, even in relatively bright conditions. Sure it may not have the bells and whistles of a true smart watch but that's not the goal here, it's all about running. The breathable strap which comes with the M430 is quite comfortable to wear and as its waterproof, it's easy to wash after exercise.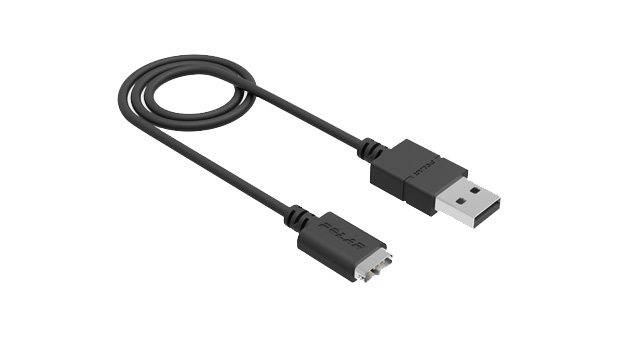 The battery of the Polar M430 Running Watch is a rechargeable 240 mAh lithium polymer battery that comes with its own proprietary USB cable. The only downside of a proprietary is that you can't just replace it should you lose it but that is a very small negative. Furthermore, the battery will give you at least 8 hours of constant GPS usage, however by tweaking the settings, you can get up to 30 hours if you reduce how the GPS logs your destination. Given that and with a few runs here and there, I did get just over 6 days of use which included smartphone notifications.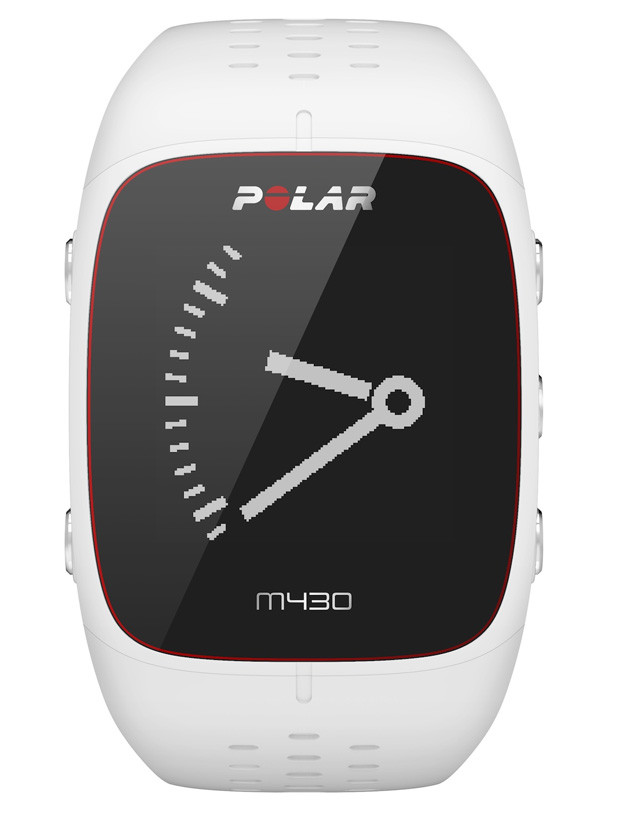 The appearance of the M430 does scream sports watch with a touch of Spartan thrown into the mix but all in all, Polar have really thought about the design well, especially when it comes to runners. Even though it looks relatively simple, I actually love the design and think it's a good looking smart running watch. Controlling the watch is via the buttons and unlike its competitors, there is no touch screen which is not really needed while running. Furthermore, the M430 is water proof up to 30 metres which means you can take this product swimming and it will sense this activity thanks to the in-built activity sensor.
Setting up the Polar M430 is a breeze and all you need to do is download the Polar app for either your Apple or Android device and then go through the wizard to pair the product with your smartphone via Bluetooth. As mentioned and after using this product religiously for the last few weeks, we found the buttons quite responsive and not as fiddly as a touch screen given its screen size.
So while the information from the Polar M430 sends the information directly to your smartphone once in range, this app gives you a plethora of statistics. You can even configure the main screen of the M430 to display information that is tailored to your fitness specifics. Further changes are made via the Polar Flow app, including adding other exercises like Pilates, Floorball, Core, Badmington, Treadmill Running or even Dancing.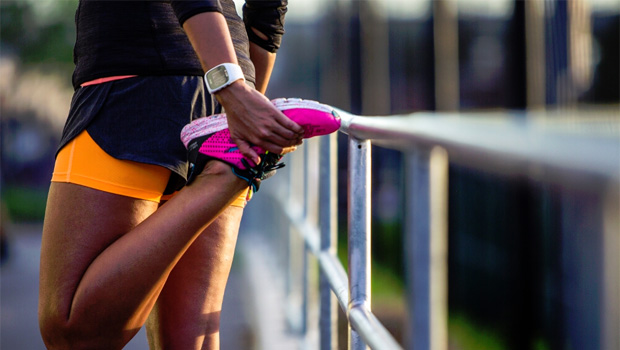 I like how Polar have included quick access to functions like Run Mode, checking out your fitness statistics for the day plus a very useful fitness test that uses the heart-rate monitor plus a clever algorithm to see how you're tracking. The heart rate monitor is quite useful which definitely helps with your overall fitness level and I love the ability of checking your heart rate at any time during the day. We also found the heart rate monitor one of the most accurate of the fitness smart watches and is quite close to a chest strap monitor. Another interesting element is that the optical heart rate monitor uses 6 LED's unlike some of its competitors that only have two or three.
Runners will be pleased with the various options for running and whether you're training for a marathon, it will calculate your targeted improvements which is ideal for pushing you to the next level, including what your maximum oxygen intake is or V02Max. So as you jump back into the Polar Flow app to see your statistics, it will give you a very detailed breakdown of your fitness activity that include duration, distance, average heart rate, number of calories burnt, minimum/maximum heart rate, percentage of fat burn, average speed, your speed measured in kilometres per hours, ascent/descent, average calories and your cadence maximum.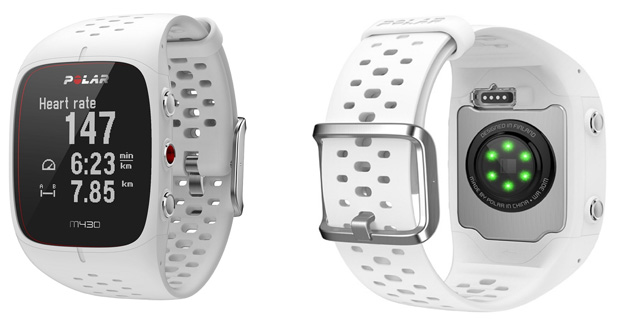 Unlike its competitors, the GPS element of the M430 was extremely accurate thanks to its integrated GPS with SiRFInstantFix™ satellite prediction technology. We ran around Deakin University in Waurn Ponds that has this excellent walking track around its campus and the M430 didn't miss a beat. I also like how it disables GPS if you're running indoor to save on battery.
With that said, the GPS capabilities of the Polar M430 works well and it only takes a handful of seconds to find the location. There were a few occasions that took around 10 seconds but for the most part, it found our location quite fast. So whether we were running in the Botanic Gardens in Melbourne or along the beach at Jan Juc, the M430 rarely faltered in finding our location.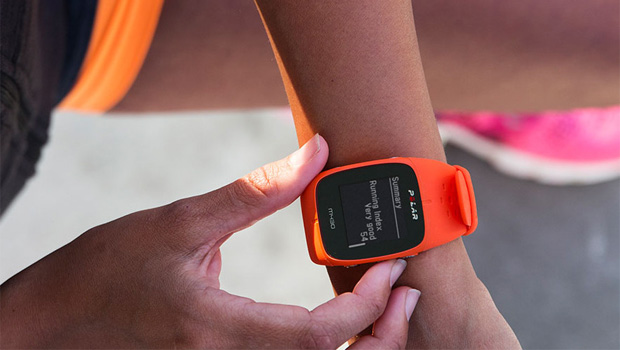 As mentioned, the Polar M430 has a sleep tracker that monitors your movements during the night that through their algorithms, it gives you an estimate (albeit a little rough) of how much time you have been asleep for. Although it's not the most accurate in monitoring your sleep, it's more than ample for most people to help fine-tune your sleep if possible which is all linked to your overall fitness and energy levels. As an alarm, the M430 has a vibration feature to help wake you or inform you that a notification has come through.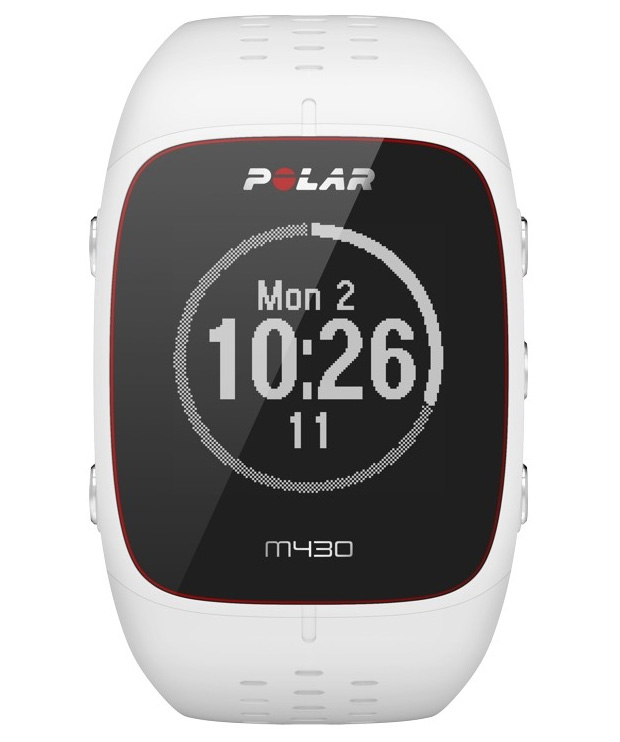 Final Thoughts?
So at its core, the Polar M430 Running Watch is a very adept GPS smart activity tracker for runners and if I could add something to this product it would be a colour screen and the ability to play music. However for fitness purists, more specifically runners, the M430 successfully ticks all the right boxes in order to fine-tune your fitness with this virtual coach.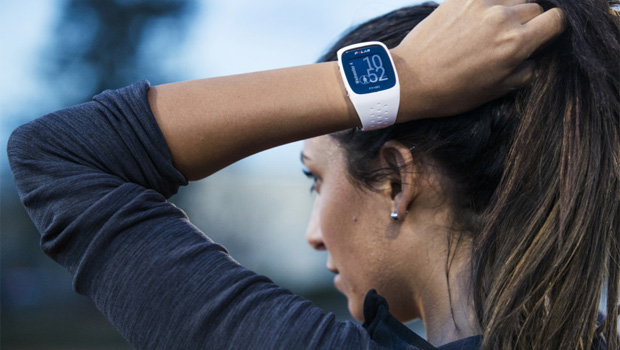 Polar M430 Highlights
No Straps
Polar M430 measures your heart rate from the wrist easily, accurately and reliably.
Run Wherever
Track your pace, distance and altitude with the integrated GPS. When you run indoors, Polar M430 tracks pace and distance from your wrist movements.
Fitness Made Easy
Polar Fitness Test with wrist-based heart rate tests your fitness level anytime, anywhere — no straps needed.
Sleep Plus
Sleep is vital to your recovery and overall well-being. With Polar Sleep Plus™ you get valuable insights to your sleep. Learn about the quality of your sleep, get to know your sleeping patterns and let good sleeping habits push you towards better performance.
Fitness test with wrist-based heart rate
A five-minute test that measures aerobic fitness from your resting heart rate, heart rate variability and your background information. Complete the test regularly to see the progress you're making.
Running Program
Train for a running event with a personal and adaptive training plan in Polar Flow. Choose from four different targets, 5K, 10K, half marathon and marathon, and get a training plan that fits you and your goals.
Running Index
Shows how your running performance is developing.
Training Load
Shows you how your training affects your body and helps you compare the load of different sessions. Monitor your load continuously to recognize your personal limits and adjust training intensity and duration accordingly. Available on Polar Flow.
Recovery Status
Shows you the time necessary for recovery before the next training session. Available on Polar Flow.
Wrist-based Heart Rate
Track your heart rate easily and accurately with the Polar proprietary optical heart rate measurement.
Advanced GPS
Polar M430's accurate and reliable GPS measures your speed, distance and route with precision. Thanks to the GPS power save mode, every turn gets tracked even on your longest adventures.
Indoor Running Data
When GPS signal is not available, Polar M430 measures pace and distance from wrist movements.
Activity Tracking
Stay on the move all day long. Polar M430 tracks steps, distance, calories and sleep and gives you a personalized daily activity goal.
Polar Flow
Plan, sync and share your training using the exclusive Polar Flow online service and app. All data is easily viewable.
Smart Notifications
Smart Notifications allow you to see notifications from your phone directly on the screen of your M430.
Sport Profiles
Polar provides over a hundred different sport profiles which enables you to choose the right one for your training sessions.