Hardware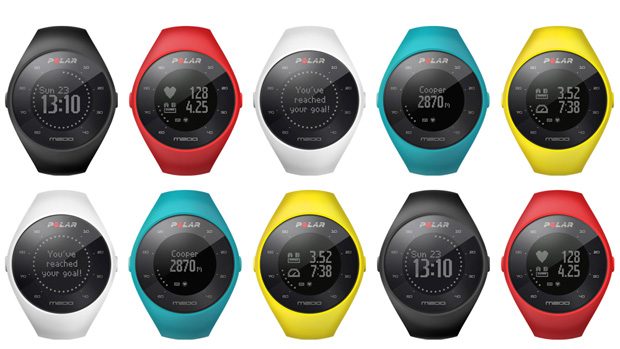 Published on November 2nd, 2016 | by Tony Smith
Polar M200 Review
Summary: The Polar M200 is not only affordable but offers some great training features!
4.7
Affordable sports action!
Welcome to Polar's latest sports watch, the M200 which boasts a wealth of features, including an integrated GPS, heart rate monitor and Smart Phone functionality but more importantly, it's quite affordably priced at just $199AUD (Nov 2016). Add in 24×7 tracking and if you're looking to monitor your health and fitness, Polar is on a real winner with the M200. Furthermore, it also looks the part as a sports watch and boasts other impressive features like a sleep monitor, calories burned and it's even waterproof!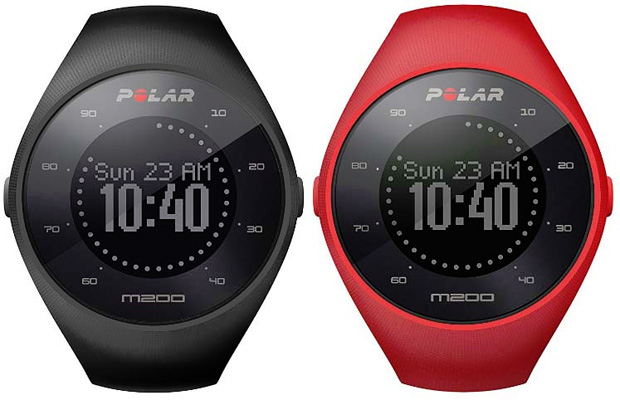 Box Contents
Polar M200 Watch
USB Charging Cable
Polar M200 Getting Started Guide
Installation of the Polar M200 is very easy and all you need to do is download the Polar Flow app for your Smart Phone and then sync the watch. Once done, the M200 silently monitors in the background with some great user functionality. I've used the Polar Flow app in the past and I must admit that it's one of the better activity apps because of how detailed it can be, not to mention it's quite user friendly. This allows you to track a variety of statistics such as daily activity, your sleep cycles and even how many calories you burnt during the day with minimum user input.
The Smart Phone integration also allows for smart notifications (including vibrate) such as text messages or if someone is calling. Unfortunately only part of the message is displayed and when training, notifications are disabled. If you have the Polar Balance Scale, the M200 also pairs with this device that once again helps with your overall fitness goals and health. However the biggest highlight of the Polar M200 is its integrated GPS which allows you to track your speed, distance and route via the in-built GPS. This means that you don't need your Smart Phone while going on a run. You can even setup a running program which can be tailored for the wearer whether that includes a 5km run or even marathon training.
This information and through the GPS functionality will then get stored on the M200 and once it finds your Smart Phone, it will then relay the information back to the app such as your heart rate, distance and even route taken. This then gets recorded in the history of the Polar Flow app so you can track your performance. If you've been sitting around for around an hour (55 minutes actually), the M200 will inform you that it's time to move.
Like previous Polar products, there are a variety of sport profiles available to the user which helps calculate your workouts that goes towards your daily activities. Another cool option of this device is that you can download further training plans via the Polar Flow app. Given that, there's some great training modes such as Core, Walking, Mountain Biking and even Swimming. There's quite a few great training options and as mentioned, additional ones can be downloaded to the M200.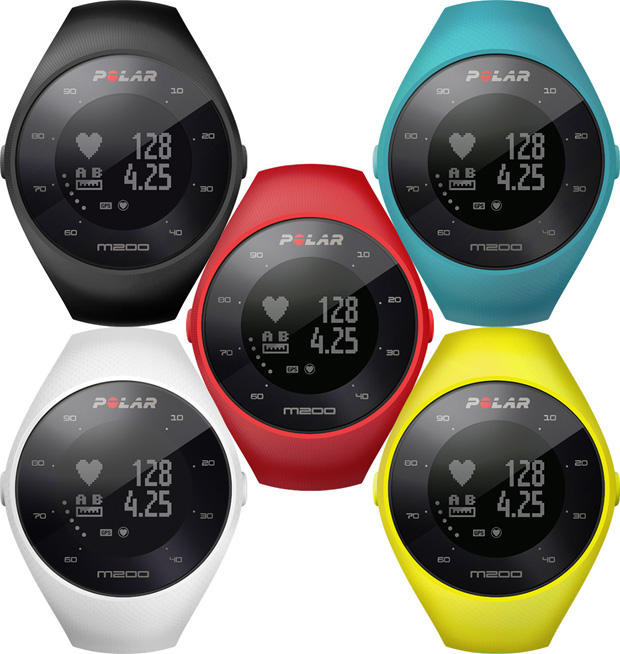 In terms of design, the M200 does look a little Spartan when compared to some other smart activity trackers but it's everything you want in a 'smart' sports watch. It comes in a wide range of different colours with Impulse Gamer reviewing the black version that also boasts an adjustable band. I also love how the M200 is waterproof which means you can go swimming or have a shower with this watch which is another highlight.
The circular face of the M200 does have that classic watch face and in terms of screen clarity, it is visible in a variety of different lights and conditions. In terms of controlling the watch, there are two buttons on the watch itself that include one to control the menus via short and long presses with the other used as a 'back' button plus syncing with your Smart Phone.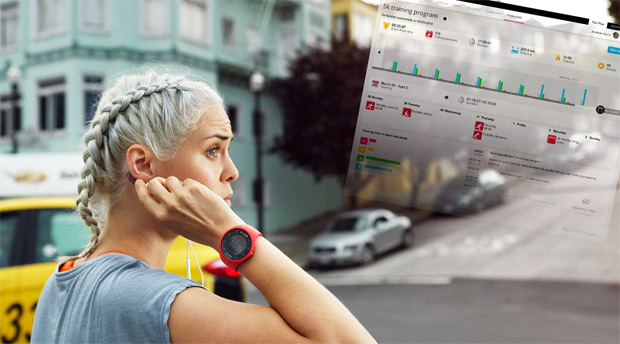 So by pushing the right button, you can directly access key menus of the M200 such as your training, history and of course settings. By pushing the button longer, it will access that certain area so the button pushing does take a little getting used to. As you may have gathered by now, there is not touch screen display which no real negative for me. Another cool part of the M200 is that you can change the wrist straps which really increases the longevity of this product.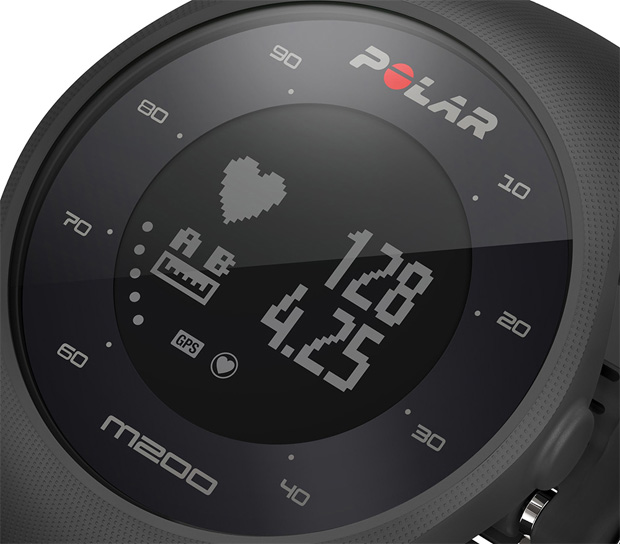 The battery life of the product is up to 6 days which is on par with other smart sport watches, however if you use the GPS more than an hour a day, this will affect the battery life and smart notifications also reduces it, including your Smart Phone battery so a little balancing is required on behalf of the user. I do like how the M200 uses a standard USB-A port for charging as well.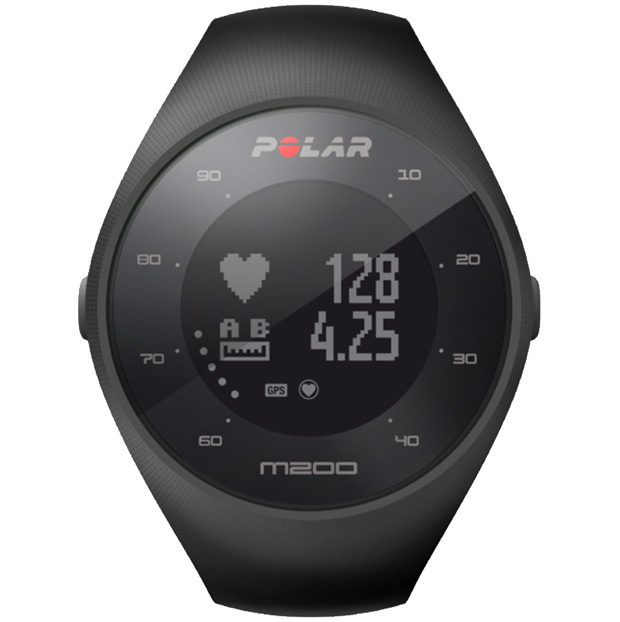 The watch will power down when not in use by disabling the screen, however this can be activated by moving your wrist or by pushing the buttons on the watch itself.  Although the watch is waterproof, it has not been designed for swimming as in recording these statistics but bear in mind, this product has been created with runners in mind. So while there is a swim profile, the app basically provides a guesstimate towards your daily activities.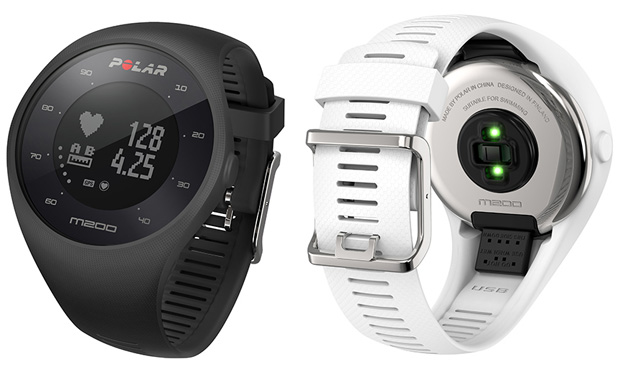 The heart rate monitoring which uses an optical reader is quite decent and we tested this feature with a chest strap and Polar have really made some advancements with their technology and almost mirrored the aforementioned product. Accessing the GPS functionality of the M200 was easy and once selected, it detected the satellite link quite fast and it commenced our monitoring. Where we were located, it easily picked up the signal and even when we took the Polar M200 to the beach for a run, there were no problems.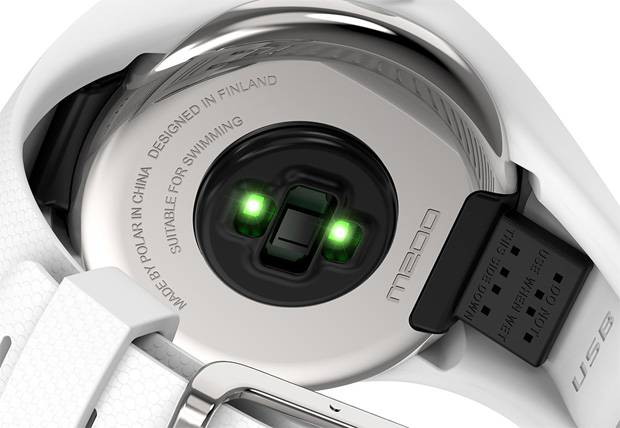 Final Thoughts?
The Polar M200 is an affordably priced sports watch that has all the bells and whistles of a higher end product and if you're a runner, this item definitely ticks all the right boxes. It's a well-designed product that as mentioned is waterproof and looks the part, without it being too geeky or outlandish. Add in a 2-year international warranty and with all the features of the M200, you have everything you need to keep fit and healthy. While working out, we also found the Polar M200 quite lightweight watch and given its waterproof, you can easily wash the watch after a workout.