Hardware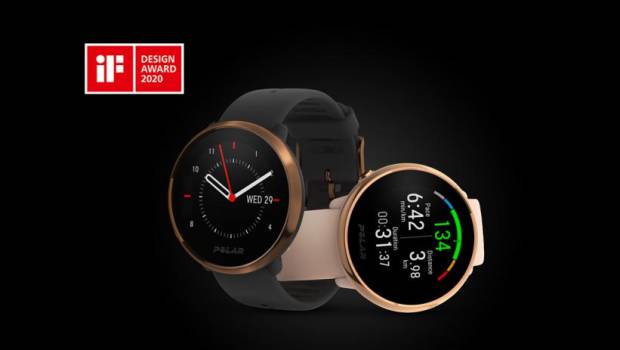 Published on September 22nd, 2020 | by John Furness
Polar Ignite Review: Light weight, Sporty and Packed with Features
Summary: The Polar Ignite is light weight, sport and packed with features!
The Polar Ignite manages to squeeze an enormous amount into its high value sports tracker.  I trialled the Ignite for 3 weeks and it felt like a significant upgrade on my Surge Fitbit.
While it might be argued that the Ignite is an entry level fitness tracker, at $349AUD, it is actually great value.  It has the standard functions found in most smart fitness trackers today… heart rate monitoring, step tracking and phone notifications …. but on top of this it punches well above its weight.  It is a genuinely waterproof fitness watch and offers great value for money through its integrated GPS, wrist-based heart rate monitoring, sleep tracking, multiple workout recommendations and impressive battery life.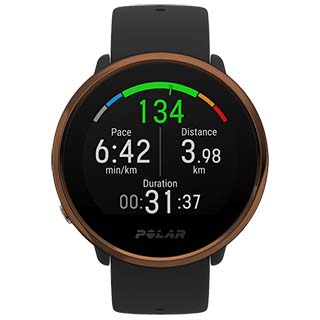 Build Quality and Screen Display
While the Ignite watch is definitely not a dress watch, it is a classy looking sports watch with a sleek face and rim making it suitable to wear to non-sport events or functions alike.  It has low bulk and is light weight so if you like the feel of a light, almost weightless watch on your wrist then it will be suitable for you. Weighing just 35gm, some might regard the thin silicon watch straps and simple design as a negative, but I personally find the minimalist slimline appearance part of its appeal.
The display on the Ignite is a 240 x 204 colour touchscreen which is very clear and bright and surrounded by a curved stainless steel casing.  The touchscreen is generally user-friendly but it can cause frustration at times due to its sensitivity.  It can be overly sensitive at times, and under sensitive at others.  Sometimes when you swipe for an activity the screen will overshoot and at other times you have to touch the screen several times to initiate a response.
Most interactions occur through use of the touch screen.  It does, however, have a single 'home' button on the side of the watch face which takes you back to the main face/time display when pressed.  Battery life is preserved up to 5 days through the watch's 'time-out' function where it reverts to a blank/dark screen when not in use.  A wrist gesture (tilting your wrist upwards), or pushing the home button wakes the watch up ready for use.  The reliability of this particular function has probably been the most frustrating part of the watch for me.  It could take up to 2-3 wrist turns to wake.   I would have also loved an option to be able to leave the display on for longer as it can time out too quickly.  There is an option to keep the watch face display on, but this is only available during training mode.
When you turn your wrist to wake the watch, there are six screens you can swipe through: Time, Activity, Heart Rate, Last Training Session, Nightly Recharge and FitSpark recommendations.  The information on the display is fairly intuitive, although I needed to refer to the manual to understand some of the categories/Polar jargon such as FitSpark and Nightly Recharge.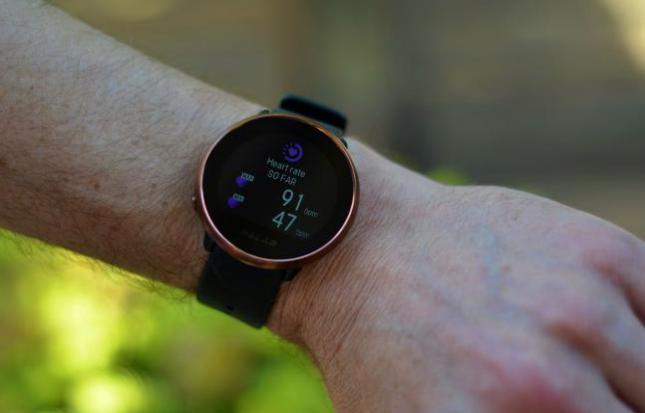 Features of the Polar Ignite
It's the fitness features that make this watch really stand out.  On top of the essential features such as Heart Rate monitoring and daily activity tracking, the Ignite also gives you detailed insights into recovery and readiness for activity. Polar refers to these domains as 'Nightly Recharge' and 'Fitspark' (elaborated on below) and its these features that were most impressive.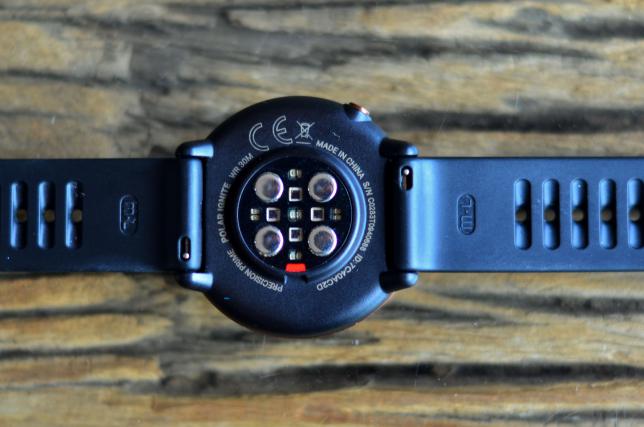 HR Monitoring
On the back of the watch is the Heart Rate (HR) sensor that works continuously while in contact with your wrist.  The Ignite also gives a summary of your highest and lowest HR throughout the day, as well as your lowest HR during sleep.
One of the first things I did with my Ignite watch was take it for a run.  I then measured the Heart Rate accuracy with a hospital grade Pulse Oximeter to compare results.  While my resting HR was fairly accurate, my HR when exercising and moving around appeared on average 10 bps too high.   While placement of the watch makes a significant difference to accuracy (the manual advises the watch sit at least a finger's width from your wrist bone) in my experience, optical skin sensor technology is relatively inaccurate in most watch models.
Exercise
This watch was primarily designed to facilitate and enhance exercise and fitness outcomes.  If you're an exercise enthusiast there's a lot to like here. The Ignite supports over 100 different sports profiles through the Polar Flow app (see below).  13 of these appear on your watch and can be tailored to your sport of choice through the app. The integrated GPS which tracks your speed, distance and route appears to be fairly accurate for land-based activities.  I did question the accuracy of my recent open water swim, however, when the Ignite reported I swam 43m over a 10 minute swim which was highly unlikely.  Target/max/min HR/Calories burned are monitored and measured in each activity profile.  Impressively these were also maintained in the swimming domains.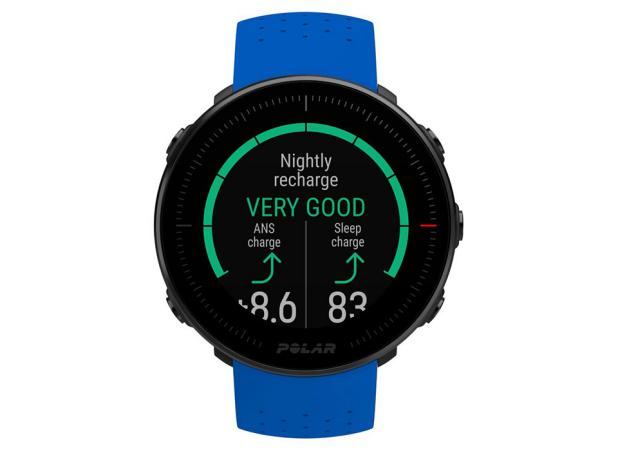 Nightly Recharge and Sleep Tracking
One of the things that drew me to this watch was the sleep tracking function. As someone who suffers from insomnia, I was really interested in recording and analyzing my sleep activity. I'm  not one to usually wear a watch to bed, but I have to say, its slimline sleek design made it comfortable and less obtrusive for night-time wearing compared to other larger models on the market.
Polar has coined the phrase, 'Nightly Recharge'.  This function on the watch tells you how well your body has recovered from strain caused by training or other stresses during your day.  The data is obtained by looking at two components of your sleep – how well you slept (Sleep Charge, a score out of 100) and how well your autonomic nervous system (ANS) calmed down during the early hours of your sleep (ANS Charge). Interestingly, the Ignite is able to break your sleep down into its different stages (Light/REM/Deep) and each morning can give you a sleep score of either 'Very good, Good, OK, Compromised, Poor or Very poor'.  It is able to work out the number of interruptions to your sleep and through the monitoring of the intervals between your heart rate the Ignite is also able to determine your respiratory rate.
In the 3 weeks that I have trialed the Nightly Recharge function, it seemed to be fairly accurate, although there were 2 nights when I was awake for several hours and it seemed to register this as 'light sleep'.  I'd like to see this data over a prolonged period of time to form a better picture of my sleep, but on the whole I was impressed with the detail.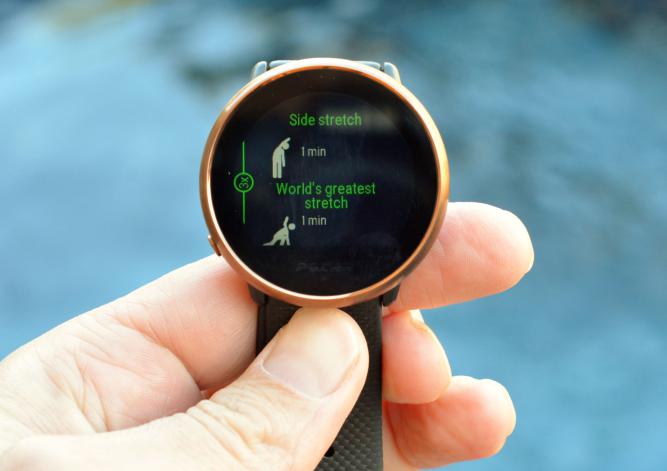 Fitspark
This is another high value feature.  Fitspark essentially refers to a recommended exercise regime that encompasses cardio, strength and flexibility programs.  Available on a range of Polar devices, Polar is able to take the information from your sleep, along with your pre-entered fitness level, training history and your recovery from the previous night, and develop 2-4 daily workout routines.  The workouts are prescribed in order to cover the categories of strength, aerobic capacity and supportive training (flexibility and core strength).   And when I say prescribed I mean comprehensive details with explanations of each exercise, including small moving body images.  Impressive!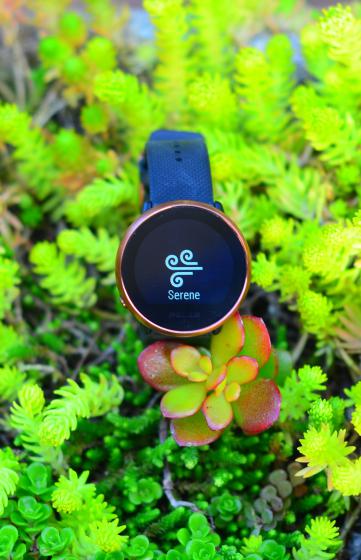 Serene mode is another feature Polar created to enhance the holistic objectives of their fitness tracker.  Useful in an age of ever-increasing mental illness, this mindfulness function provides a short 5min deep breathing session and provides both sensory and tactile/vibration guidance
Polar claim the Ignite's battery life has a 5 day duration between charges (with continuous HR tracking).  In training mode (GPS with HR monitoring) battery life is reduced to 17 hours. While I didn't test 17 hours of continuous tracking I did find the claim of 5 days to be fairly accurate.  As previously mentioned, with such a bright and impressive display face the trade-off for extending battery life is the default blank off-screen.  What I found really impressed was the quick charge time.
Despite the touch screen sensitivity frustrations and the quick time-out of the display, I'd highly recommend this fitness tracker.  The aesthetics of the watch are slim-line and sporty, the display is bright and colourful, battery life is reasonable and while heart rate monitoring might not be perfectly accurate, its enough to give a fairly good sense of training load when exercising and rest when sleeping.  It's the advanced adaptive training recommendations and the comprehensive sleep and recovery tracking features, however that really make the Ignite a stand out.   I think the word 'balance' best summarises the Polar Ignite.  With a focus on fitness it hasn't neglected the importance of rest and recovery.
The Polar Ignite is available through Polar's website for $349 https://www.polar.com/au-en/ignite
SPECS
| | |
| --- | --- |
| Display | Colour touch display with ambient light sensor (ALS), resolution 240×204. Dragontrail glass lens. |
| Weight | 35 g with wristband, 21 g without wristband. |
| Sizing | S: wrist circumference 130-185 mm / M/L: wrist circumference 155-210 mm |
| Measurements | 43 x 43 x 8.5 mm |
| Battery | 165 mAh Li-pol battery. Battery life up to 17 h in training mode (GPS and wrist-based heart rate), up to 5 days in watch mode with continuous heart rate tracking |
| Materials | Glass fibre reinforced polymer case. Stainless steel bezel & button |
| GPS | Integrated GPS & GLONASS. Assisted GPS for fast fix times |
| Connectivity | Bluetooth Low Energy (BLE). Custom USB cable for charging and data synchronisation |
| Watch | Time & date. Alarm with snooze. Stopwatch & countdown timer |
| UI languages | English, German, French, Italian, Dutch, Norwegian, Spanish, Portuguese, Swedish, Finnish, Danish, Polish, Russian, Turkish, Indonesian, Czech, Japanese, Chinese (simplified) |
| Sensors | Compatible with Polar BLE heart rate sensors |
| Water resistant | Water resistant 30 m (ISO 22810, suitable for swimming) |
| Standalone mode | Can be set up and used without other devices or connections (limited memory capacity for data storage). To access all features, functionalities and unlimited cloud storage, connect your watch to Polar Flow, our free app and web service and the home of your sports and fitness data. |