Hardware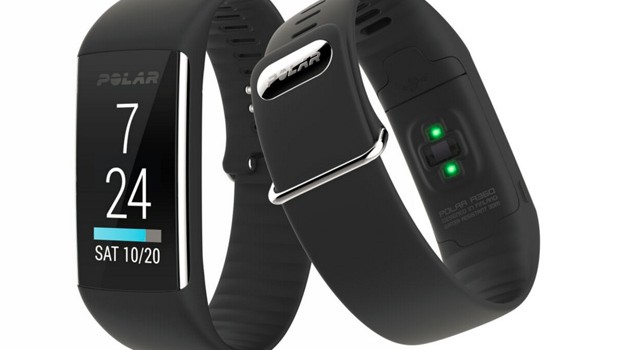 Published on January 4th, 2016 | by Admin
Polar A360 Review
Summary: The Polar A360 is a great virtual trainer for people wanting to get fit or stay fit!
The A360 from Finnish company Polar is a fitness tracker with wrist-based heart monitor and retails in Australia for around $299AUD (December 2015) but can be found cheaper online such as Kogan for just $279AUD. Given the popularity of activity trackers, the Polar A360 is definitely aimed at the sports and tech savvy user, especially with its wealth of features that even gives the user a few smartwatch features. The Polar A360 is also available in a black and white unit.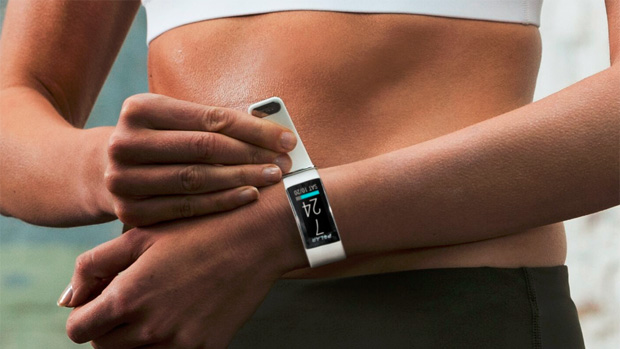 This activity tracker also monitors your training and gives you a full colour touch screen (80×160) display with some great features under the hood of the A360. In terms of functionality, it boasts a digital clock which is activated by moving your arm up and then holding it still plus it has three main menus that includes My Day, Training and My Heart Rate. It's also quite a minimalistic activity monitor that comes in three sizes (small, medium and large) plus swappable coloured bands which will be available in early 2016.
Let's check out some of the product highlights below courtesy of Polar;
Track your activity 24/7 and get practical support to help you achieve your individual daily activity goal
Stay up to date with phone notifications on your wrist, so you know if and when you need to stop
Track your steps and calculate what distance you've travelled on a journey
Smart Calories function lets you know exactly how many calories you've burned based on your own individual algorithm
Sleep function automatically tracks your sleep time, quality and patterns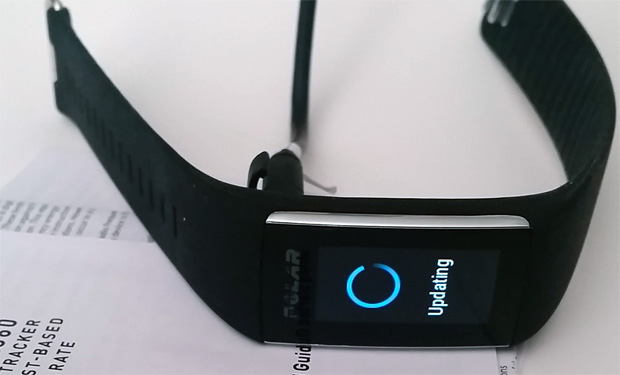 Out of the box, you get the A360, a Getting Started Guide plus the microUSB charging cable and the only additional thing you need is a smartphone. I tested the A360 on a Samsung Galaxy S5 which gives the user additional content and monitoring features thanks to the Polar Flow Activity & Sports app and the Polar Beat Fitness Coach. Both these apps are required if you want to get the most out of the product and given that almost everyone has a smartphone these days, it's pretty much a given.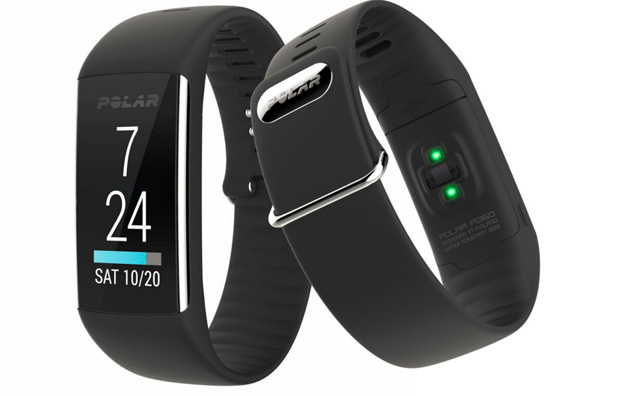 Another highlight of the A360 is that it is waterproof up to 30metres and is quite a good looking smartwatch or fitness tacker. I like the elongated screen with two silver bars on each side the screen that gives the A360 that prestige look and feel. To activate the watch, it contains a small button on the bottom left hand side or you can simply tap the screen to access the navigation features. It should be noted that the screen works quite well when it is wet and whether I just had a shower or went for a swim, I could still navigate via the touch screen. To go back a menu, you just push the side button.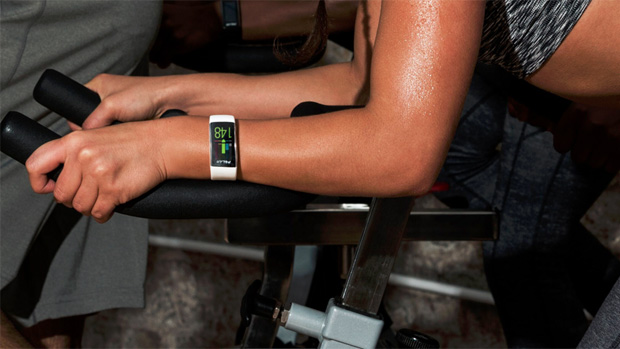 On the back of the A360 is the optical heart sensors and the charging port with Polar stating that the battery life is around 2 weeks with minimal usage. However if you use the training option quite regularly and use it for notifications, I found that I needed to charge the A360 every couple of days. When the battery is about to die, the activity tracker goes into a power-down mode which dims the screen and reminds the user to charge it.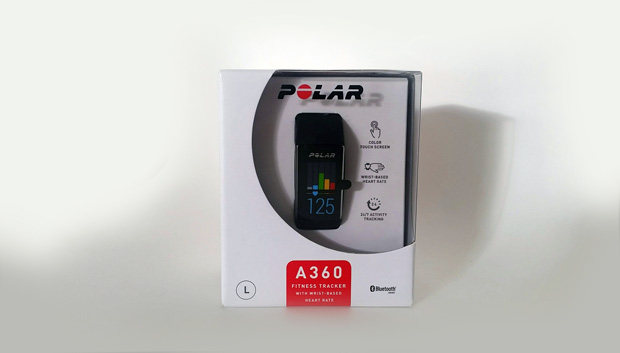 The band is a little tricky to put on your wrist as it's not like a traditional watch band as its two pronged end must be slipped through the other end of the band and once you have aligned it on your wrist, these two prongs clip into the various holes on the band to securely hold the A360 in place. All in all, it's quite a good looking fitness watch from Polar and more importantly, the screen can be seen in all different levels of light, even on a bright day.
The fitness tracker also turns the screen off when not being used but to activate, you just push the side button or look at the A360 like you would a watch. Another cool option is that if you hold the button down for around 5 seconds, it gives you access to Airplane Mode, Do not Disturb, Pairing Bluetooth Smart HR Strap, Turning the A360 off and an Information option about the device like who the owner and the serial number of the product.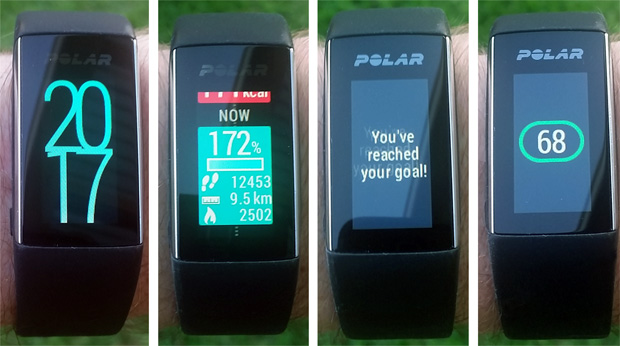 The heart rate monitor is quite responsive and for us was on par with other activity trackers like the FitBit. Compared to a chest strap heart rate which is still more accurate, the A360 still does a good job at displaying your heart rate but straps are still far superior. The A360 also records your heart rate during training or can be accessed by the user by accessing the "My Heart" area from the touch screen which after a few seconds will display your heart rate.
Furthermore, the product does not monitor your heart rate 24×7 but rather only when you select training options or manually force the device to measure your heart rate. In relation calories, the A360 Polar will inform you of how many calories you've burnt during the day and also when you've reached your goal. If you have not moved for awhile, the activity tracker will kindly remind you to get moving and it will monitor your sleep patterns as well.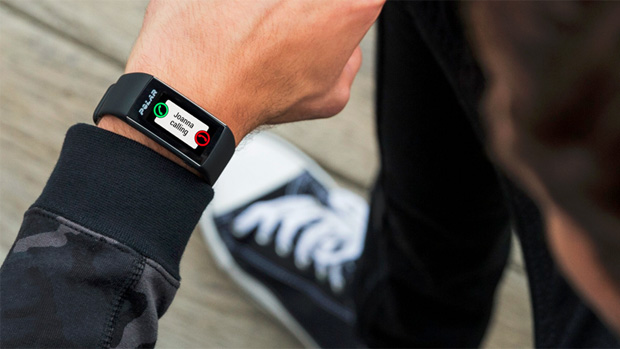 However where the A360 shines is through its training options that includes Strength Training, Group Exercise, Other Indoor, Other Outdoor, Swimming, Running, Walking and Cycling. By pushing one of these training activities through the touch screen, it will display your heart rate in a certain colour (e.g. blue for moderate training or red for extreme) and how long you are training for. To stop this, you push the button on the screen and then push X to finish.
The A360 will then allow you save that session if required and will relay this information back to the app on your smartphone to help with your fitness regime. Basically the Polar Flow app monitors your training regimes, allows you to set targets, gives you awards and is basically your own virtual personal trainer. To further this app, the Polar Beat is much more intense and although "free" has certain in-app purchases. However this app does allow you to plan your workouts better, analyse your data and even share your statistics to your social media contacts.
Polar App
The A360 even allows for notifications and once paired with your smartphone, you can receive notifications on the watch via smart notifications and when you do receive something like a message or update, the A360 will vibrate and a message will be displayed. Unfortunately you can only see part of the message which requires you to check your phone.
It is a little annoying as you can't expand these messages but it's great for silently being informed of various notification updates on your phone like e-mails or SMS messages. The vibration feature of activity watch can be used as an alarm which in theory is far superior than a traditional sound alarm as it is supposedly better to wake this way. To enable this, you just access it through the app.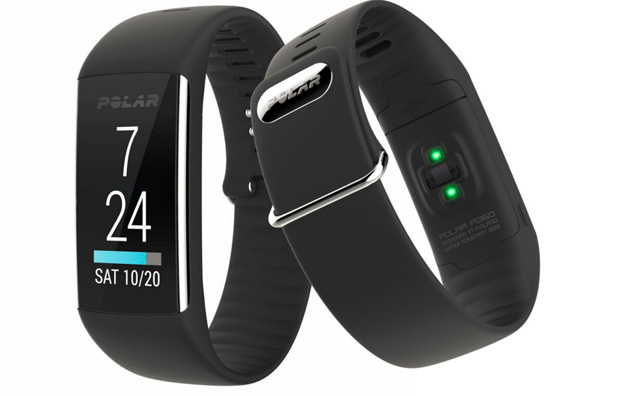 Final Thoughts?
All in all, the Polar A360 is a well designed fitness tracker but it does come with a few limitations that include the limited smart notifications and the sometimes fiddlesome strap. In an ideal world, you would be able to scroll through your notifications like you do on a smartwatch but at least it gives you a head's up when do you receive a message from your smartphone. Also on my Galaxy S5, I did find smart notifications did zap the phone's battery faster but you can tweak what apps send notifications.
Lastly, in terms of the heart rate monitor, it is relatively accurate but if you want additional accuracy, you will need to purchase a chest strap but overall, it still does a good job at measuring your heart beat, particularly during exercise. So if you're looking for a decent activity tracker, then I suggest you check out the Polar A360 which has enough bells and whistles plus smartphone integration to successfully become part of your fitness life.
Recommended!
Setting up the Polar A360