Games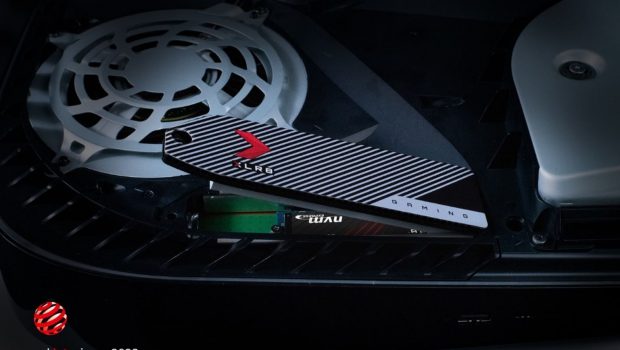 Published on April 27th, 2022 | by Adrian Gunning
PNY XLR8 SSD Cover with Integrated Heatsink designed to fit PS5™ Wins Red Dot Award: Product Design 2022
PNY has won a Red Dot Award: Product Design for the XLR8 SSD Cover with Integrated Heatsink, designed to fit PS5™. This product was engineered to replace the standard SSD cover and offers easy installation when upgrading the expanded SSD storage.
In 2022, designers and manufacturers from 60 countries entered products to be considered for the Red Dot Award: Product Design. 48 international members of the Red Dot Jury assessed each product, and only those products that won over the experts with their outstanding design quality won a distinction. When it comes to new products, XLR8 Gaming Powered by PNY is dedicated to helping gamers achieve the ultimate experience by combining passion for gaming with expertly engineered components.
Professor Dr. Peter Zec, founder and CEO of Red Dot, said, "In this year of the competition, I have been particularly struck by the exceptional creativity shown by the award-winning products. It is really impressive and praiseworthy that there are still designs out there that can surprise us with their form and functionality. This makes it clear that design cannot be restricted or brought to a standstill by unfavourable circumstances. On the contrary: more and more new ideas and creations emerge, and futuristic techniques are developed. The fact that the quality of these products equals their level of innovation makes them well-deserved winners in the Red Dot Award: Product Design 2022."
signature_723650525
PNY XLR8 SSD Cover with Integrated Heatsink designed to fit PS5™
PNY's exclusive new design integrates the SSD cover with an extruded aluminum heatsink that improves the cooling efficiency of an installed* NVMe SSD. The SSD cover and integrated heatsink work together for increased heat dissipation during intense gaming sessions maximising the thermal performance of your NVMe SSD upgrade. The heatsink combined with a negative pressure design delivers extreme cooling performance, cooling the SSD over 40% more than with no heatsink*.
About Red Dot
The Red Dot Design Award is one of the biggest design competitions in the world. In three disciplines, participants submit products, communication projects and brands as well as prototypes and concepts. The distinction "Red Dot" is an internationally recognised seal of excellent design.