Events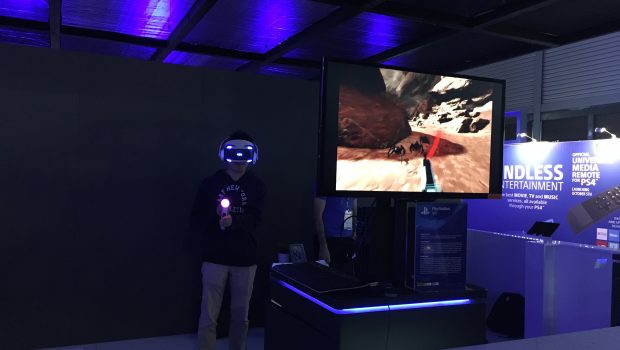 Published on October 2nd, 2016 | by Alayna Cole
PlayStation VR (EB Expo 2016)
Alayna Cole and Dakoda Barker try PlayStation VR
Of the virtual reality devices that we've had the opportunity to check out, PlayStation VR feels like the most viable. Between the price-point, required physical space for use, and quality of both the equipment and the graphics, PSVR is actually a really exciting prospect—if you feel like VR is your thing. Although PSVR is still rather pricey, it's significantly cheaper than the competition, and yet this price difference doesn't seem to show in the graphical quality.
While we were sitting outside the PlayStation booth (and a few times throughout the expo), the ad for PSVR was playing. It's quite an engaging ad, but it became quite obvious that PlayStation were subtly trying to mask the fact that PSVR must be plugged in; it's not a wireless headset. But the fact that PSVR is wired is of much less detriment than it is for the HTC Vive, for instance, which requires mobility.
Playing with PSVR in your living room typically involves sitting comfortably. (Unfortunately, most of the set-ups at EB Expo were standing-only, which becomes quite uncomfortable after extended periods of time.) Because you aren't moving around, you're not likely to trip over yourself or get tangled up. The only danger comes from someone walking past and tripping over the cable.
And it might come as a shock if that ever does happen, given how close to total sensory deprivation the headset-headphones combination can achieve. That idea of 'total immersion' seems a lot more plausible when you can audio-visually shut out the entire world. Just be careful not to leave the door open or be playing in your underwear.
Realising our habit of checking before we crossed between the player and TV screen was unnecessary with VR was quite funny; because PSVR exists as part of the familiar living-room-based console experience, it comes with all of our weird pre-existing conventions. It will be interesting to see how this changes over time if home-based VR really takes off.
Here's a summary of a few of the games we got our hands on.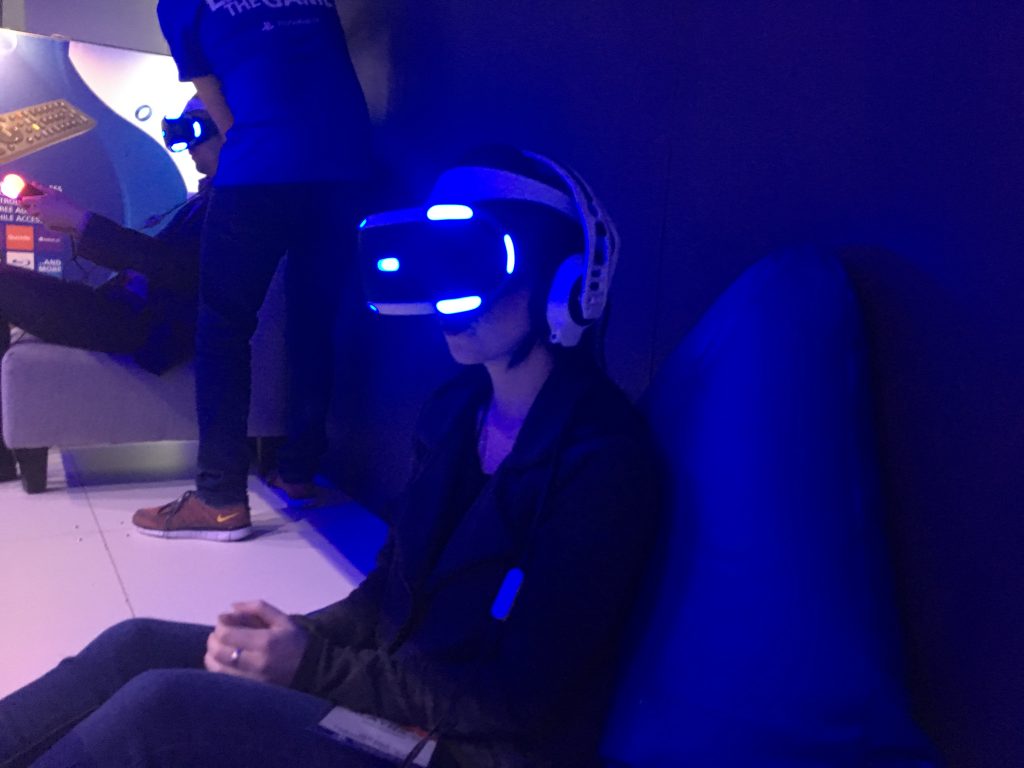 Alayna experienced PlayStation VR Worlds – VR Luge
VR Luge is a nauseating experience where you are catapulted down a road and must dodge obstacles, including traffic cones, landslides, and oncoming trucks. Although I have rarely experienced motion sickness in VR before, VR Luge definitely managed to unsettle my stomach, perhaps because of the unique control scheme that requires the player to tilt their head left and right to steer. The miniature fan placed in front of the bean bag I was sitting on, meant to simulate the wind resistance felt when zooming down a hill, may have also been a contributing factor in making my brain think everything was a little too real.
That said, I was mostly enjoying the experience until I accidentally clipped the edge of a vehicle had me pinballing back and forth across the road. Still, the comfort of the headset and clarity of the images kept me from being completely turned off the PSVR experience.
Meanwhile, Dakoda played EVE: Valkyrie
The EVE: Valkyrie demo was incredibly short—barely enough to whet the appetite. But the promise of flying space fighters around in an incredibly rich universe is a good one. However, the presence of VR exacerbates any issues players might have with orienting themselves in three-dimensional space; if you get turned around quite easily, like I do, then it might take some time to get your bearings. Still, with only a sub-5 minute teaser, EVE: Valkyrie is an intriguing look at what the combination of space sims and VR can achieve.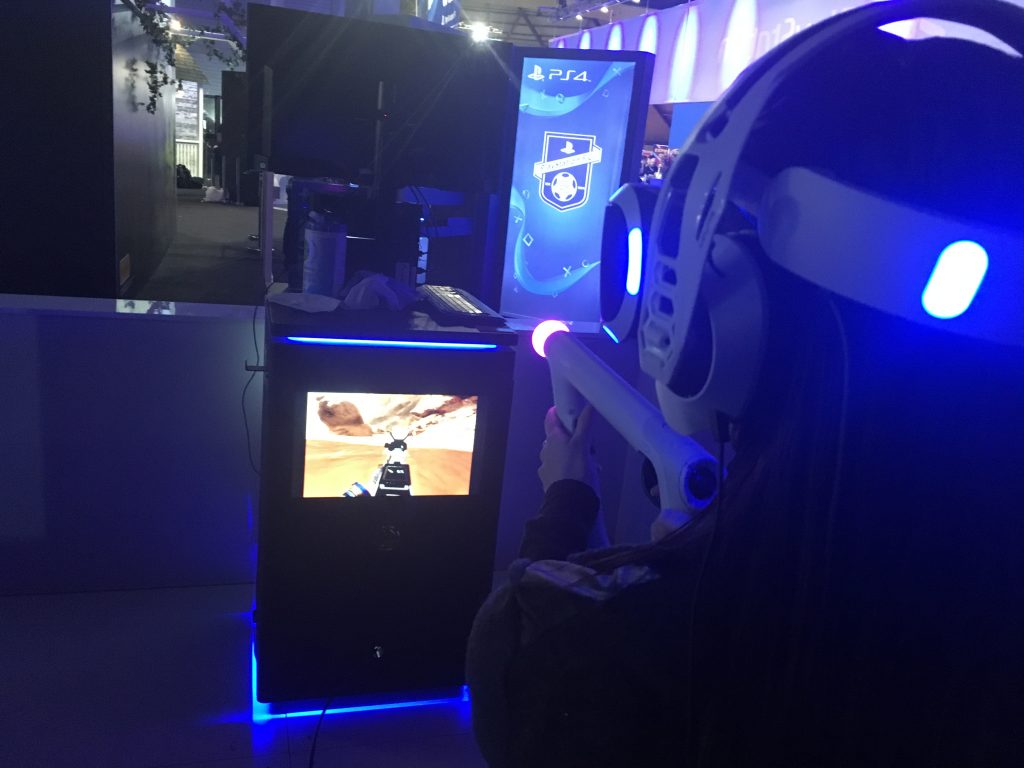 Undeterred, Alayna tried Farpoint
I probably should have paid more attention to what Farpoint was all about before I begged to play the first-person shooter with the cool gun peripheral, called the PlayStation Aim. As somebody with a severe hatred of spiders and only a slightly less severe dislike of heights, if I had been told that Farpoint was about killing giant arachnids in VR will traversing hazardous cliffs and canyons, I definitely would've been turned off the experience.
But, surprisingly, Farpoint is everything I've been waiting for in a VR game. While I've had wonderful experiences in virtual reality, like using Tilt Brush by Google in the HTC Vive, Farpoint for PSVR actually feels like a game, and one I could picture myself playing for longer stretches of time in my living room. It's the first VR game I've played that feels decidedly commercial, and that I honestly think I had more fun with in VR than I would have had if it were simply on a screen.
The Farpoint demo took me through several beautiful but nail-biting environments, which I claimed as my own with an assault rifle, shotgun, and grenades. Those spiders didn't stand a chance.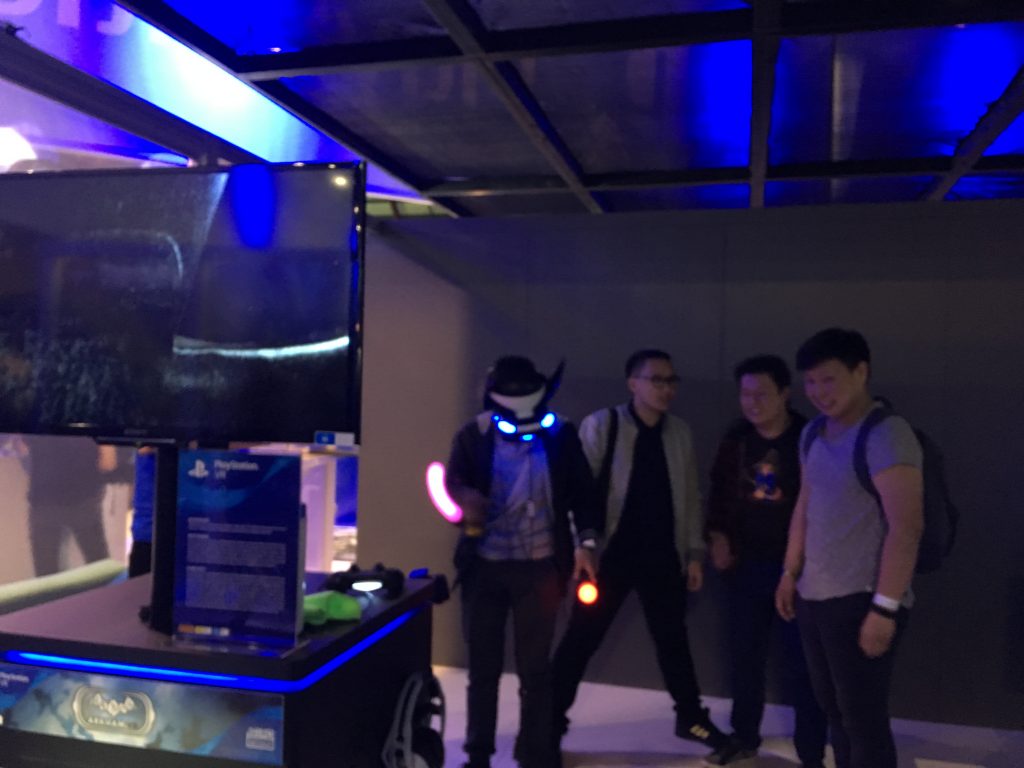 In summary
Our brief taste of PlayStation VR left us feeling optimistic about how virtual reality might soon be a commercial reality, not just a developer dream. Although novelties like PlayStation VR Worlds seem mostly like impressive demos, titles like EVE: Valkyrie and Farpoint have real potential, and might be the first VR games worthy of your lounge room.