Games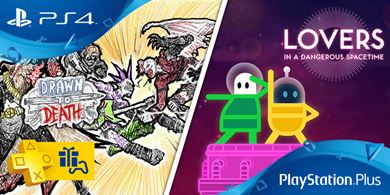 Published on March 31st, 2017 | by admin
PlayStation Plus Monthly Games For April 2017
Sony Interactive Entertainment Australia is pleased to announce two hotly anticipated games coming to PlayStation Plus on Tuesday 4 April.
Drawn to Death is the first to join the April line up, exclusive to PlayStation 4 and brought to you by acclaimed video game developer David Jaffe, director of multiple franchises including God of War and Twisted Metal. Drawn to Death is a chaotic, third-person death match shooter played out on the lined pages of a teenager's notebook. The game challenges the shooter genre with unconventional gameplay mechanics and unique character perks, fine-tuned with the help of San Diego Studio and The Bartlet Jones Supernatural Detective Agency.
Next up is Lovers in a Dangerous Spacetime, the thrilling 1 to 4-player couch co-op adventure which explores a neon galaxy in your very own battleship. Take control of turrets, shields and thrusters, using teamwork to triumph over the evil forces of Anti-Love. Deep space is a dangerous place, but you don't have to face it alone!
Click here to see the video announcing your PlayStation Plus April line up. For more information and to see the full line up of games available this April, please head to the PlayStation Blog.
For all the latest PlayStation news, follow PlayStation Australia on Facebook, Twitter, Instagram and YouTube.