Games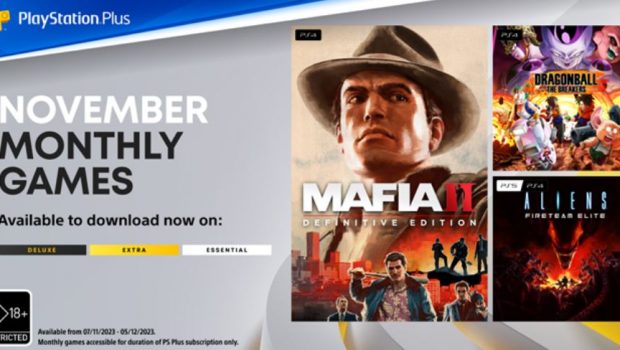 Published on November 2nd, 2023 | by Adrian Gunning
PlayStation Plus Game Catalogue for November – Mafia II: Definitive Edition, Dragon Ball: The Breakers, Aliens Fireteam Elite
The PlayStation Plus Monthly Games lineup for November is here. Live the life of a gangster in Mafia II: Definitive Edition, play as a Raider or Survivor in Dragon Ball: The Breakers and explore the Alien universe in Aliens Fireteam Elite.
These titles can be enjoyed by PlayStation Plus members from Tuesday, 7 November until Monday, 4 December.
Let's take a closer look at each game…
Mafia II: Definitive Edition | PS4
For the first-time ever experience the Mafia II crime drama all in one package, remastered and presented in stunning HD detail. Live the life of a gangster during the Golden-era of organised crime. War hero Vito Scaletta becomes entangled with the mob in hopes of paying his father's debts in Post-World War 2 Empire Bay, NY, a city sprawling with opportunity and where organised crime thrives on the booming industries of post-war America. Alongside his buddy Joe, Vito works to prove himself, climbing the family ladder with crimes of larger reward, status and consequence.
Dragon Ball: The Breakers | PS4
In this online asymmetrical action game, a team of seven ordinary citizens tries to survive the Raider (a classic Dragon Ball rival such as Cell, Frieza, and Buu), who will hunt them down and evolve during the game into an unstoppable force. Escaping won't be so easy: cooperate with others while there is still time, but the Raider or other Survivors' decisions might force you to go at it alone. As a Raider, you will enjoy overwhelming powers to hunt and wipe out Survivors. Master each Raider's unique abilities to track, catch your victims to evolve, and become even more powerful! Whether you're a Raider or a Survivor, choose your progression path and unlock skills, skins, and items to fine-tune your own personal strategy to escape as a Survivor or triumph as a Raider.
Aliens Fireteam Elite | PS4, PS5
Discover what hides in the ruins and caves beneath in this third-person survival shooter set in the Aliens universe. Play with up to two players or AI as you battle through four campaigns to explore the mystery of a new planet, LV-895. Build your Marine the way you want. Level up in each of six unique classes or be a master of one. Choose your weapon – everything from magnums and SMGs to rocket launchers – and use over 130 unique perks to create the build of your choice. Build your fireteam focusing on class composition, consumables, and weapons to take down Xenomorphs, beat Challenge Card runs, or play various game modes with friends. Blast through hordes of Xenomorphs, evade deadly Prowlers and Spitters, and set up defensive positions to stay alive long enough to get your fireteam to safety.
Sony Pictures Core benefit for PlayStation Plus members
We're pleased to see strong engagement for Sony Pictures Core since launching earlier this month on PS5 and PS4 consoles. Sony Pictures Core provides access for players to buy or rent up to 2,000 movies* straight from their console, and as a PlayStation Plus member, players will get additional benefits. All PlayStation Plus members will now receive a 15% discount on all content available for purchase and rental in Sony Pictures Core during the month of November.
Lastly, the new mind-bending interactive streaming series Silent Hill: Ascension made its debut yesterday In addition to the interactive series, a weekly compilation of audience-influenced storylines will be packaged into TV episodes, and PlayStation Plus Deluxe members will have exclusive access to all weekly compilation episodes 24-hours before they debut on other platforms. PlayStation Plus Deluxe members can catch the first one early on Wednesday, 8 November at 6am AEST, before its wide release on Thursday, 9 November.
PlayStation Plus members have until Monday, 6 November to add The Callisto Protocol, Farming Simulator 22 and Weird West to their game library.
To find out more about the titles available at launch, head to the PlayStation Blog.