News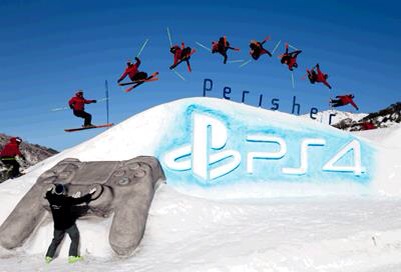 Published on August 21st, 2014 | by admin
PlayStation & Perisher Celebrate 18 Years of Partnership
Jibs, Jumps, Halfpipes and a DUALSHOCK®4 – The Terrain Park with it All
A giant ice-replica takes pride of place at Perisher to celebrate 18 years of partnership
SYDNEY, 21st August – Olympic skier Russ Henshaw took to the air this week at the unveiling of a giant ice-replica DUALSHOCK®4 controller, showing his skills over a 60-foot jump.
The games room has been temporarily relocated to Perisher's PlayStation® Terrain Park with the sculpture taking pride of place at the base of the park's hero jump to mark 18 years of partnership between one of Australia's favourite ski fields and PlayStation® Australia.
Perisher CEO Peter Brulisauer said, "Perisher's PlayStation Terrain Park ranks amongst the best in the world and is the Premier Slopestyle Park in the southern hemisphere. Due to the great work the Perisher Terrain Park team have been doing the facility is truly world-class. This is attracting skiing and snowboarding Olympic and World Champions to Perisher to gain some valuable training time."
"We said at the launch of PS4 that we are for the players but it doesn't stop there. The PlayStation Slopestyle Park is the best place to play on the mountain this snow season," said Michael Ephraim, Managing Director, Sony Computer Entertainment Australia. "We've been told the success of a sponsorship on the mountain can be measured by how much signage is taken by snow lovers each season. Needless to say, we have replaced a great deal of PlayStation banners over our 18 years at Perisher which is a great sign that boarders and skiers make up for a solid part of our PlayStation gaming community."
This year, PlayStation and Perisher are also giving skiers and boarders the chance to design their dream PlayStation Slopestyle Park in Australian's premier snow location. The online competition lets entrants drag and drop features to create the perfect track line with the winner having their own design physically built at the park this season.
"The PlayStation 'Design a Park' competition is a great way to bring the terrain park conversation into the online environment with our guests", said Richard Phillips, Perisher Sales & Marketing Manager. "It's a fantastic way to engage with guests and get good innovative ideas about what's important for them in our terrain parks; we can then build fantastic features in our parks that are designed by our guests. It is fantastic to have a partner like PlayStation to help us bring these ideas to life."