Games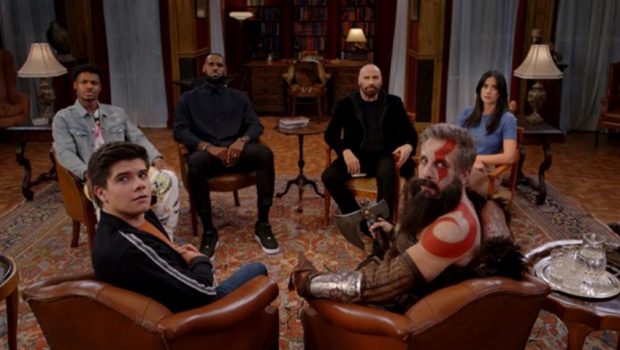 Published on November 2nd, 2022 | by Adrian Gunning
PlayStation brings Stiller, LeBron and Travolta together in epic God of War Ragnarök content
With a week away from the highly anticipated release of God of War Ragnarök, Kratos and Atreus continue their journey through the Norse realms, whilst building a stronger bond together as father and son. This inspiring journey poses the question: can all parents relate to the relationship challenges facing Kratos and Atreus?
PlayStation was able to find a few parents who relate all too well with how tough parenting can be. Bonded by the reality that no parent gets it right all of the time, these three star-studded families show that we can all relate to the dynamic relationship between Kratos and Atreus – especially when you wear the costume.
Check out the clip here.
Let's find out a little more about how each father found paternal inspiration in God of War Ragnarök.
Ben Stiller: Putting on the Kratos beard and makeup felt very empowering. The war paint really is useful in terms of letting people know you mean business. I found the beard made me feel wiser… though [my son] Quin didn't seem to feel that at all.
LeBron James: Something about having the Leviathan Axe in your hand transports you to a different world. We all play the games on the screen, but being able to bring those moments to life and connect in a different way is a pretty cool thing.
John Travolta: Similar to Kratos and Atreus, the balance of 'holding on and letting go' is dynamic many parents can relate to. There's no better feeling than seeing your child grow and mature into the best versions of themselves.
Experience Kratos' parenting skills in action when God of War Ragnarök arrives on PS5 and PS4 on Wednesday, 9 November.
To learn more about All Parents Can Relate visit the PlayStation Blog.