Games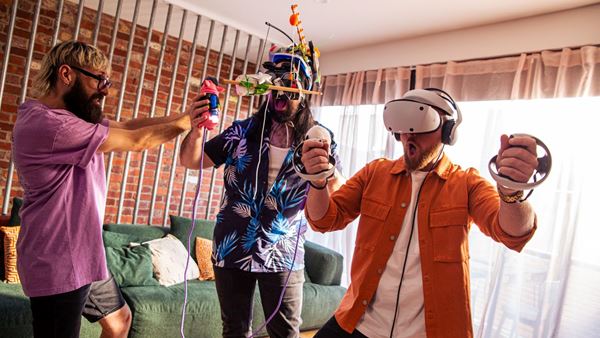 Published on March 20th, 2023 | by Admin
PlayStation Australia Teams Up with Aussie Comedy Trio Aunty Donna To Try Out the New PlayStationVR2
To celebrate the launch of the next generation of virtual reality gaming, the PlayStation®VR2,  PlayStation Australia teams up with Aussie larrikins, Aunty Donna in a hilarious new skit. In the video, Aunty Donna's Mark Bonanno is excited to show off the new PlayStation®VR2 to his best mates, Zach and Broden, and have them play Horizon Call of the Mountain… until he realises he has accidentally double booked them and only has one headset!
To avoid awkwardness, Mark creates a makeshift headset to try and replicate the immersive experience only found on PS VR2 including the haptic feedback and adaptive triggers of the Sense controllers, 3D audio, and 4K OLED display.
In the video, viewers can see the different environments you will encounter in Horizon Call of the Mountain including climbing and swimming as well as encountering some of the deadly machines from the world of Horizon.
Horizon Call of the Mountain allows you to experience the majestic world of Horizon like never before with PlayStation®VR2. The stunning visuals and innovative features of the new PS VR2 Sense controllers fully immerse you into the world of Horizon for an experience like no other. Ascend the towering peaks of the Carja Sundom as Ryas, a disgraced former soldier, and unravel a new mystery surrounding