Hardware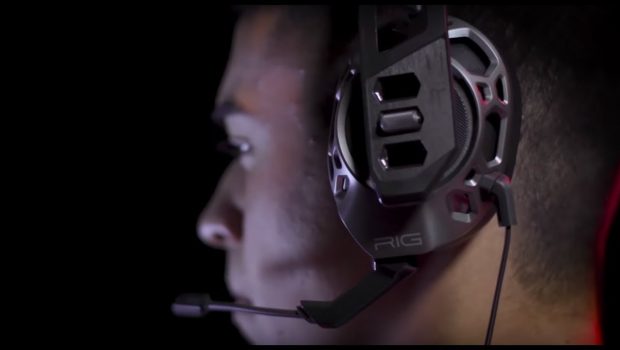 Published on December 12th, 2018 | by James Wright
Plantronics Rig 500 Pro Esports Edition Review
Summary: Plantronics Rig 500 Pro Esports Edition creates a holistic audio experience for gamers and if you're a PC or Xbox One owner, the Dolby Atmos feature is darn impressive!
Welcome to the Plantronics Rig 500 Pro Esports Edition gaming headset that has been designed for long-lasting comfort and quality audio to help bring your games to life and perhaps even give you the edge on your online battlefields. This achieved through its high quality build which looks like something out of the military with its lightweight metal exoskeleton that includes powerful 50mm audio drivers, an in-built noise cancellation design to minimise background sound and more importantly, this headset is Dolby Atmos ready to provide you with directional 3D audio for that surround sound experience. Furthermore, this device is compatible with the PC (reviewed), the PlayStation 4 and the XBox One. However it should be noted that Dolby Atmos is only available for PC based and XBox One systems and for now, the support for games is a little limited.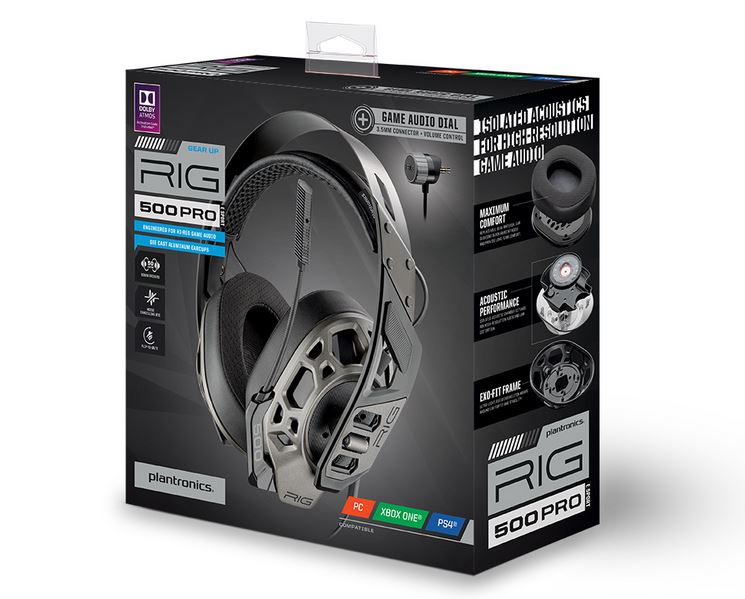 Well packed from Plantronics and once we freed this audio beast from its box, we were impressed with the overall build quality and that military aesthetics really suits the headset well, especially from a gamer point of view. It's also quite lightweight at just 323 grams and adding to the design are the very comfortable ear cups that allows you to game for a considerable amount of time without any discomfort and there are two different textured earcups available and it can be adjusted for different head sizes. Although it comes with a 1.3 metre cable, we would have preferred a slightly longer one (perhaps 2 metres) in order to give the user some increased freedom. Adding to the features is that the Rig has a unique way of adjusting volume on consoles. The volume dial feature for the consoles makes for easy access to controlling your audio levels as it plugs into your controller which puts this right at your finger tip and is a must have feature if you're playing online games. The PC cable features an inline audio control and although not as cool, still works well.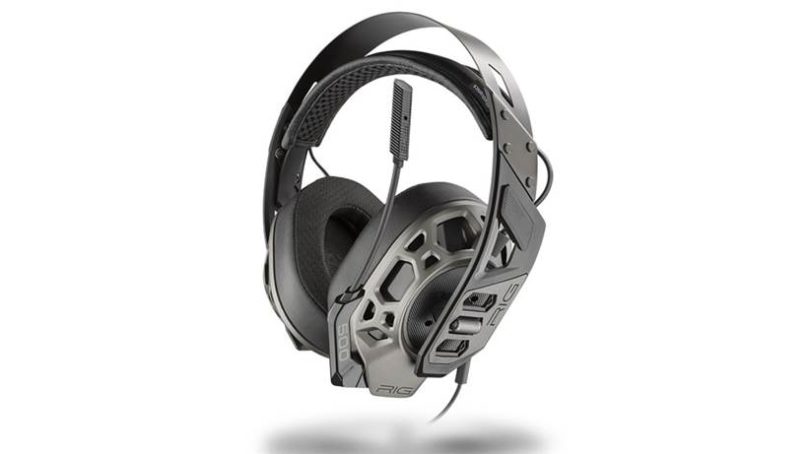 The sound quality of Plantronics Rig 500 Pro Esports Edition is quite decent and produced some decent audio at all levels from mids to highs with only a minimal amount of distortion when the volume was loud. Speaking of volume, this headset can go quite loud and at a 'normal' level, it really allows you experience all the audio background ambience, especially for games such as Shadow of Tomb Raider or for those first person shooters such as Star Wars Battlefront II. In order to use the Dolby Atmos feature, you do need to redeem the included code on either the PC or Xbox One which in turn adds to that 3D audio experience. This features works quite well, particularly for those big blockbuster games but as mentioned, the list for Dolby Atmos is a little short at present but for those games that support it… wow!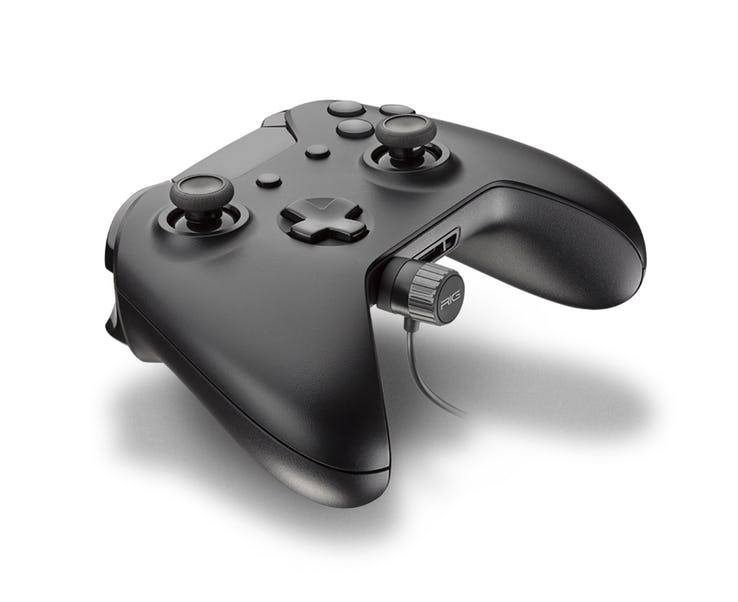 Online gaming for World of Warcraft and Paladins sounded equally as good and the microphone on the Rig 500 captured our voices with our colleagues and friends reporting that it was quite clear thanks to the adjustable boom arm. Continuing with the audio tested, we listened to a variety of music genre from classic to modern pop and heavy metal with the Rig 500 producing clear and crisp sound as it did with our 4K movies such as Tomb Raider and Logan. There's also some good bass on this headset, without it being overtly dominant.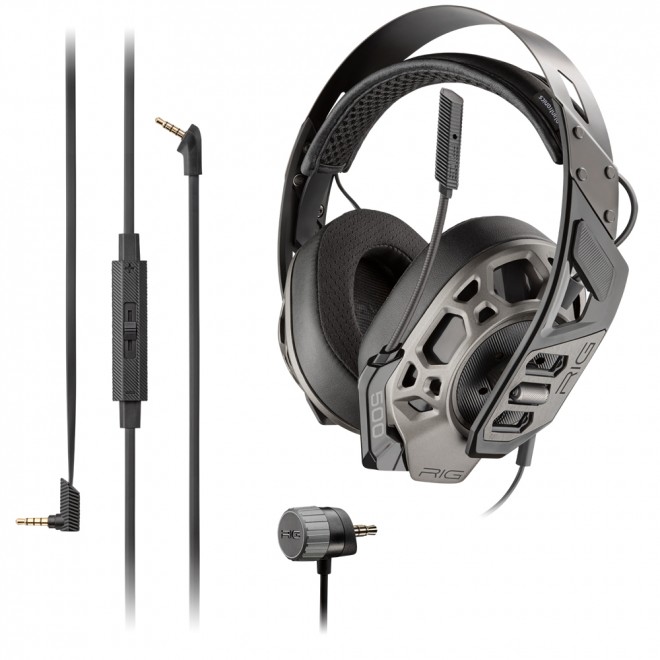 Final Thoughts?
The Plantronics Rig 500 Pro Esports Edition gaming headset has definitely been designed for gamers from its impressive aesthetics to high quality sound, especially the Dolby Atmos feature which makes games such as Battlefield I and Overwatch sound friggin amazing. So while it can connect to other devices, where is shines is through the PC (Windows 10) or the Xbox One./X and if you're looking for a decent headset for gaming, this product should definitely be on your investigation list.
Features
Precisely tuned 50 mm drivers deliver game-changing sound
Lightweight metal exoskeleton earcups offer comfort and stability
Noise-isolating acoustic chambers provide high-resolution audio and low distortion
Isolated closed-cup design and dual-material padding block outside noise
Easy-to-reach RIG game audio dial for fingertip master volume control
Inline controls let you adjust audio without using console menus
Dolby Atmos® for Headphones prepaid activation code included*
*Dolby Atmos® requires an Xbox One or Windows 10 compatible device, and a Microsoft account and login. Activation for one device only.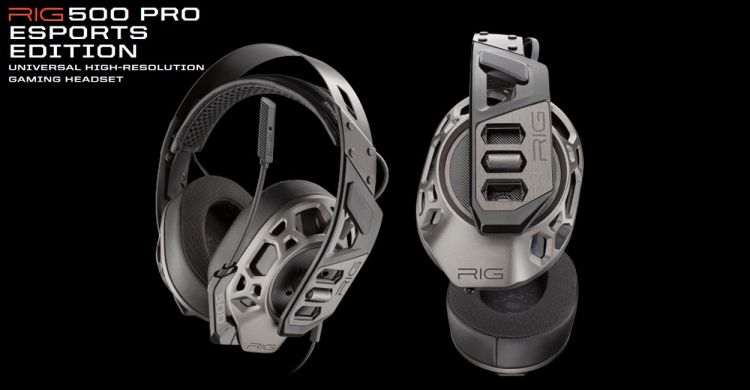 Specifications
Mic frequency response 100 Hz–10 kHz
Mic sensitivity -45 dBV/Pa
Mic signal-to-noise ratio >42 dB
Mic pick-up pattern Uni-directional
Headphone weight 323 g/11.4 oz
Headphone frequency response 20 Hz–20 kHz
Headphone impedance 32 ohms
Headphone sensitivity 111 dBSPL/V
Headphone maximum input power 40 mW
Headphone drivers Dynamic 50 mm
Compatibility Cross Platform, Laptop, PC
Cable length 1.3 m