Hardware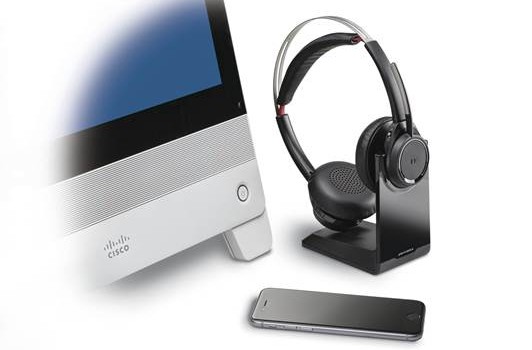 Published on June 12th, 2015 | by admin
Plantronics Announces First Wireless Stereo Headset with Active Noise Cancellation for Smarter Workspaces
Plantronics Voyager Focus UC minimises noise distractions and helps people stay focused 
Sydney, Australia – June 12, 2015 – Plantronics (NYSE: PLT), a global leader in audio communications for businesses and consumers, today announced Voyager Focus UC, the first wireless stereo headset with active noise-cancellation (ANC) technology designed for communications and multimedia applications. With an increasing shift to Smarter Working-style environments, workers are facing noise challenges in the workplace that can affect their productivity and concentration. With the Plantronics Voyager Focus UC, enterprise workers can stay focused by using a premium solution that effectively eliminates background noise and seamlessly connects them to applications on desktops, laptops, mobile phones, tablets, and smart watches.
"Today's offices have shifted and are embracing increased collaboration and mobility. While this move to Activity Based Working is making companies more responsive and efficient it also provides an increase in workplace noise and distractions.  This is often at those times where you may need to focus on individual tasks," said Graeme Gherbaz, Managing Director, ANZ at Plantronics. "The Voyager Focus UC is designed to address this issue through noise-cancellation technologies, allowing employees to use one headset for multiple devices that also reduces background sounds and eliminates distractions."
"We've developed a premium design that will deliver all day comfort and professionalism during calls whilst complementing the user experience in open, collaborative and remote workspaces. We've used class 1 Bluetooth that offers up to 45 meters of wireless range, as well as sensors and contextual intelligence to adapt to the user's wearing style and state," said Susan Hansen, VP Sales & Marketing, APME at Plantronics. Through precisely tuned microphone technology and improved algorithms, the Voyager Focus UC enhances voice clarity and minimises office background noise so that users can encounter an impressive experience while taking calls or listening to their favourite playlist.
In addition to active and passive noise-cancellation technology, Voyager Focus UC also has several features that combine to make for an outstanding music/calling experience. They include:
Superior audio on both sides of the call: High-quality design provides hi-fi stereo sound and wideband audio support for maximum call clarity. Three precisely tuned microphones and enhanced noise cancelling capabilities optimise voice and minimise noise caused by keyboard clatter, close talkers, wind, and movement, so the caller hears the user's voice, not their surroundings.
Worry-free mute assurance: First-to-market Dynamic Mute Alert feature senses and alerts users when they are trying to talk when muted. Headset also automatically goes on mute when a user takes it off and unmutes when it is put back on.
Comfort and durability: Leatherette ear cushions wrapped around pillow-soft memory foam deliver all day comfort while a cushioned metal headband provides durability and maintains a comfortable, secure fit.
On-board sensors: On-board sensors create an intuitive and "smart" user experience. Examples include answering a call by simply putting the headset on and pausing mobile audio when the headset is taken off and restarting it when replaced.
UC-ready:  Rigorous testing of the Voyager Focus UC with the predominant collaboration solutions from Microsoft, Cisco, Avaya, and Huawei ensures the best possible experience when using these applications.
Pricing and Availability
Voyager Focus UC will be available in August at authorised Plantronics Resellers for SRP of AU $389.95. Visit www.plantronics.com/au/where-to-buy for the list of partners.