Comics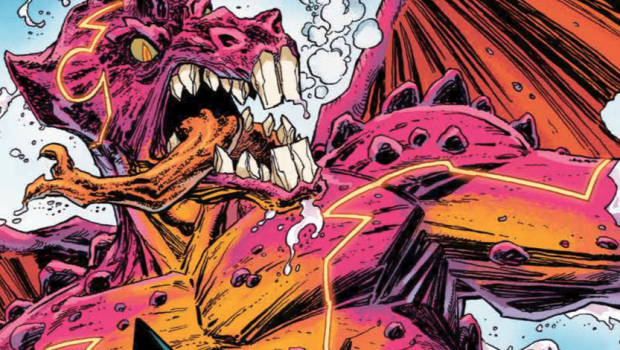 Published on April 10th, 2023 | by Howard Smith
PLANETARY RECKONING IN THE GIANT KOKJU #1
Humanity sure knows how to enrage mother nature, but can they survive her wrath in time? Who's going to save them?
Set in a resembled rendition of San Francisco, the story displaces a giant creature who has set its sights on rampaging through the streets and leaving devastation wherever it pleases in The Giant Kokju #1. Some say it's fate and others just happen to be unlucky as they find themselves caught in the wake of the carnage. All seems hopeless, but there is one man that could possibly save humanity and put an end to this giant menace. Too bad Gary Frank is trying to avoid all of that while drinking at a bar when the government calls him in to handle the situation.
In The Giant Kokju #1, Duggan (X-Men, Batman, The Infinite Horizon) steps away from his well-known superhero genre and enters the realm of monster tales. Instead of writing a typical giant creature just mindlessly destroying buildings, he took a different approach that will catch anyone off guard. This creature that Duggan has written in the comic book comes with thoughts of ways to make those smaller than him really suffer all that it has to offer. It's best to say that the creature did it on purpose and Duggan knew this would be a fitting addition to the story that other comic books don't have. He allows the reader to be introduced to the creature from the start. There is no time wasted on unnecessary backstories or prologues. Duggan makes it clear that this comic book is not for children and should be rated MA rather than R.
In a like manner, Koblish (Action Comics, Avengers, Heavy Metal) matches the absurdity of this comic book with his energetic artwork that gains control of Duggan's imagination worth a read. The level of detail Koblish devoted to himself emphasized that he enjoyed working on this comic book. It seems he made it a personal encouragement to put his best work forward. The design of the monster stood out among many things that made it look cool and terrifying simultaneously. The artwork presents a flexible and perceptive view that gives more than one angle from which to feel right there in the action. As an artist who has been around in the business, Koblish understands the stage set to tell a story like this. He stays on par with Duggan's writing and executes each panel with excellence without fail.
Comparatively, Hi-Fi (Batman, Shi: Akai, X-Men: Legacy) bursts in with his radiant colors that give this comic book its' magic. Hi-Fi transforms this once-illustrated and inked work into an eye-catching rollercoaster of mayhem. His coloring work gives The Giant Kokju a sheen and shine any giant monster fan would appreciate. His coloring skill provides the right flavor of wildness performing throughout the comic book. Identically, Sabino's (Black Panther, Death of X, Scarlet) lettering did wonders. From the beginning of the first page to the final page, Sabino took it upon himself to express his contribution to the story and felt at home. He was very much at home that he cut loose and blazed a trail of sublime ridiculousness. However, their work came together to bring something new and exciting to read.
For comic book fans or Kaiju fans, The Giant Kokju #1 is a comic book you should be reading. While it is the first issue, it only establishes the monster's arrival but surely in the next issue, we will see an epic showdown. The comic book is promising and appears to be ramping up. You don't want to miss the first issue. Check it out at your local comic book store or online where copies are sold.
Comic Details
Writer: Gerry Duggan
Artist: Scott Koblish
Cover Artist: Scott Koblish
Colorist: HI-FI
Letterer: Joe Sabino
Publisher: Image Comics
Release Date: April 12, 2023