Comics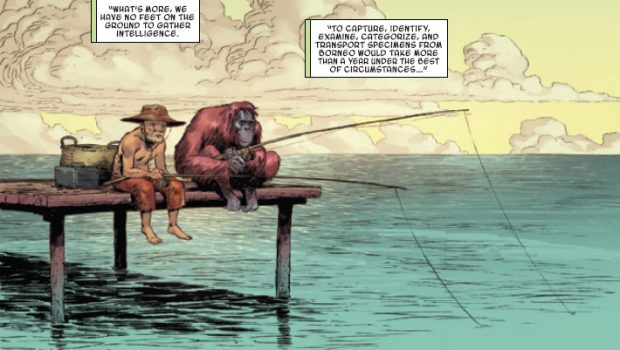 Published on May 23rd, 2023 | by Tim Chuma
Planet of the Apes #2 Review (2023)
Summary: Another perspective on the events of the recent movie series. Worth a look if you were a fan of the recent adaptation of this story.
Several years after a virus that is deadly to humans but makes super-intelligent escapes the lab, the Army of Man is targeting apes thinking that will stop the virus. In Africa main UN research base is training apes to fight back in the hopes they will be able to help them against their enemies.
I am aware that there was a series of comics based on the original movies but this is the first I have heard of one based on the current series of movies. It took a couple of goes for them to redo the movies but the current series at least stands on its own as something different as does this storyline and allows you to see things that weren't in the movie such as places other than the USA.
I did enjoy the orangutangs just hanging out and chilling in the South East Asia and it matches up with what the chimpanzees from the original movies said about being hippies.
There was an issue before this one but it is easy enough to pick up the story. I am not sure how long this series is going to be, but it would be a good one to get as a trade paperback when it has finished its run.
Comic details:
Writer: David Walker
Penciler: Dave Wachter
Cover Artist: Joshua Cassara
Publisher: Marvel
Published: May 17, 2023