Games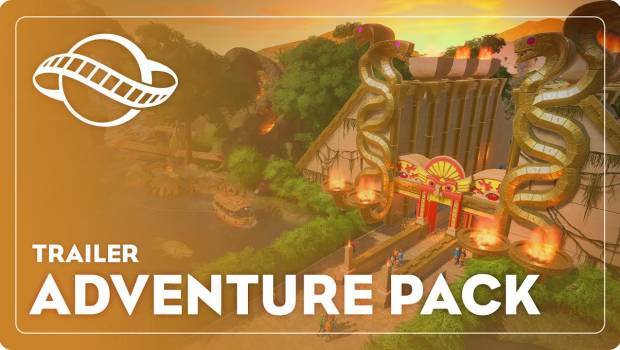 Published on December 19th, 2017 | by Admin
Planet Coaster RIP-ROARING Adventure Pack Available Now
Put on your hiking boots and grab your binoculars as Planet Coaster brings the golden age of adventure to life.
Cambridge, UK. 18 December 2017. Frontier Developments plc (AIM: FDEV) today launched the rip-roaring Planet Coaster Adventure Pack, with new rides, new scenery and a new entertainer for players to discover on an all-new creative journey.
See the new Planet Coaster Adventure Pack trailer here.
Unearth a treasure trove of creative possibilities with the Planet Coaster Adventure Pack, bringing the spirit of adventure to players' parks. The Planet Coaster Adventure Pack includes:
New Rides
Gold Fever is a mine cart coaster taking park guests deep into mysterious places and curious caves
Island Adventure is a high-capacity boat ride inspired by old steamers, designed to work on large bodies of water.
Land Ahoy is Island Adventure's little sister, with its own custom water channel.
Adventure Scenery
New Adventure scenery pieces include animatronic beetles, hippos, crocodiles, scorpions, mummies and even treacherous traps for park guests. Players can place static and animated attachments, special effects, shop fronts, path extras, doors and windows, fences and triggerable coaster doors.
Adventure Building Set
Build ancient pyramids and lost temples with new Adventure building components. Planet Coaster's piece-by-piece construction tools mean every part of every theme can be mixed, matched, removed and re-used however players choose.
New Entertainer
Intrepid adventurer Renee Feu arrives in players' parks to entertain and excite park guests. She's the queen of the jungle!
Planet Coaster's Adventure Pack also features 27 new audio 'ambiences,' six new music tracks and 33 triggerable sound effects including a new 'tour guide' for boat rides.
The Planet Coaster Adventure Pack is available now from Steam or the Frontier Store for £7.99 ($10.99, €10.99). The Planet Coaster Spooky Pack is also available from Steam or the Frontier Store now.
Join Planet Coaster on Facebook, Twitter, YouTube and Instagram all @PlanetCoaster.