Games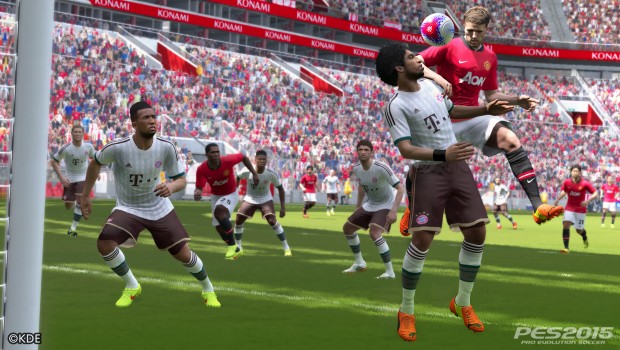 Published on November 13th, 2014 | by admin
The Pitch is Ours!' – KONAMI's acclaimed PES 2015 has released today. Its on-field focus is supported by stunning modes and online and offline advances
Konami Digital Entertainment B.V. has today released the highly acclaimed PES 2015 for PlayStation®4, Xbox One™, PlayStation®3, Xbox 360™ and Windows PC. The new game has already won a host of international awards.
PES 2015 boasts German international Mario Götze as its pack star in a move that reflects the focus on all-round performance in the game. "PES 2015 is the most realistic football title there is," said the Bayern Munich striker. "It truly reflects the way games ebb and flow, and I am delighted to be working with KONAMI on such an exciting project."
'The pitch is ours' is the ethos that dominates PES 2015. Through the combined efforts of the Tokyo and Windsor-based PES Productions team, the aim has been to recreate the drama and tension associated with a vital match. PES 2015 marks a concerted return to core PES values of total control, utterly responsive controls and unrestricted gameplay, where the user has complete control over how they play. Every pass, shot or run is finely balanced to give maximum player satisfaction within PES 2015's on-field action.
By looking at key facets of modern football, the PES Productions Team has completely reworked how the game performs all over the field. The shooting and goal-keeping mechanics benefit from a new system that allows precise aim and control over a shot's power and also unlimited shot styles. Similarly, the goal-keepers intuitively close angles and are capable of a variety of ways to react to any situation. Passing, and the final ball to the front line has also been expanded, allowing for little knock-ons and powerful daisy-cutter passes that use new physics routines to ensure the ball behaves realistically. Close control also steps up a gear, with the player governing both the positioning of a player, but with greater options of how to dribble into space or beat your marker.
Central to the new game's realism is PES ID, a system that ensures that all the world's greatest players both look and behave like their real-life counterparts. Teams are automatically set-up to play as they would in real life, while a weekly update download will reflect the current form of players on an ongoing basis. PES 2015 is also supported by all-new presentation elements which include a specially created menu system that remembers the player's preferred options and makes them instantly available. Likewise, a new training mode takes the player through the incredible array of moves and skills the game contains, while a licensed soundtrack featuring artists such as Cold War Kids and Morning Parade has also been included.
There are also many more ways to enjoy PES 2015's incredible on-field action, with online and offline play bolstered with an incredible array of leagues, competitions and ways to play. myClub offers an exhaustive overhaul of the eternally popular Master League, with the attitudes of players being included, dealings with agents, and a wealth of other factors affecting the player's preparation and development of their side. KONAMI has also implemented a new play feature called 'Role Control' wherein three players can divide the defensive, midfield and attacking roles between them for more structured multi-player action for a new competitive slant to the game. Online play is also slick and easier to use, with simpler ranking games, new Online Divisions with relegation and promotions, dedicated 11-vs-11 lobbies and all-new cheat measures in place.
PES 2015's licence roster has also been improved, introducing second-tier teams for the first time, with Spanish Liga Adelante represented in its entirety, as is the French Ligue 2. The team rosters have also been extended to English and Italian second-tier teams, albeit not in licensed form but with real players. These supplement the full Dutch Eredivisie, French Ligue 1, Spanish La Liga and Italian top-flight leagues, which are long-standing PES inclusions. The cream of European club sides are also licensed, and include pack star Mario Götze's Bayern Munich; Portuguese giants FC Porto, Benfica and Sporting SP; and the likes of Anderlecht, Manchester United, Zenit St Petersberg, CSKA Moscow and Galatasaray.
This compliments the existing exclusive licenses, headlined by UEFA Champions League, Europa League and Super Cup. The Copa Libertadores and Asian Champions League return, with new additions Copa Sudamericana and Recopa Sudamericana adding to the top club competitions only playable in PES 2015.
KONAMI has also prepared a day one download for PES 2015, which will ensure that 93 new kits will appear authentically in the game, while eight more licensed teams have been added including Sparta Praha, FK Partisan, and Maccabi Tel Aviv. Additionally, the Brazil league will have six of its teams (Santos, Internacional, Vasco da Gama, Vitoria, Criciuma, and Chapecoense) updated to include an additional 109 of the athlete's real names. An additional digital download will be available in December that will add 11 of the athlete's real names to the roster for Flamengo; the December update will also include yet more teams in other leagues and bolster the stadia roster for the current generation of gaming systems. The day one download will reflect all transfers and loans, and new boots from Puma and Nike will be added. Continuing KONAMI's dedication to ensure the stars resemble and act like their real life counterparts, the day one update will include over 80 player feature updates as well.
"This is an incredibly exciting time for PES fans," commented Shinji Hirano, President for Konami Digital Entertainment B.V. "PES 2015 stands as a game that truly recreates the skill and passion of top-flight football. From the moment we stated 'The Pitch Is Ours' people have been impressed by the vision and gameplay we have shown and the benefits FOX Engine brings. From winning the coveted gamescom 'Sports Game of Show' award through to best sports game at Paris Games Week, PES 2015 has forced people to look at this new challenger in a new light. Like its pack star, Mario Götze, PES 2015 is a world-beater."
PES 2015 is currently available for the PlayStation®4, Xbox One, Xbox 360 and PC across retailers in Australia and New Zealand.