Films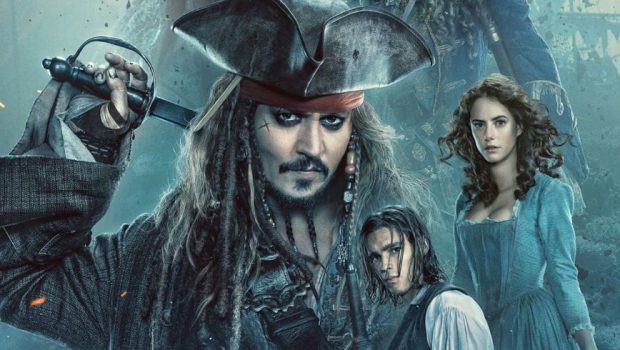 Published on May 28th, 2017 | by Tim Cooper
Pirates of the Caribbean: Dead Men Tell No Tales – Film Review
Reviewed by Tim Cooper on the 28th of May 2017
Disney presents a film by Joachim Rønning and Espen Sandberg
Produced by Jerry Bruckheimer
Screenplay by Jeff Nathanson
Starring: Johnny Depp, Javier Bardem, Brenton Thwaites, Kaya Scodelario, Kevin McNally and Geoffrey Rush
Music by Geoff Zanelli
Cinematography Paul Cameron
Edited by Roger Barton and Leigh Folsom Boyd
Running Time: 130 minutes
Rating: M
Release Date: the 25th of May 2017
A franchise inspired by a theme park thrill ride isn't what anyone would call a strong foundation for a character driven story. Not to be deterred by this and with the obvious goal of box office treasure in mind, Disney created Pirates of the Caribbean: The Curse of the Black Pearl (2003). The film was a huge success worldwide both commercially and critically (mostly).  Directed by Gore Verbinsky (The Ring, 2002) the first film in the series was a classic pirate story of ghosts and treasure, driven by a Saturday Matinee movie pace. It succeeded by dusting off every pirate idiom and stereotype then unashamedly blasting it all out of a cannon on screen. While Captain Jack Sparrow, played by Johnny Depp, has since become a household name, the films in the series have decreased in quality and direction since his first high sea adventure.
The Pirates series has undergone several changes to cast and crew, especially since the third film in the franchise (At Worlds End, 2007), and the cracks are starting to sink this already leaky vessel. For any film franchise to develop beyond an already hard to accomplish arc of three films there has to appropriate character development and thrills for the audience to return with cash in hand. Fourteen years and five films deep, the pattern of these pirates is becoming staler than the food on the Black Pearl itself. Dead Men Tell No Tales is a sequel no one asked for but arrives blasting on all cannons with as much bravado and blind stupidity as Jack Sparrow himself.
Dead Men Tell No Tales wisely has a fast paced first act as we are introduced to new characters Henry Turner, played by young Australian actor Brenton Thwaites (Gods Of Egypt, 2016), and Carina Smyth (Skins UK). Henry is searching for the Trident of Poseidon to release the curse placed upon his father that leaves him on the bottom of the ocean as the cursed captain of The Flying Dutchman. Henry is ambushed at sea by pirate-hunting ghost and nemesis of Jack Sparrow, Captain Salazar (played by Javier Bardem with the help of some top shelf computer effects). Escaping death and given a mission by Salazar, Henry is ordered to find Jack Sparrow and inform him of his impending death.
Back on dry land, Jack Sparrow is hitting a new drunken low by giving up his precious compass for a bottle of rum. This pirate tool that hangs from his neck is featured heavily during the series; its purpose being that it points not to north but to the one thing the wearer wants most in this world. Jack's usual drunken behavior sees him at the guillotine where he meets Carina, whose study of astrology and horology (the study of time) has led to her being accused of witchcraft and sentenced to death. Knowing Jack's compass can lead him to the Trident of Poseidon, Henry attempts to rescue Jack and Carina as they are about to be executed. The three meet with Jack's motley crew and sail off on the new adventure to find the Trident of Poseidon, each with their own goal in mind.
The latest film begins with numerous grand set pieces that blend both practical and computer effects that open proceedings with a strong action orientated impact. Utilising the series' trademark of combining slapstick fight scenes with grandiose set pieces, the early scenes are entertaining and impressive to watch, if not entirely predictable. As the story progresses we are introduced to well known faces such as Jack's crew on the aptly named Dying Gull and Captain Hector Barbossa (Geoffrey Rush) who gets tangled up with Captain Salazar on his mission to kill Jack Sparrow.
As the stakes are raised, set pieces are abandoned in favour of green screen sets that remove any real sense of character placement in this colourful world of tales and treasure. While none of the Pirates films are devoid of computer generated graphics, Dead Men Tell No Tales relies too heavily on this as a construct to tell the story. Curse of the Black Pearl remains the most well received film of the series because of the strength in the practically constructed action scenes and the film's characters—not because there's fifty-foot computer constructed wave crashing though your 3D glasses. These films hark back to a film era long past and would benefit from respecting that history and integrating practical over computer effects.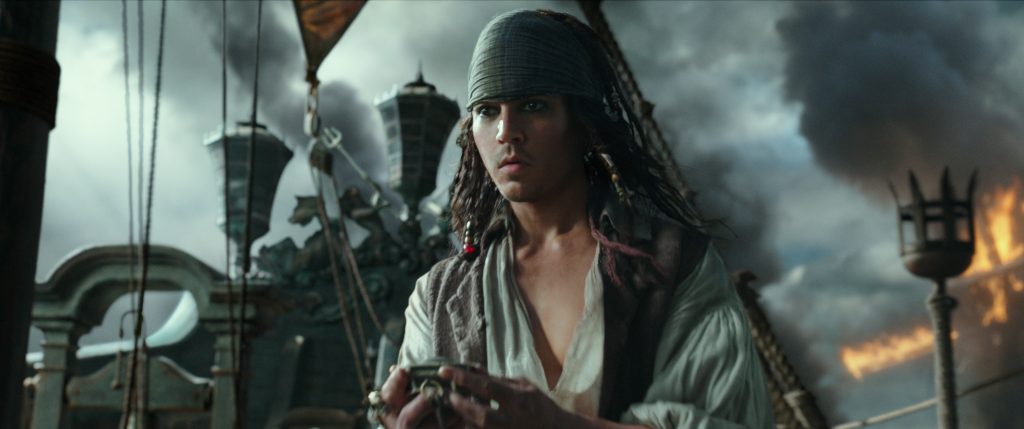 With a slower pace and much exposition in the film's middle act, we learn more about our characters' combined histories with the aid of computer generated Jack Sparrow. This disturbing Disney trend, most recently seen in Rogue One: A Star Wars Story, is creepy, morally questionable and gives the look of a person developed in a lab and constructed with clay under a hot lamp. This trend is overkill when makeup or simply another actor could tell the story more convincingly.
The film then gives way to a third act of such cartoon blandness it seems squarely aimed at children waiting to purchase the latest Happy Meal figuring tie-in after the credits roll. The effects completely dominate any emotional care factor as actors are hoisted and thrown around in front of a set that isn't even partially built or creatively constructed. Mysticism and adventure are two key elements to a big screen pirate tale, but the finale of this film drowns in its own ambition to ramp these up elements to outdo the previous films. With a closing scene of aerial shots backed by a rousing orchestral score there are a few surprises left in Dead Men Tell No Tales that may please longtime fans of the series. This final scene is aiming for a nostalgia hit amongst fans just as much as it is aiming for your wallet. Disney is far from subtle in revealing they want to not just milk this cash cow, but butcher it and sell it back to you for dinner as well.
In his fifth outing as Jack Sparrow the Keith Richards-inspired pirate, Depp brings his usual drunken swagger and rascally charm but the character isn't enough to hold the film nor should he be. The film anchors on Henry and his quest to save his father. Brenton Thwaites is deliberately reminiscent of a younger Will Turner but not a strong enough screen presence against seasoned actors such as Depp, Bardem and Rush to impress in a picture of this scale. Kaya Scodelario on the other hand is compelling and fiery on screen and helps push the only strong female character to become one of the film's drawcard performances.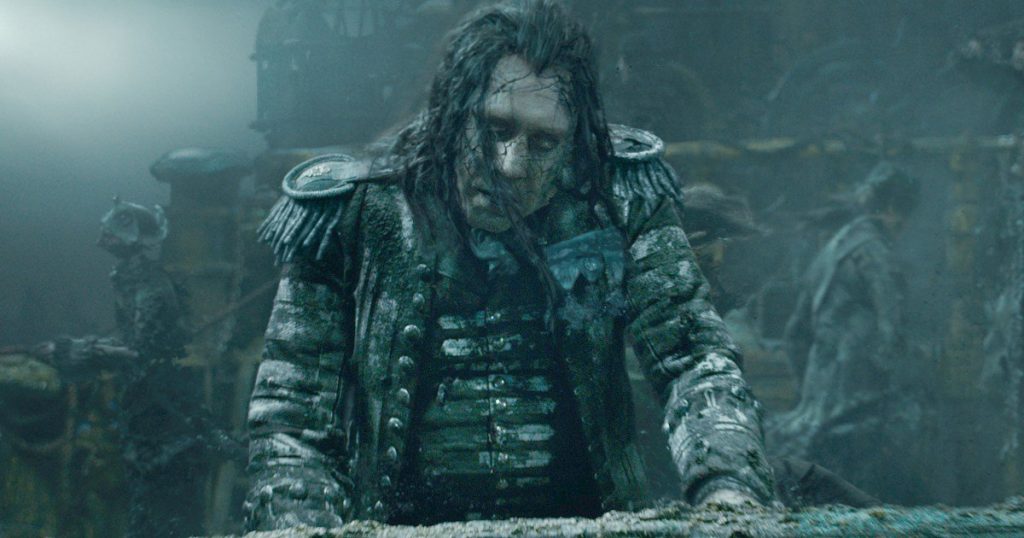 With the film being shot in Australia (people may remember the ridiculous fiasco with Johnny Depp's dog and the Australian government) there are local actors present, including David Wenham amongst others. Bardem is suitably dark despite being completely reliant on effects to finish his character and he brings much needed weight and mercilessness to the film. Directors Joachim Rønning and Espen Sandberg (who also co-directed Kon-Tiki 2012) have put together a vibrant large-scale adventure that wisely has it's story roots tracing back to the early installments but visually owes more to the recent and critically maligned entries of the series.
Despite the combined acting talents of the cast, Dead Men Tell No Tales sinks due to its over-ambition and reliance on special effects. It is a huge disappointment that Disney continues to push the franchise into special effects driven features when the locations and practical set pieces are the most breathtaking and entertaining parts of the series. With another film still planned at this point, perhaps not a reboot but a rethink could benefit this series and return the final film to the successful roots of the well-loved first installment.
Summary: Dead Men Tell No Tales sinks due to its over-ambition and reliance on special effects.