Games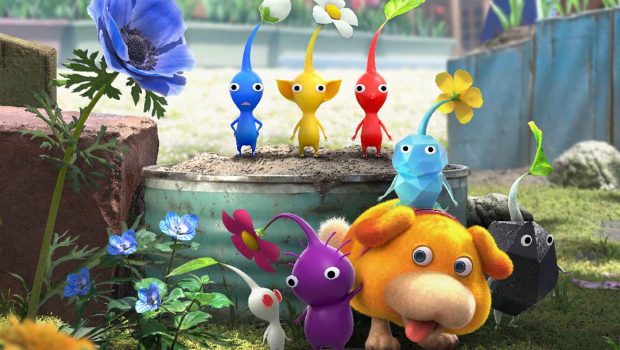 Published on July 21st, 2023 | by Adrian Gunning
Pikmin 4 Launches Today On Nintendo Switch
A new adventure blossoms with Pikmin 4 out now for Nintendo Switch. On a peculiar far away planet, a group of space travellers are stranded and awaiting rescue. As the newest recruit of the Rescue Corps, players pick up the travellers' SOS signals and explore an uncharted world inhabited by a curious crop of creatures. Thankfully, some of them are friends, not foes.
Together with Pikmin, spirited helpers, which might be small in stature, but boast strength in numbers, players will explore, hunt for treasure in vast areas, battle wild critters, solve puzzles and rescue the stranded travellers.
Pikmin can be grown, gathered and guided to tackle tasks big and small and they come in a variety of shapes, sizes and colours. For example, Red Pikmin are flame-resistant and boast powerful attacks, newly discovered Ice Pikmin can keep things cool by freezing enemies, bodies of water and more, and the strange new Glow Pikmin thriving in the dark can stun enemies with the light they emit.
Oatchi, the adorable Rescue Pup, will also join the adventure. This dependable companion can smash obstacles, transport heavy objects and carry both the player and a whole host of Pikmin on his back. Oatchi can learn to jump, doggy-paddle, swiftly rush enemies and more.
Puzzling challenges, strange creatures and powerful bosses do not only await players above ground, but also in caves scattered across the planet. Time flows differently in these dark depths, so players can descend and explore at their own pace.
Seasoned planetary explorers looking for a challenge can also test their mettle in night expeditions fraught with danger and more aggressive creatures. The mission is to defend structures containing glow sap, a precious substance that enemy critters are eager to get their paws on. Dandori Battles will put anyone's organisational and efficiency skills to the test – either solo or against another player on the same console*. In these battles, players try to collect more objects than their opponent within the time limit to win and save the castaway.
A free Nintendo eShop demo for Pikmin 4 is also available and allows players to immerse themselves in this floral adventure. Any progress can be transferred to the full game. New to the series? This is a great entry point for anyone that wants to learn more about Pikmin.
Pikmin 4 is now available for Nintendo Switch. As the newest recruit of the Rescue Corps, players join forces with Pikmin, tiny, plant-like creatures, and adorable rescue pup Oatchi to find a group of stranded space travellers on an uncharted new world. A free Nintendo eShop demo for the game is also available.