Games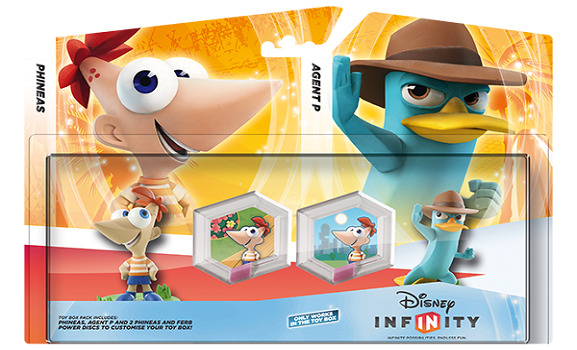 Published on May 7th, 2014 | by admin
Phineas and Agent P and Wave 3 Power Discs Officially Release Tomorrow in Australia and New Zealand
Bringing new Adventures and toys to Disney Infinity, and allowing players the possibility of unlocking the "ultimate pack" lightsaber within the game, Phineas and Agent P figures will officially be in Australian and New Zealand stores tomorrow (8 May), available individually and as a Toy Box Pack.
The immensely popular Phineas and Agent P characters join Disney Infinity from Disney Channel's animated series "Phineas and Ferb."  Players will be able to embark on secret spy missions and defeat enemies with Agent P's flying fedora or Phineas' baseball blaster and tuck n' roll moves.
Both character figures are accompanied by their own unique Adventures. In the Phineas Adventure, players are set into a giant pinball machine and challenged to create a play field where they can destroy waves of oncoming robots.In the Agent P adventure, players can participate in a top-down adventure with side-scrolling elements that pay homage to old school arcade games.
The Phineas and Ferb Toy Box Pack will also include two new power discs to give players' Toy Boxes a makeover. The "Tri-State Area Terrain" Texture Set and the "Danville Sky" Sky Theme will provide players with well-known location backgrounds from the show, including the Doofenshmirtz Evil Incorporated building and a small waterslide park invented in one of the cartoon's episodes.
As a reminder: Disney Infinity players who own all of the figures (crystal variants not required), including Phineas and Agent P, and have them in their Hall at a minimum of level one, will unlock the "ultimate pack" lightsaber.
A new wave of 17 Power Discs will also be officially available tomorrow. The Circular Power Discs grant characters special power ups that can be used in both Play Set and Toy Box modes. Hexagonal Power Discs unlock special gadgets, vehicles and themes to allow for even more customisation opportunities within Toy Box mode. Players can stack up to two Circular Power Discs or up to three Hexagonal Power Discs to optimise all the add-ons.
See below for full descriptions of all Wave 3 Power Discs.