Films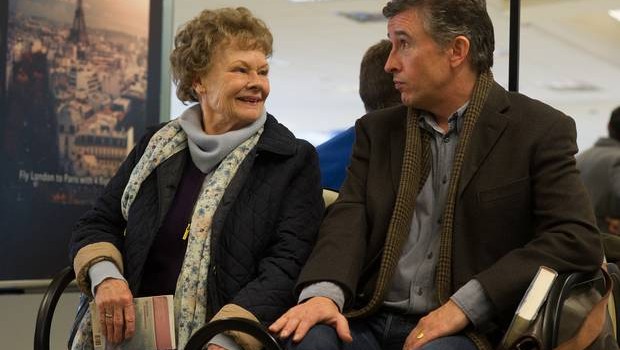 Published on December 30th, 2013 | by Nicki Newton-Plater
Philomena – Film Review
Reviewed by Nicki Newton-Plater on December 29th, 2013
Hopscotch presents a film by Stephen Frears
Written by Steve Coogan and Jeff Pope (screenplay), based on Martin Sixsmith book "The Lost Child of Philomena Lee"
Starring: Judi Dench, Steve Coogan, Michelle Fairley, Sophie Kennedy Clark, Barbara Jefford, Peter Hermann
Running Time: 98 minutes
Rating: M
Release Date: December 26th, 2013
The true story of Philomena Lee as told in Stephen Frear's Philomena is incredibly moving and although it is beautiful in its execution, it plays out every mother's worst nightmare on the big screen. British journalist Martin Sixsmith (Steve Coogan) decides that he should put the writing of his book on Russian history on hold and look towards embarking on a human interest story, an idea he is initially not overly keen on. He meets Philomena Lee (Judi Dench), a woman who has a remarkable story to tell. Decades ago, Philomena fell pregnant while a teenager and was sent to a convent to give birth and live and work there as repayment to the nuns for taking care of her and her son Anthony. When he was four years old, Anthony was taken from Philomena without her consent and she hasn't seen him since then. Martin agrees to help Philomena find her son and they set off on a journey that will take them from Ireland to Washington, DC and take them from strangers to understanding.
Jeff Pope and Steve Coogan have constructed a wonderful screenplay. Philomena is not at any point in time dull or tedious. It consistently moves forward even when you least expect it to be doing so, and creates tension where you least expect it to. There is some truly wonderful dialogue spoken between the main characters and the dialogue spoken in the key scenes is so powerful and memorable. The spoken word is so very important in a film like this that challenges you to contemplate some hard issues. The characters have to say the right things in to make a scene as powerful as the issue itself. What is absolutely remarkable is that Philomena not only possesses some of the most moving, yet at the same time, confronting scenes as a result of the exchange of words between the characters, but it also delivers some very funny scenes. Philomena is really a wonderful character as although she has been through so much, she still remains loyal to her faith and she is endearing as well as being unintentionally comical.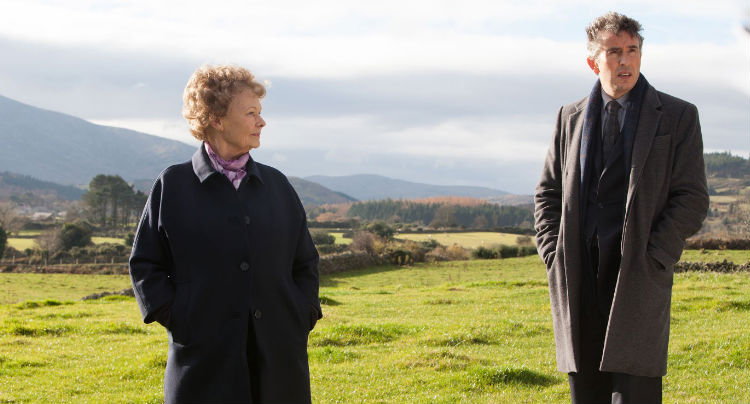 Although there are quite a few laughs, Philomena remains any parents worst nightmare, having your child taken away from you and never see them again. What it must be like to know that your child has progressed in the world and grown up without you, not knowing how or where, is a terrible notion. They say when you have children it is like having your heart wander around outside your body and although Philomena did have other children, there must have been a great deal of feeling lost as she never knew where her heart was. While there is closure at the end of the film, there is still great sadness along the journey and you really feel for Philomena. It makes it even more heartbreaking to know that Philomena is actually based on a true story and that this is not just a story made up for a film. This really did happen to many mothers and children. It makes you sad, but also makes you thankful for what you experience with your children and should never take for granted.
On top of this, the issues that are explored in the film are very thought provoking. Philomena doesn't quite paint these nuns in a very good light, but on the other hand it does show the strength and beauty in faith to forgive those who have done something to us, which is usually deemed unforgivable. The film absolutely challenges you to not only think about what you would do in the same situation, but also how you would handle the situation.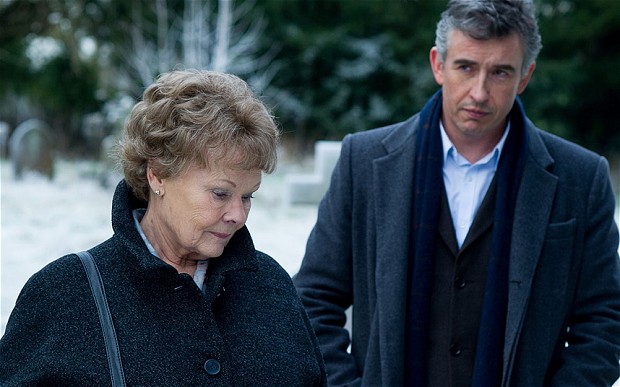 Judi Dench is absolutely exquisite as Philomena. It is hard to imagine that anyone could have played this role other than the great Judi Dench. It seems to be role she was born to play and one can only imagine that the real Philomena Lee must be thrilled to have Dench portray her. Her performance is so moving and she is absolutely endearing and so likable, Dench captures Philomena's inner purity and her submerged pain so well. While she acts so strong, the moments in which she lets go are so powerful. The last scene when she is confronted with Sister Hildegarde is just brilliant. Steve Coogan is also very, very good as Martin Sixsmith. Like Dench, his best scene is the final scene with Sister Hildegarde and the confrontation is perfect in every way as far as performance and dialogue go. The chemistry between Dench and Coogan is a highlight of the film. The two work exceptionally well together on screen and the work off each other so well. Sophie Kennedy Clark, who plays the young Philomena, is also very good.
Philomena is an absolute gem of a film which will make you both laugh and cry. Beautiful performances accompanied by perfect direction and a very well written script make this film really one of a kind.
Summary: An absolute gem of a film which will make you both laugh and cry.