Hardware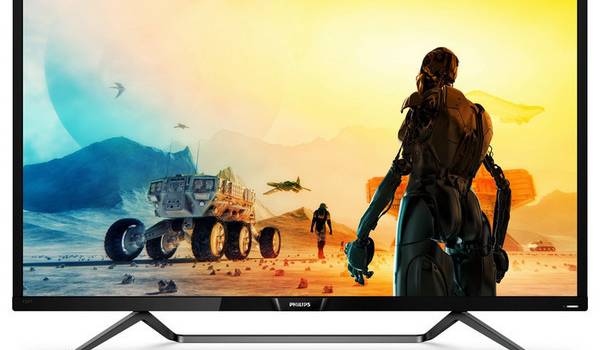 Published on August 7th, 2018 | by Admin
Philips Unveils New 436M6VBPAB Momentum with World's First HDR1000 Display
MMD Australia, brand licensing partner of Philips Monitors, unveils the new Philips Momentum display with UltraClear 4K resolution and an immersive combination of Philips' exclusive display innovations. The display defines visual clarity at its most modern, bringing the most detailed experience for ultra-crisp gaming, professional CAD solutions, 3D graphics applications, and captivating home viewing.
In a world first, the 436M6VBPAB Momentum displays HDR1000 (High Dynamic Range) video, bringing the next generation of immersive experience to viewers. HDR1000 is the highest display HDR specification to be certified by the Video Electronics Standards Association, yielding significantly greater brightness and incomparable contrast with extended luminance and color range for stunningly realistic images.
The Momentum's HDR video delivers a dramatically different visual experience to that of other displays as images come to life with much greater brightness while featuring far deeper, more nuanced darks. It also renders a fuller palette of rich new colours never before seen on display, giving a visual experience that engages the senses and inspires emotions.
Working in conjunction with the Momentum line's advanced Ambiglow, Quantum Dot and gaming technologies (Adaptive-Sync and Low Input Lag), consumers have the ability to submerge themselves in the most innovative, immersive and interactive user experience available today. The beauty of an image resides in its wealth of details, and with the release of the 436M6VBPAB Momentum, Philips has taken the evolution of displays to the next level.
Other highlights
• Quantum Dot: Market-leading Quantum Dot Technology is an innovative semiconductor nanocrystal technology that precisely emits light to produce a more dynamic range of colors that produce a truer natural palette.
• 4K Resolution: At a stunning 3840×2160 pixels, images are displayed with more detail and clarity than typical monitors.
• MultiView: Work with multiple inputs (like PC, notebook or TV/media devices) simultaneously on the same screen with active dual connect.
• Gaming Features: For gaming enthusiasts, this display comes with Adaptive-Sync to eliminate screen tearing and Low Input Lag to ensure smooth responsiveness to retain your competitive edge.
• DTS Sound™: Enjoy an immersive virtual surround sound experience, complete with rich bass, dialog enhancement and maximized volume levels free of clipping or distortion.
• Flicker-Free Technology: smooth brightness control reduces eye strain and makes the screen more comfortable to view.
• Connectivity: USB-C, HDMI 2.0 and DisplayPort allow the display to connect to most video and audio sources like gaming consoles, OTT boxes, DVD players, video cameras, etc.
• Ambiglow: Enjoy a superior multimedia experience with Ambiglow, which enlarges the apparent screen size by projecting a halo of light onto the surrounding wall with real-time color and brightness adaptation. Tailor your experience with user friendly options that allow you to adjust the ambiance to suit your viewing preference.
Product Summary
Product Name: Philips Momentum 436M6VBPAB
Screen Size: 42.51″
Resolution: 4K (3840 x 2160) HDR1000
RRP: From $1399 (incl. GST)
Availability: Now