Hardware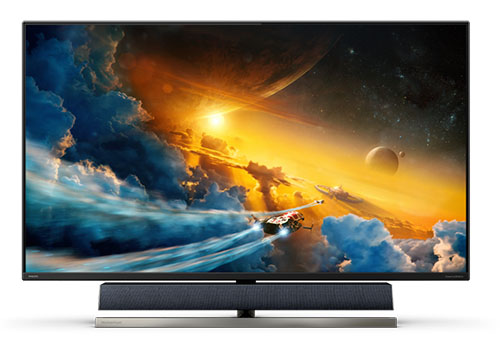 Published on September 10th, 2020 | by Adrian Gunning
Philips Unveils a Revolutionary New Momentum Display with Bowers & Wilkins Speakers and Ambiglow Lighting
Philips Monitors has unveiled an impressive big-screen display, designed to engage the senses in full, with stunning visuals, crisp sound and beautiful lighting. Part of the entertainment-focused Momentum line of high-end monitors, the new 558M1RY is designed to bring value and joy to all users, with special appeal to home cinema enthusiasts and console gamers.
Engage the senses with sight and sound
Two unique features put the 558M1RY above most displays for delivering a top tier entertainment experience: Philips Ambiglow lighting, and a full-range sound bar with speakers by legendary audio experts Bowers & Wilkins.
To enhance visual immersion, Ambiglow creates a halo of light around the monitor that automatically adjusts to the colour of what's on screen. Imagine exploring the ocean in a diving documentary, with shades of blue bathing the walls – or seeing the room light up as you deliver a finishing knockout combo in your favourite fighting game.
The sophisticated sound system, engineered by Bowers & Wilkins, offers six sound modes tailored for atmosphere, impact and EQ levels to deliver total user enjoyment: Sport & Racing, RPG & Adventure, Shooting & Action, Movie Watching, Music, and Personal for customisable settings. To ensure the superb sound quality is heard in its purest form, the sound-bar on the display is covered with acoustically transparent fabric using a premium wool blend created by renowned manufacturer Kvadrat.
Delight the eyes and inspire the mind
At its core, this display is wholly focused on delivering an immersive and engaging home entertainment experience. This is delivered via a SmartImage HDR-empowered 4K UHD resolution of 3840 x 2160, and a faster-than-average 120Hz refresh rate for an unrivalled blend of awe-inspiring visuals and silky-smooth motion.
DisplayHDR 1000 produces astonishing brightness, contrast and colours, with its potential for lifelike images fully reached with the help of local dimming and peak brightness of up to 1000 nits. This can be further enhanced with a variety of settings optimised for home entertainment, like HDR Game, HDR Movie, HDR Photo and various personal customisations.
This monitor is the ultimate choice for enthusiastic gamers, movie and TV lovers, keen followers of art or photography, and anyone else with a similar enthusiasm for taking their audio-visual media experience to the next level.
Additional advanced features
Further to the uniquely immersive entertainment experience described above, this display is also equipped with many more enhancements, including:
Flicker-free technology protects eyes and reduces fatigue, especially useful with big-screen viewing in low light.
Gaming performance is enhanced by Low Input Lag, which intelligently reduces the delay between device inputs and on-screen display, for an enhanced sensation of perfect responsiveness.
MultiView allows two separate devices to be viewed simultaneously on the same screen, so you never miss a moment of what matters.
Model: 558M1RY
SRP: $2,499 incl. GST
Additional Images: Please click here
Availability: Available in Australia in mid Sep
Product Information: https://mmdinnovationhub.com/au-558m1ry/