Hardware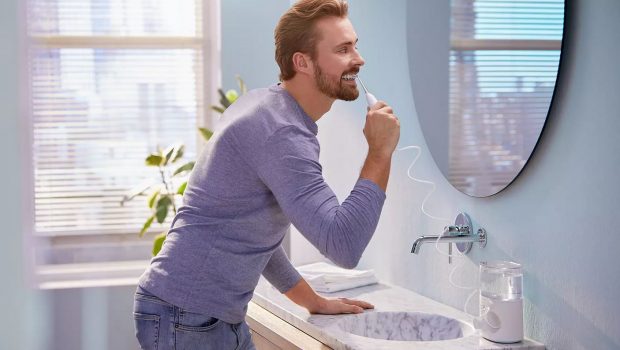 Published on January 5th, 2022 | by Andrew Bistak
Philips Sonicare Power Flosser 7000 Review
Summary: The Philips Sonicare Power Flosser 7000 is truly the new way to floss and without the stress!
Philips are a leader in the dental industry and they successfully added a layer of smart technology into their electric toothbrushes which is like having your own virtual dentist and we reviewed their excellent Sonicare 9900 Prestige earlier this year. Complementing the Philips Sonicare 9900 Prestige is their new Sonicare Power Flosser 7000 Oral Irrigator that removes up to 99.9% of plaque according to a laboratory study of plaque in treated areas. This is done with Philips quad stream technology that increases the cleaning area, including Pulse Wave automation which helps guide you from tooth to tooth thanks to gentle pulses of water.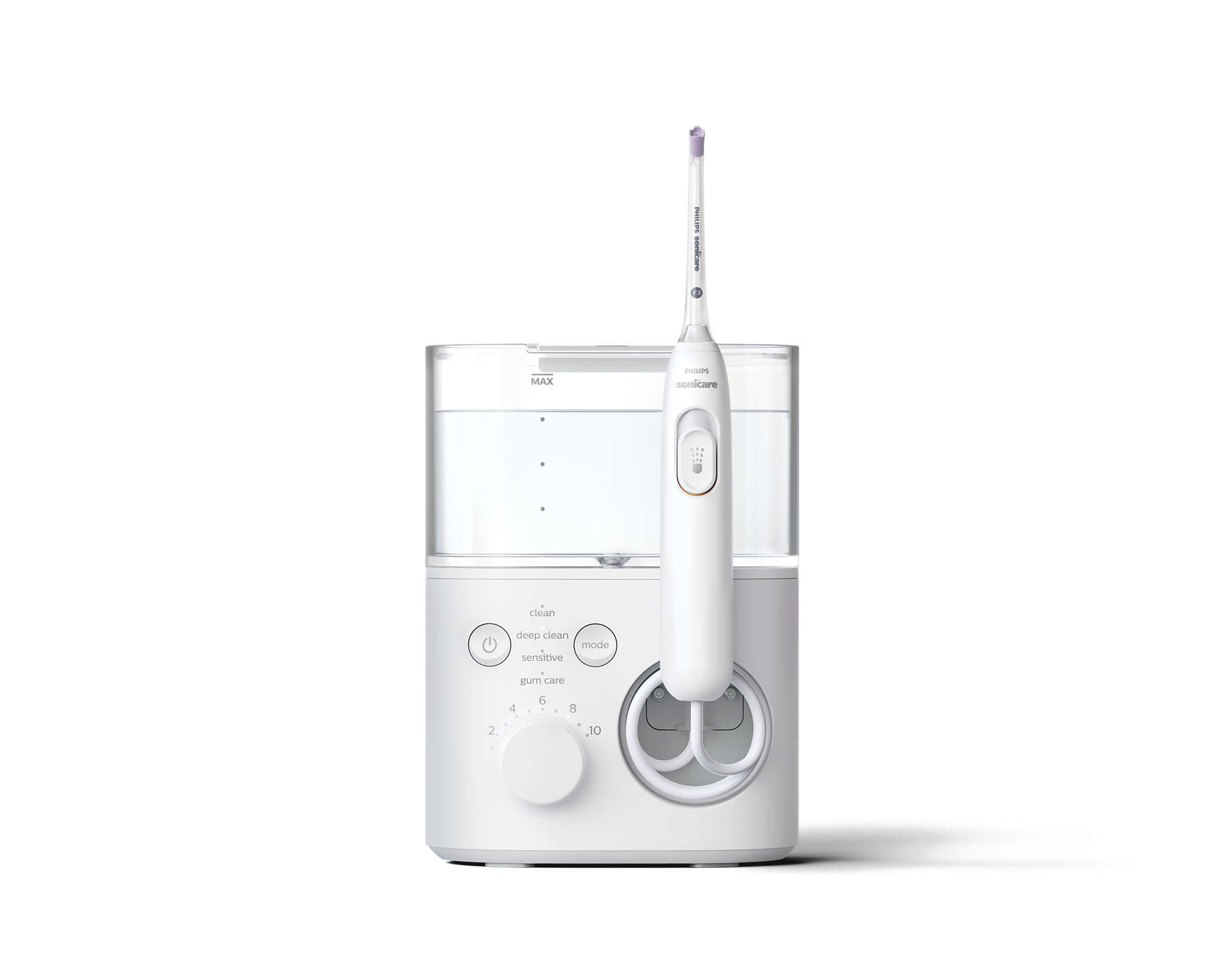 As a result, the new Philips Sonicare Power Flosser 7000 Oral Irrigator greatly improves your overall mouth health. Furthermore, this electric flosser is quiet when running and best of all, it is easily cleaned. Additionally there are 4 different flossing modes with 10 different intensities to ensure it covers everyone, including those with sensitive gums.
Philips Sonicare Power Flosser Features

New X-shaped QUAD STREAM™ technology delivers exceptional cleaning that's up to 1.8x more effective than floss in improving gum health and removes up to 99.9% plaque in treated areas
Pulse Wave technology prompts users to effortlessly glide the nozzle to the next gap between teeth.
The Sonicare Power Flosser can be tailored to a range of needs and preferences, ensuring an optimum user experience.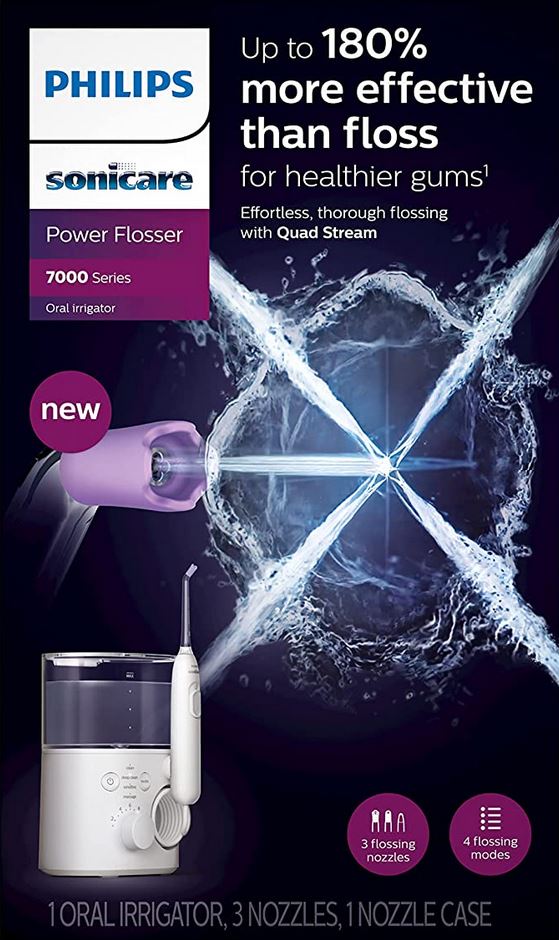 Like the aforementioned Philips Sonicare 9900 Prestige, the Sonicare Power Flosser 7000 Oral Irrigator is a premium product with a recommended retail price of $269.00AUD (December 2021) but is a small price to pay for dental health, considering the cost of fillings, caps and root canals that according to the 2020 national dental fee survey can be up to $3400AUD.
Well packed from the Philips, the Sonicare Power Flosser 7000 comes with everything you need to improve your mouth health that includes;
Power Flosser
Comfort Nozzles x2
Quad Stream Nozzles x2
Nozzle Storage Case
Unboxing Photos
Navigating the 7000 is a relatively easy process and once filled with water (600ml), then powered on, you attach your preferred nozzle. There is a mode button that allows you to change between clean, deep clean, sensitive and gum care with a dial labelled 1 to 10 to change between sensitivity levels or intensities.Unlike traditional flossing with dental floss which I find it a frustrating and time-consuming process due to the spacing of my teeth, including hard to reach places in the back of my mouth, this is not the case with the Philips Sonicare Power Flosser 7000.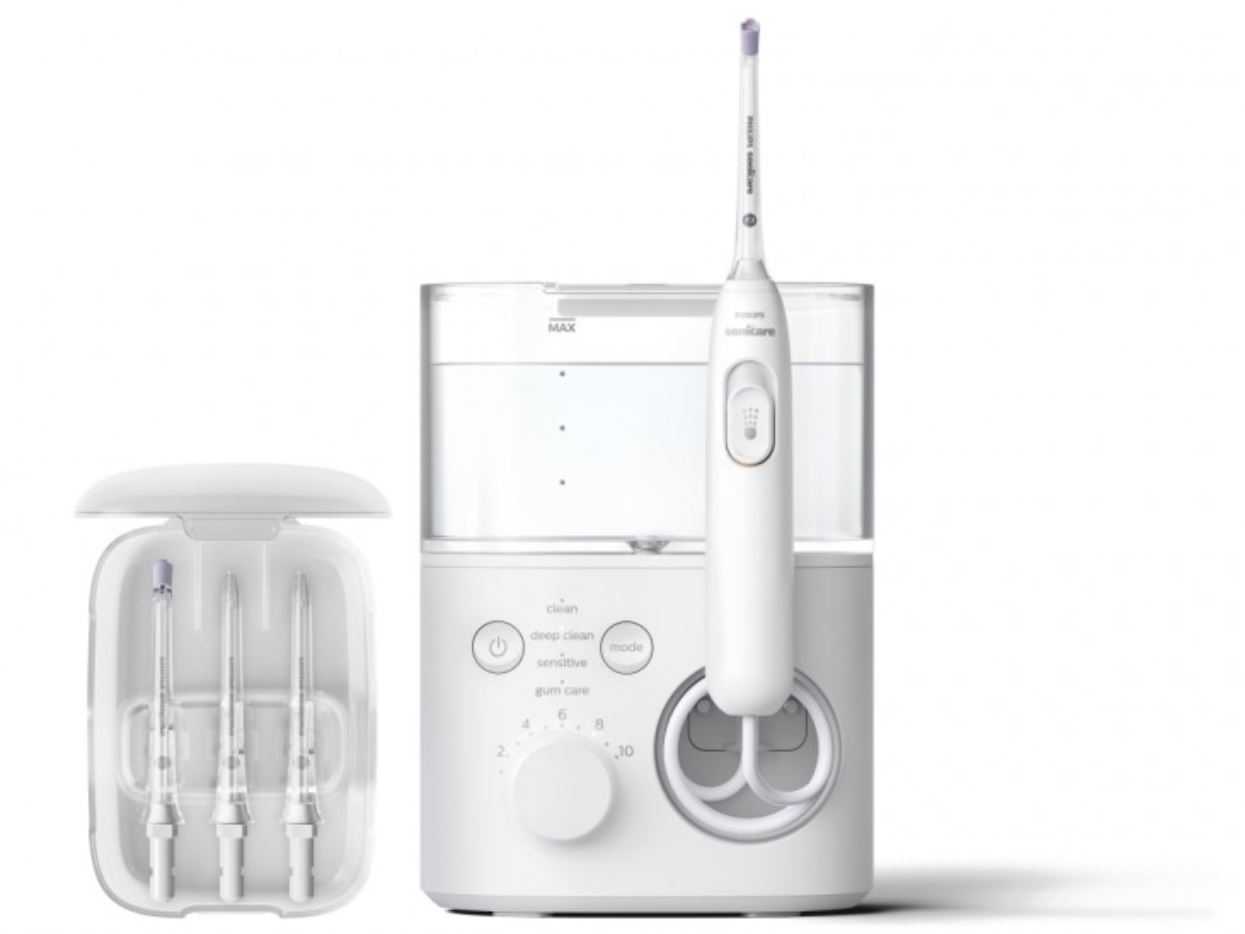 This all changes with the Philips Sonicare Power Flosser 7000 thanks to its high pressure water and the new x-shaped squad stream technology really cleans both teeth and gums well. In terms of intensities, I did start using the 7000 on a lower setting as it does feel a little strange at first, however as the days, then weeks progressed, I increased the level and did find the higher levels made for a better clean. Also, the handle is quite ergonomic so it makes holding it a breeze and the entire process takes just over 60 seconds to complete.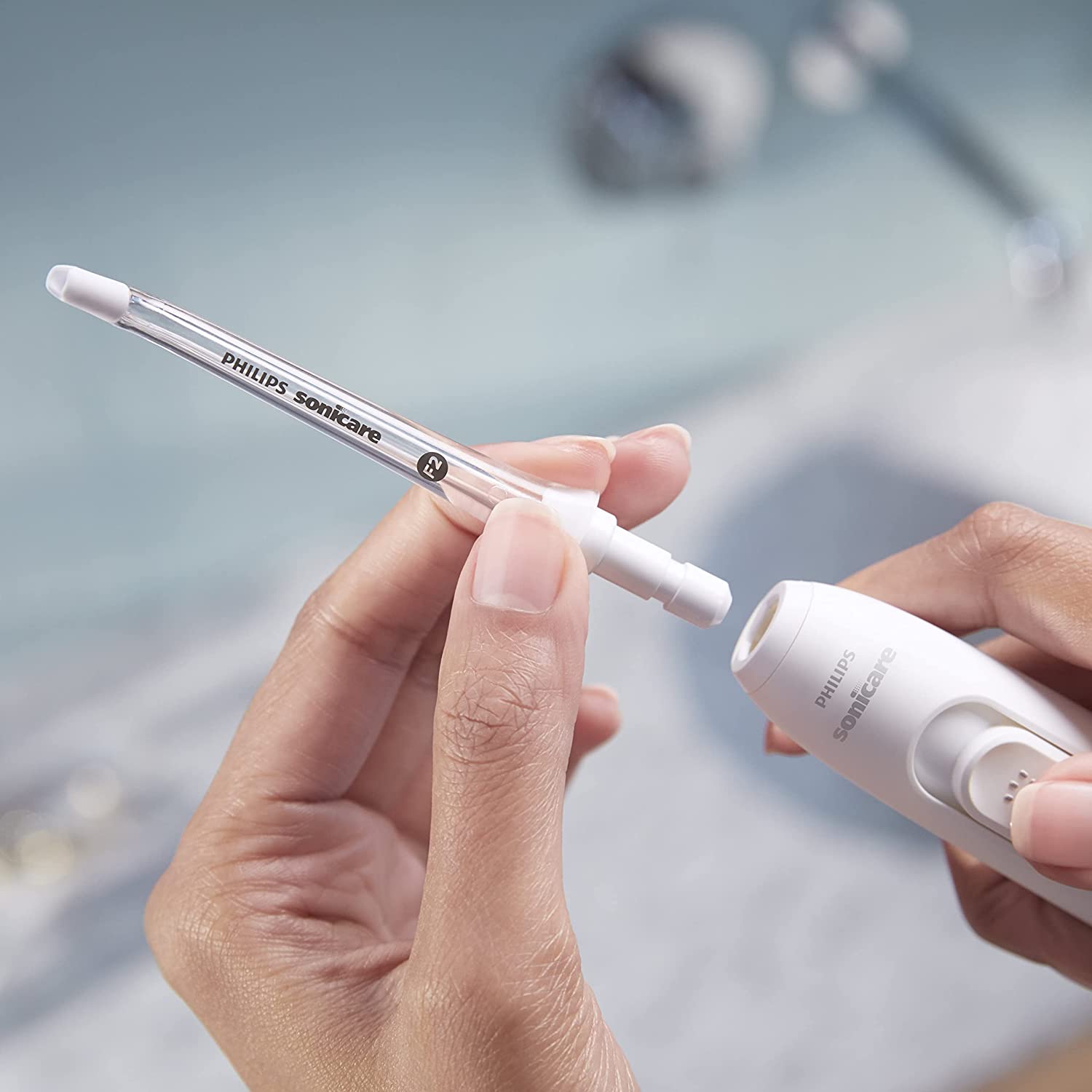 Another highlight of the product is the gum care mode and if you have gum issues or even receding gums, the 7000 stimulates and sooth the gumline to prevent further damage to your gums. This is also where the the quad stream nozzles comes into play as it targets both teeth (including in-between) and gums, plus the places where regular dental floss is used.
Alternatively the standard nozzle uses a singular stream which is more akin to standard flossing, however (and obviously) considerably more superior. Also after a messy meal, you will be surprised at how much of debris is left in your sink after using the Philips Sonicare Power Flosser 7000 and once finished, the handle rests on the dock courtesy of a magnet and it automatically powers off.
Final Thoughts?
Like the Sonicare 9900 Prestige, you will soon notice an improvement with your dental health in around 2-weeks, including removal of more plaque and better gum care. It also come with a 2-year warranty for additional of mind and all in all, a great way to floss!
Recommended
For more information, please visit https://www.philips.com.au/c-p/HX3911_42/sonicare-power-flosser-oral-irrigator