Hardware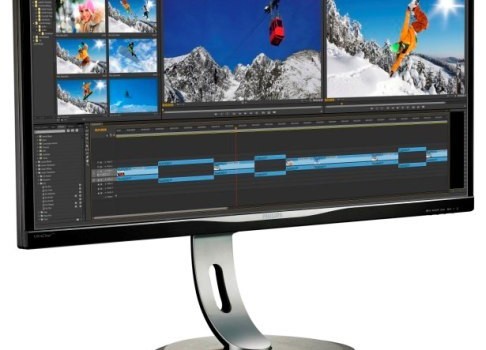 Published on December 8th, 2014 | by Admin
Philips Launches the Brilliance Ultrawide LCD Display Quality and Comfort in one
SYDNEY, Australia – 8 December 2014 – Philips introduces the Brilliance Ultrawide LCD Display (Model BDM3470UP). This 34-inch monitor boasts high resolution graphics as well as comfort and flexibility to provide the optimal configuration for professionals or home entertainment enthusiasts.
Big Pictures in Great Detail
 The Brilliance Ultrawide LCD Display makes games, images and other graphics come alive by incorporating Philips TrueVision technology. This technology enables true 8-bit colour depth with more than 99% sRGB colour space across the 21:9 panoramic screen. CrystalClear Quad HD 3440 × 1440 pixel images provide high pixel density, ideal for professionals who need to view comprehensive sets of information, CAD-CAM designers or avid PC gamers. The 34-inch screen displays a large work surface with consistent colour accuracy and definition. Built-in high quality stereo speakers ensure multimedia enjoyment.
To accompany the panoramic screen, MultiView technology allows users to stream content from any two sources simultaneously to make complex multitasking a breeze, e.g. finance professionals who need to access several feeds of information at once, or those looking to watch television while responding to emails.
Comfort in flexibility
While the Brilliance Ultrawide LCD Display boasts a sizeable 34-inch screen, it also features an impressive set of design features to ensure a comfortable experience. The screen is surrounded by an Ultra Narrow Bezel to minimise distractions and maximise the viewing plane. Users can adjust height, swivel, tilt and rotation with the SmartErgo base, which reduces the likelihood of eye fatigue and neck pain when viewing for extended periods of time.
A low bezel-to-table height can be chosen that brings the monitor almost to desk level for comfortable viewing. This is particularly suited to those who wear bifocals or other progressive lens glasses.
Easy to connect and enjoy
Multiple inputs include DisplayPort technology, which supports up to 15 meters of cable and 10.8 Gbps data transfer. This technology produces high performance and zero latency which is ideal for tasks like video editing, or high specification gaming due to fast imaging and refresh rates.
Pricing and Availability
Suggested Retail Prices:
Model Screen Size SRP
BDM3470UP 34" AU$1,099
Australia Distributors: Ingram Micro Australia, Multimedia Technology Pty Ltd
Availability: December 2014