Hardware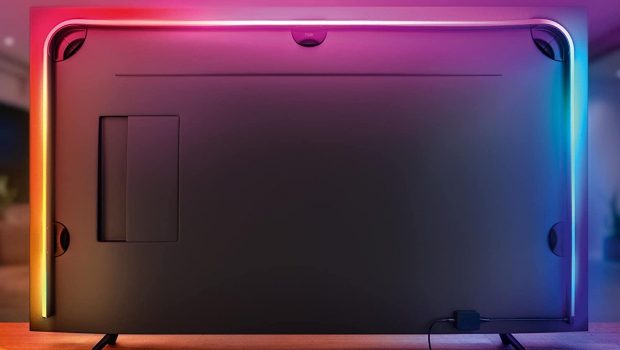 Published on January 30th, 2023 | by Nathan Misa
Philips Hue Play Gradient Lightstrip for PC and TV Review
Summary: Fun and flashy high-quality ambient backlighting for your entertainment center - if you're able to indulge.
Philips Hue Play Gradient Lightstrip for PC and TV is a fun and flashy way to add that extra level of flair and immersion to your entertainment or gaming setup – if you have the budget to indulge.
This smart lighting product is the newest part of the long-running Philips Hue range and brings colourful and dynamic LED backlighting to your room, blending both white and coloured lights that can be customized via an app and even synced with your on-screen content. It's also a relatively expensive product that requires additional accessories to unlock most of its potential. But dang, does it look cool!
Design
The Hue Play Gradient Lightstrip accommodates several TV and monitor sizes, with the price naturally scaling up to cover larger areas. For TVs, there are 55" ($399), 65" ($439) and 75" ($499) lightstrip variants, while for PC monitors, you can get lightstrips that fit single 24 – 27" ($299) or 32 – 34" ($375) monitors, and even 24 – 27" triple monitor setups ($549) – the latter of which the ImpulseGamer team received for this review. While I did not have a triple monitor setup on-hand, I still found the Play Gradient Lightstrip could be flexibly applied to my personal use case – a 77″ TV.
Out-of-the-box, you get the lightstrip itself, several mounting clips and 3M adhesive stickers to help place it on the back of your monitor or television, and a power adapter that connects at the end of the strip. Each Gradient Lightstrip measures 1.7cm in width and 1.6cm in height, while the length varies depending on your chosen model. The lightstrips are housed in flexible silicone to protect the LED lights within, and it can be safely bent to wrap it around the edges of your device.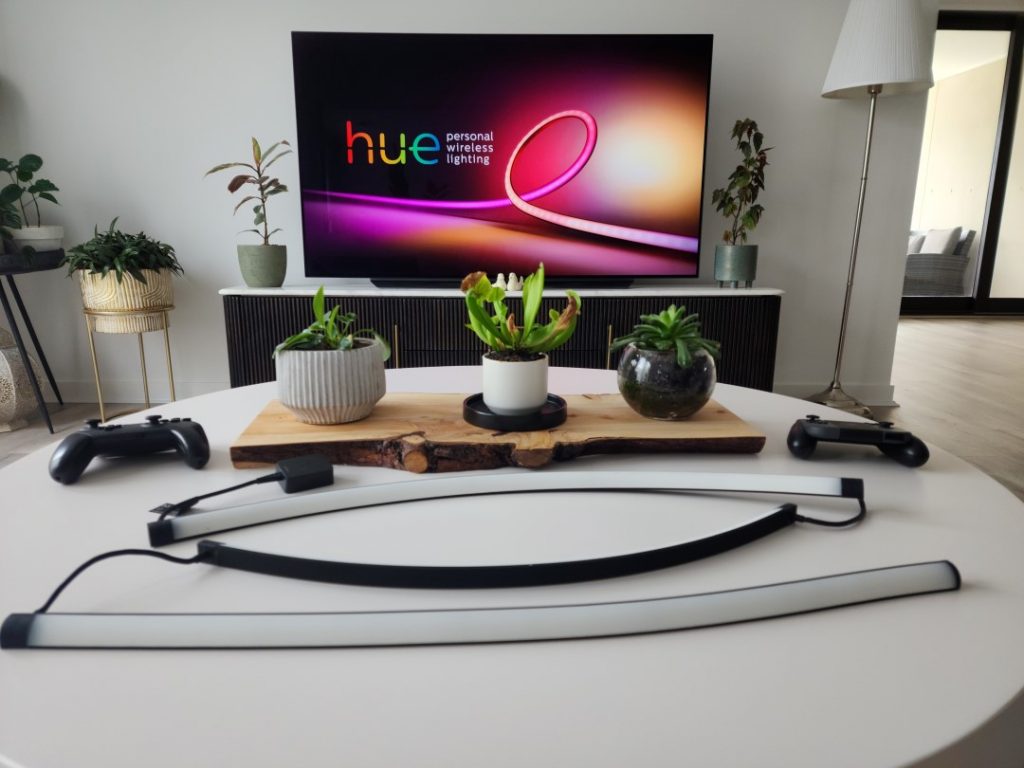 Philips Hue Play Gradient Lightstrip Technical Specifications
Design and Finshing
Colour(s): Black and white
Material: Silicone
Environmental
Operational humidity: 5% <H<95% (non condensing)
Operational temperature:-20°C to 45°C
Extra feature/accessory incl.
Colour changing (LED): Yes
LED Integrated: Yes
Universal Plug: Yes
Service
Guarantee: 2 years
Warranty: 2 years
Lightstrip
Colour temperature: 2000-6500 K
Cut ability: No
Extendibility: No
Maximum standby power: 0.5W
Wattage: 20W
Power consumption
Product dimensions & weight (reviewed unit)
Height: 1.6 cm
Length: 187.5 cm
Net weight: 0.406 kg
Width: 1.7 cm
Technical specifications
Lumen output at 4000K: 1,200 lumen
Lifetime: 25000 hour(s)
IP code: IP20
Class of protection: Class II
Replaceability of light source: Non-Replaceable LED light source
Replaceability of control gears: Non-Replaceable control gear
Lumen output at 2700K (out-of-the-box setting): 1,100 lumen
Setup
I'm usually an over-preparer when installing fancy new smart lighting devices, but I found the installation process for the Play Gradient Lightstrip to be straightforward and quick.
The mounting clips come with adhesive strips at the back that make it easy to attach the lightstrip to the back of a TV or monitor, and helpful arrows that point to where they should be placed. At the end of the lightstrip itself is a small power adapter that then connects to your nearest power outlet. After putting each mounting clip in place, the lightstrip was easily clicked into place within seconds. I've always been a fan of RGB and smart lighting solutions from afar, but experiencing the Philips Play Gradient Lightstrip up-close has helped me realize why it's so popular. Simply put, it's awesome.
At maximum brightness (1,100 lumens) the intensive lighting spanned most of the back wall of my gaming room with ease and did wonders to enhance a tense late night session of Callisto Protocol, add mesmerizing brightness to the snowy mountains of Horizon: Zero Dawn and deliver a cooling ambient neon glow to my latest Mortal Kombat 11 arcade playthrough.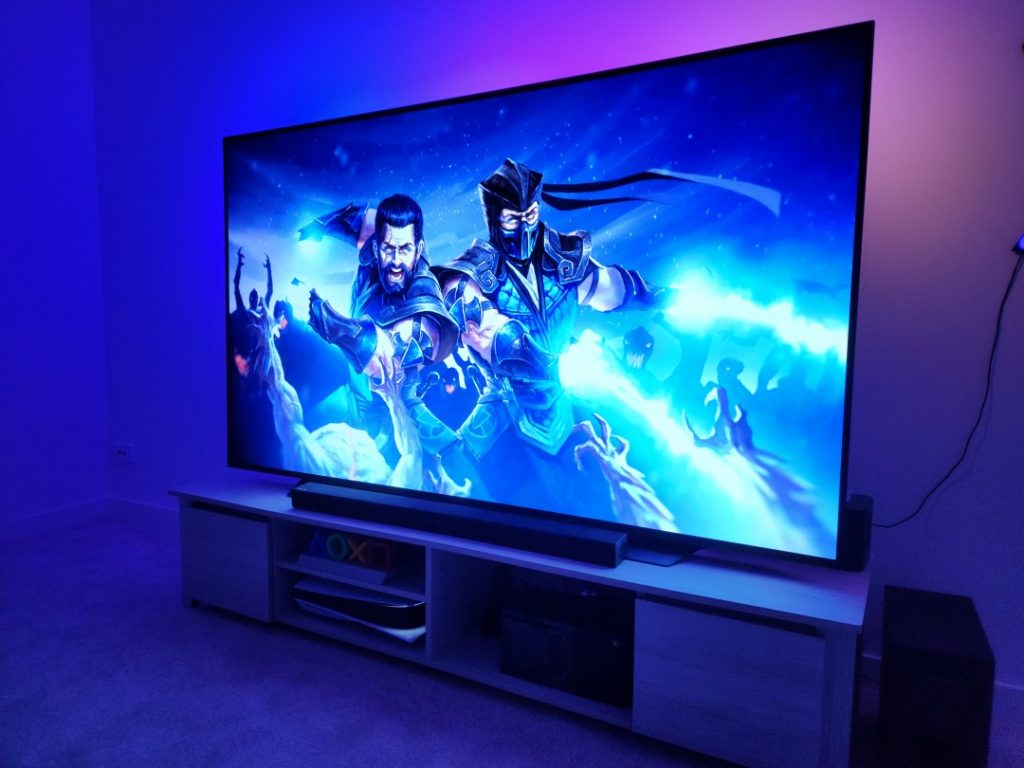 Lighting and Features
All lighting is controlled via the Philips Hue app for Android and iOS. Setup is quick and easy, requiring only an active bluetooth connection to your lightstrip to begin increasing or decreasing brightness, customizing lighting scenes on-the-fly, or setting up scenes based on routine or timers. The default scenes cover typical consumption scenarios (Nighttime, Rest, Reading) and there are plenty of additional downloadable scenes that bring unique colour combinations to your space.
Of course, you can set desired colour combinations manually, though I found what was on offer in the app to be more than sufficient for my preferences. You can even sync other Hue lights in your house together by adding each device in the app for a matching lighting scheme.
So, what's the catch?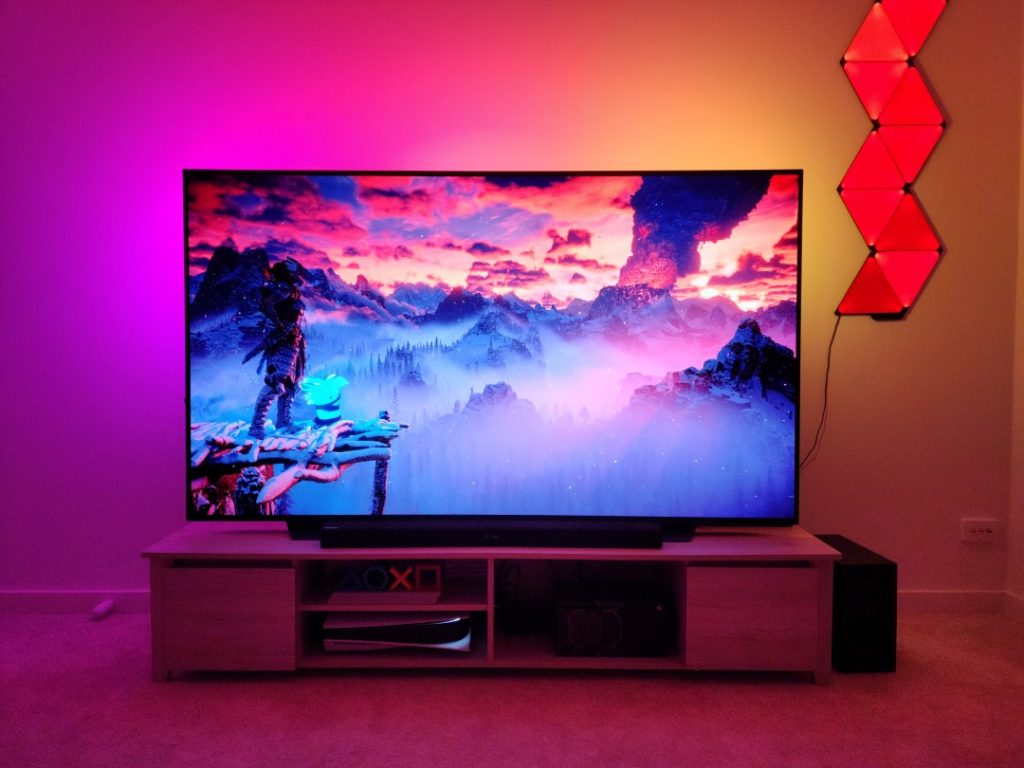 In terms of general coolness factor and the quality of the lighting and customizable colour schemes available, there none – the Play Gradient Lightstrip is excellent right out-of-the-box. But to unlock the full suite of features and true dynamic lighting that truly reacts to the content you're playing or watching on the screen, you need to have the Philips Hue Bridge ($99) and Philips Hue HDMI Sync Box ($499) respectively.
The Bridge acts as a hub to allow you to control any lights while you're away from the room (Bluetooth requires you to be in range of the light), set up control of lights using more advanced automation configurations or voice controls, and smart integrations with any sensors or switches. The HDMI Sync Box is a necessity to help the ambient colouring of your lightstrips seamlessly and accurately reflect what is happening in the games you're playing or films you're watching.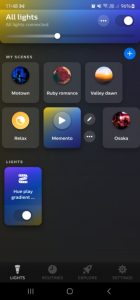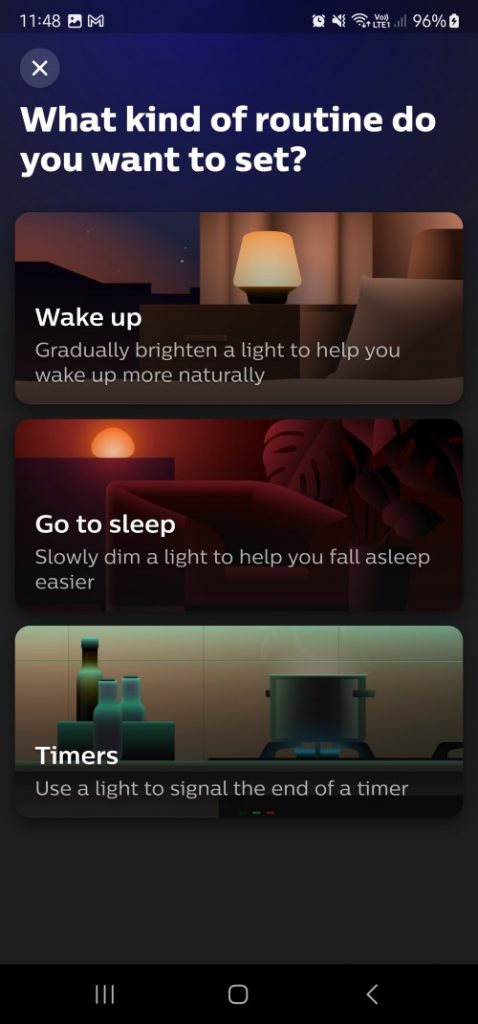 I didn't have either Hue Play accessory provided for this review, so I was unable to test the additional capabilities they bring to the table, but I also didn't feel like I was missing out on the core purpose of the lightstrips (cool AF ambient lighting) – rather just a few extra nifty features for when or if I want to splurge further on the Hue smart lighting ecosystem.
The Final Verdict
If you're a PC gamer looking to add more RGB to your triple monitor setup, or a big-screen console gamer wanting to invest further in your viewing experience, the Play Gradient Lightstrip's impressively bright and reactive lights more than deliver on the 'wow' factor. It's easily one of the best smart lighting products on the market today, but its high asking price and multiple accessories required to unlock additional functionality means you need to do your research before investing into the Hue ecosystem. If you have the cash to indulge, though, it's a treat that isn't easily matched by other competitors.