Games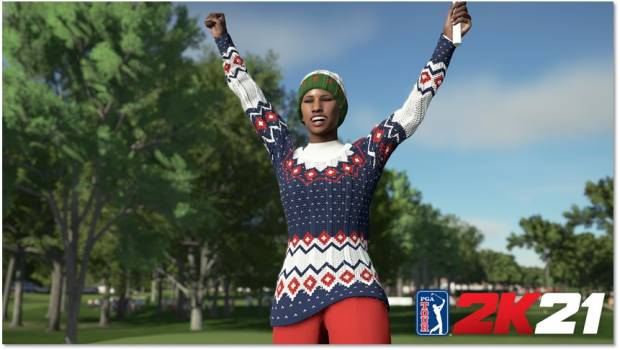 Published on December 4th, 2020 | by Adrian Gunning
PGA Tour 2K21 – New Course & Festive Items
Hit the Links with Clubhouse Pass and the New Detroit Golf Club in the Latest PGA TOUR® 2K21 Update 
Earn rewards featuring new gear from brands including Mizuno, Goodr, and Under Armour, plus take on the Rocket Mortgage Classic
2K and HB Studios today announced the PGA TOUR® 2K21 Clubhouse Pass*, an ongoing live service featuring new clubs, new gear and new MyPLAYER customizations for players to earn and unlock. Season 1 of Clubhouse Pass is available now**, running December 3, 2020 to March 3, 2021. In addition to Clubhouse Pass, a free, brand new course is now available to all players: Detroit Golf Club.
Season 1 of Clubhouse Pass includes the potential to unlock up to 75 levels of gear, VC and cosmetic items you can earn to peacock your status. All players can earn XP in any mode to advance through the Clubhouse Pass levels, and with three months of fresh content, there will be a ton of new clubs, clothes and VC rewards to unlock.
There are three Tiers to the Clubhouse Pass:
Free: This tier allows you to access 15 free levels of the 75 levels in Season 1. Every five levels you pass, you'll receive a reward;
Premium Pass ($11.95): Access all 75 levels of rewards;
Premium+ Pass ($22.95): Access all 75 levels of rewards, plus skip the first 20 levels and automatically unlock those rewards.
The Detroit Golf Club course will also make its debut on December 3. Founded in 1899, Detroit Golf Club became home to the Rocket Mortgage Classic in 2019, the first-ever PGA TOUR event held in Detroit.
"Detroit Golf Club and the Rocket Mortgage Classic come together for a compelling event on an amazing course," said Shaun West, Senior Producer at HB Studios. "The course brings new challenges to PGA TOUR 2K21 with a fun and rewarding layout to navigate. Being one of the flattest courses on the PGA TOUR, the event setup still finds a way to challenge even the top pros. We wanted to bring that experience to life in the game to see how our fans would fair."
Last but not least, keep your eye out for some festive, holiday-themed cosmetic items, available to all players, to deck out your MyPLAYER!
For more information on Clubhouse Pass, visit http://pgatour2k21.com/clubhouse. For information on PGA TOUR 2K21, visit www.PGATOUR2K21.com, become a fan on Facebook, follow the game on Twitter and Instagram using the hashtag #PGATOUR2K21 or subscribe on YouTube.