Films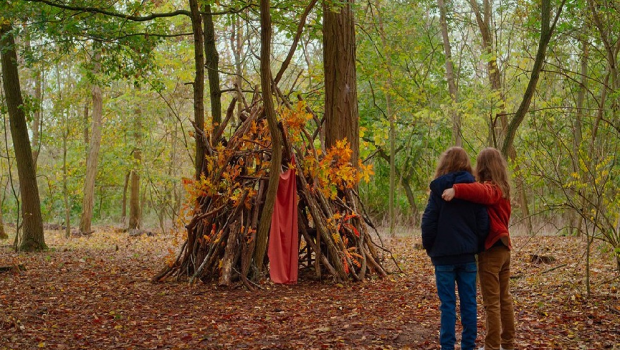 Published on May 14th, 2022 | by Damien Straker
Petite Maman – Film Review
Reviewed by Damien Straker on the 14th of May 2022
Directed by Céline Sciamma
Written by Céline Sciamma
Produced by Bénédicte Couvreur
Starring Joséphine Sanz, Gabrielle Sanz, Stéphane Varupenne, Nina Meurisse, and Margo Abascal
Cinematography Claire Mathon
Edited by Julien Lacheray
Rating: G
Running Time: 72 minutes
Release Date: the 5th of May 2022
Only a director as gifted as French filmmaker Céline Sciamma could follow up a major release with a sweet, 72-minute feature about childhood. Her previous film was the widely acclaimed Portrait of a Lady on Fire (2019). It featured the director at the height of her artistic powers and thematic focus. It was a period drama about a young woman due to marry who then fell in love with another woman. The film underlined Sciamma as a major artistic figure intent on crafting unique films about gender identity, female friendships, and lesbianism. Girlhood (2014) was also an enormously powerful film about female girl gangs in France. It showed the director was capable of high realism as much as artistic flourishes. Even her written work for the animated feature My Life as a Zucchini (2016) showed the depths of her talent. Mirroring Zucchini, Petite Maman is also about the difficulties of childhood. The film depicts collisions with adult traumas for which small children find themselves scarcely prepared.
The story centres upon an eight-year-old girl, Nelly (Josephine Sanz), who is first seen saying goodbye to several elderly residents in a hospital. Her grandmother has recently passed away, which leaves Nelly's mother (Nina Meurisse) visibly distraught. The family, including Nelly's father (Stéphane Varupenne), takes a drive to the woodlands to stay in the mother's childhood home. The pain is too much for her, pressing her to leave the family for a few days. Left to play on her own, Nelly ventures into the woods. There she finds a young girl just like herself. To her surprise, the girl says her name is Marion (Gabrielle Sanz) and that she has returned from the future because she is Nelly's mother. The rest of this brief feature is simply the two girls joyfully playing with each other, dressing up, and loving one another's company.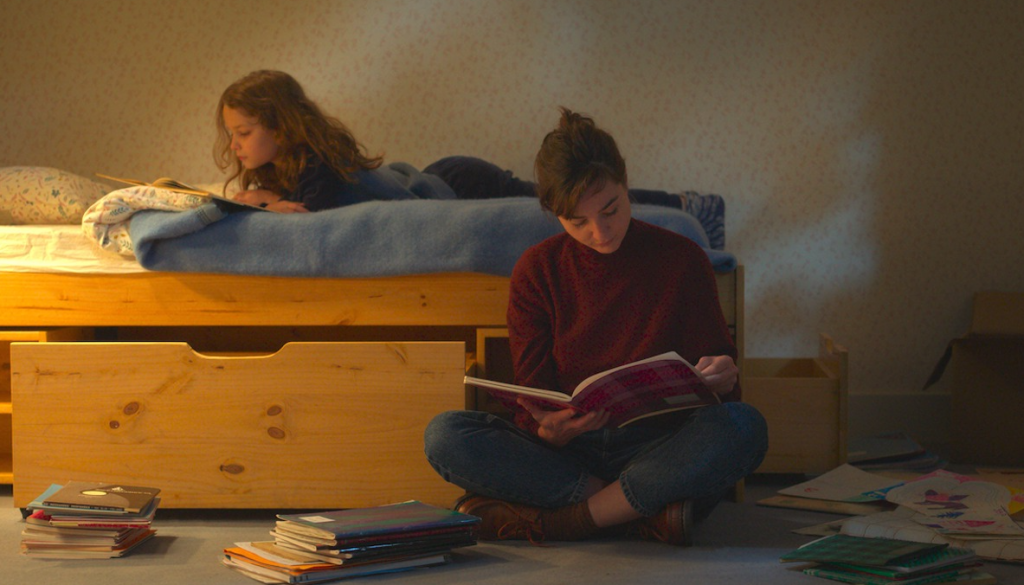 While slight, there are several key moments highlighting Sciamma's artistic talents. In the first scene, the camera tracks Nelly from behind as she visits each room in the hospital. The way the camera hovers behind her and refuses to cutaway resembles the ominous presence of death itself. After all, the film has been labelled by some as a type of ghost story. Nelly also says she regrets not being able to say goodbye to her grandmother properly. The unbroken camera shot reflects the irresolvable nature of grief. Meanwhile, some early scenes are also fused cleverly with danger. During the car ride, the mother sits behind the wheel of the vehicle. Sciamma frames her in a close-up shot, ensuring the camera lingers over her face. In an extended sequence, Nelly's hands wrap around her to feed her chips and a drink while driving. What initially teases an accident waiting to happen emerges as a poignant moment of bonding. These stylistic choices mark the type of character moments Sciamma is capable of staging without dialogue.
Sciamma proves again she can effectively direct performances, including young non-professional actors. As the mother, Nina Meurisse looks shaken and distraught by the death in her family. It is a good example of how Sciamma draws expression from the body language of her cast. The performances she ignites from sisters Josephine and Gabrielle Sanz are also impressive. They are charismatic, funny, and bright children who behave in ways authentic to their age. One clever scene highlights the performances' naturalism. The girls make pancakes together and the mess they create is so funny and real it suggests Sciamma gave them free rein to work the scene out on their own. The moment shows the joy of childhood and female friendship. It is also about the challenge of loneliness in the form of a fairy tale. Fairy tales often possess dark edges around their innocent characters. Sciamma does not linger over the milieu too long but deliberately sets this story within the woodlands where the girls meet each other. The atmosphere reminds us of both fairy tales and the presence of ghosts. There is a clever wide angle shot of Nelly standing alone in the woods. The shot infers her loneliness as a small child, particularly in the absence of her mother and underlines the need for female friendship.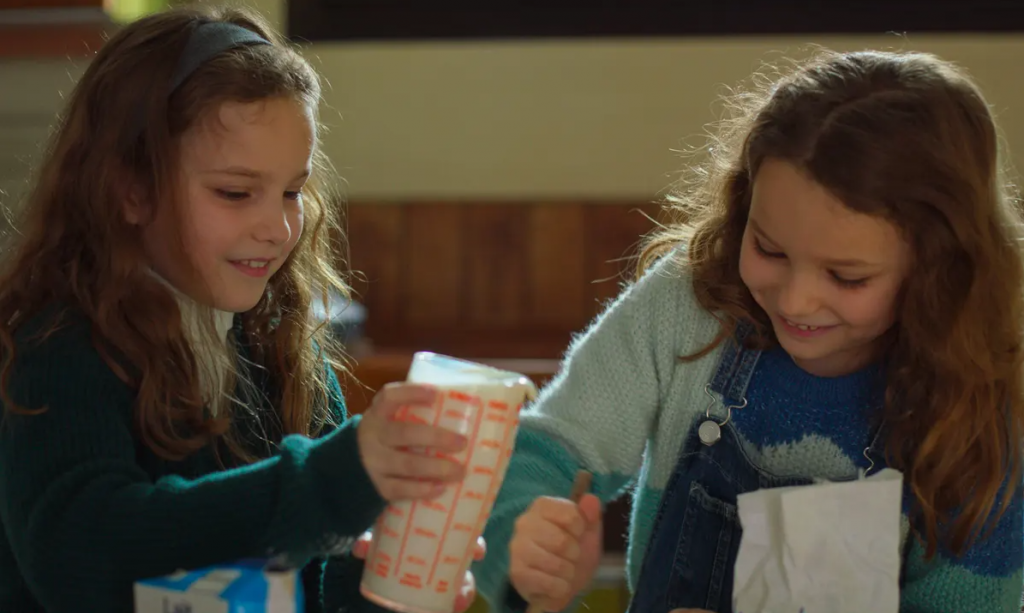 Many of Sciamma's films have analysed tenuous female bonds. This entry explores this subject too but with a gentler touch. The film is about loneliness, understanding death, and the bond between a parent and child. Perhaps there is another lens to view Petite Maman. The small-scaled story is muted in form as if marking a return to childhood innocence and deliberately countering the cultural pressure young people are crushed by today. The intense pressure to face major social and political change is echoed by entertainment becoming increasingly long and bombastic. Petite Mamam is a deft counterpoint. It shows young girls dressing up, being messy, laughing together, and enjoying each other's company. In dramatising children as they really are it recalls films such as Studio Ghibli's My Neighbour Totoro (1988) and the social drama The Florida Project (2017). The children are joyful and energetic in each other's company while verging on dark realisations about the adult world.
Summary: This film explores tenuous female bonds with a gentle touch. Meanwhile, the children are joyful and energetic in each other's company while verging on dark realisations about the adult world.