Comics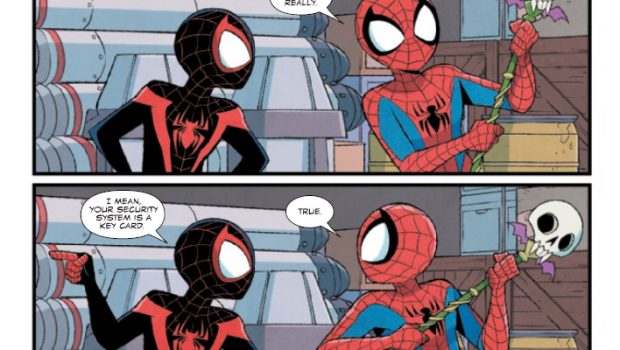 Published on December 8th, 2022 | by Tim Chuma
Peter Parker & Miles Morales: Spider-Men Double Trouble #1 (2022) Review
Summary: A fun romp and worth it if you have enjoyed the other Double Trouble storylines.
Peter has dragged Miles along to "take your sidekick to work day" but first they have to stop off at his storage unit where he keeps all the weapons of his enemies for further studies. Due to Miles not understanding a sign they have further adventures.
I had read one of the Spider-Man & Venom: Double Trouble And Thor & Loki: Double Trouble stories and enjoyed them and this is in the same vein. Nice light and fun story which is quite a change after all the multiverse ones that can get quite dark.
The art style is quite a lot more stylised in this version as with the other Double Trouble ones so it would be suitable for younger readers also.
Well worth a look if you enjoyed the other "Double Trouble" stories.
Comic details:
Writer: Mariko Tamaki, Vita Ayala
Penciler: G Gurihiru
Publisher: Marvel
Published: November 30, 2022