Events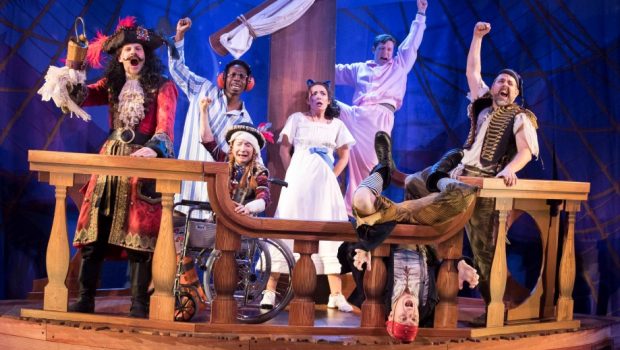 Published on January 21st, 2019 | by Admin
PETER PAN GOES WRONG – EXTRA SEATS ON SALE
 THE NEW SUMMER THEATRE SENSATION HITS MELBOURNE
EXTRA SEATS ON SALE FROM
FRIDAY 4 JANUARY, 4PM
SEASON NOW ENDS 27TH JANUARY
A hoot .. a neat piece of family-friendly silliness for the silly season performed with lunatic energy and a fine sense of ridiculous  –  The Age
A side-splitting farce for the whole family – Herald Sun
Funnier than the group's mega-hit The Play That Goes Wrong. – Simon Parris : Maninachair
"Bloody hilarious!  And I think I've developed a bit of a crush on the crocodile" –
Mix FM, New Zealand
"Irresistibly funny" – Financial Times, UK
NATIONAL TOUR DATES
NOW PLAYING to 17 MARCH 2019
Melbourne has fallen in love with Peter Pan Goes Wrong which follows hot on the wobbly heels of the box office hit The Play That Goes Wrong and due to demand, extra tickets will go on sale from Friday 4 January, 4pm with the Melbourne season closing on 27 January.
Mischief Theatre brings its triumphant disaster Peter Pan Goes Wrong from London's West End to Australia, following a sell-out season in New Zealand, and then stumbles into Brisbane from 30 January, Canberra from 6 February, Sydney from 13 February and Perth from 7 March.
Nominated for an Olivier Award for Best New Comedy, Peter Pan Goes Wrong turns the J.M. Barrie classic, Peter Pan, into 'a joyous masterclass of physical comedy and general disaster' (London Evening Standard).  Once again, the much-loved members of the Cornley Polytechnic Drama Society battle against technical hitches, flying mishaps and cast disputes with hilarious and disastrous results.  Will they ever make it to Neverland?
Leading the cast of incredibly talented actors is JAY LAGA'AIA.  Jay is well known internationally for his role as Captain Typho in StarWars: Episode II Attack of the Clones and Star Wars: Episode III Revenge of the Sith.  Jay is also one of Australia's favourite musical theatre stars, having played the principal roles of Mufasa in the hit musical The Lion King, the Wizard in Wicked and Judas in Jesus Christ Superstar.  He is also known for his television roles in Home and Away, Xena: Warrior Princess, Water Rats and Play School and as a contestant on Celebrity Big Brother.
Seven of the actors who had audiences in stitches in The Play That Goes Wrong – DARCY BROWN, FRANCINE CAIN, ADAM DUNN, LUKE JOSLIN, GEORGE KEMP, JORDAN PROSSER and TAMMY WELLER – have all been silly enough to sign on again with The Cornley Polytechnic Drama Society where they will once more battle against technical hitches, flying mishaps and cast disputes on their way to Neverland with hilarious and disastrous results.
Also experiencing this theatrical mayhem for the first time will be CONNOR CRAWFORD who recently appeared in Assassins at the Hayes Theatre and Sydney Opera House and TEAGAN WOUTERS who starred as Nicola in the national tour of the musical Kinky Boots.
Peter Pan Goes Wrong is co-written by Mischief Theatre company members Henry Lewis, Jonathan Sayer and Henry Shields and includes highly physical comedy packed with finely-tuned farce and Buster Keaton-inspired slapstick, all delivered with split-second timing.
Peter Pan Goes Wrong is directed by Adam Meggido, with set design by Simon Scullion, lighting by Matt Haskins, costumes by Roberto Surace, sound design by Ella Wahlstrom and songs composed by Richard Baker and Rob Falconer.
PeterPanGoesWrong.com.au