Events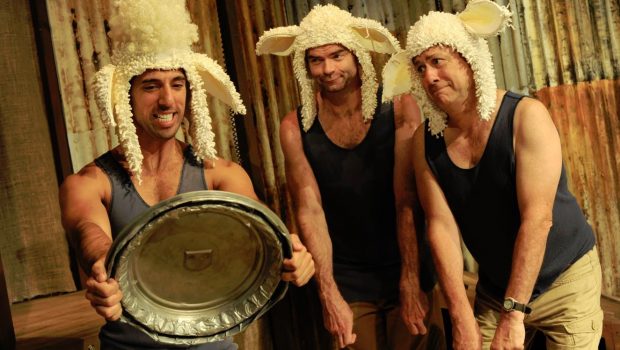 Published on July 4th, 2016 | by admin
Pete the Sheep at Arts Centre Melbourne!
MELBOURNE, MONDAY 4 JULY 2016 – Jackie French and Bruce Whatley's award-winning tale of Pete the Sheep will be brought to life as a fabulous new musical at Arts Centre Melbourne on July 30 and 31.The work has been written by Monkey Baa Theatre Company's creative team, Eva Di Cesare, Sandra Eldridge and Tim McGarry and is based on the quintessentially Australian picture book by 2014-15 Australian Children's Laureate Jackie French and illustrator Bruce Whatley.
With direction by the Wharf Revue's Jonathan Biggins, music composed by Phillip Scot and set and costumes by James Browne it is a truly timeless Australian tale providing 50 minutes of hilarious fun that will delight young people aged from 4 to 8 and their families.
Pete the Sheep will be imaginatively told by four performers playing shearers, dogs and sheep who explore the challenges and rewards of being an individual. Shaun is the new sheep shearer in 'Shaggy Gully'. He doesn't have a sheep dog like the other shearers in the area, he has Pete, a sheep-sheep. The other shearers in the shed are not happy with Shaun and his sheep-sheep.
Following rejection by the shearers and their dogs, Shaun and Pete set up their own Shearing Salon in town where they are inundated with woolly clients, who delight in Shaun's styling prowess.
"Sheep, mutts and shearers – Jackie French and Bruce Whatley have created a kids' book where the larrikin heart of rural Australia leaps right off the page,'' says director Jonathan Biggins. 
"And what better place for it to land than on the stage? Monkey Baa bring their trademark wit, physical comedy and song to animate this delightful story of one man and his sheep-shearing sheep. Ewes all will love it."
Jackie French was the Australian National Children's Laureate for 2014 and 2015 and the 2015 Senior Australian of the Year. Her writing career spans 25 years, 148 wombats, over 140 books, 36 languages, 3,721 bush rats, and over 60 awards in Australia and overseas. She is a historian, ecologist, dyslexic and passionate advocate for the right of all children to read.
"…a truly Aussie tale – delightful, funny, iconic, warm and hilariously Ocker, from