Games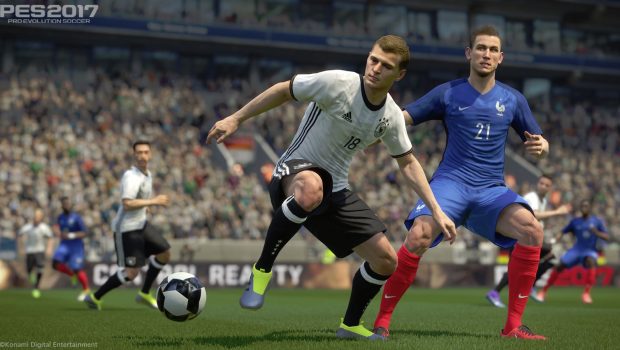 Published on June 8th, 2016 | by admin
PES CM// PR: 1-year anniversary
SYDNEY AUSTRALIA, June 8th – Konami Digital Entertainment, Inc. today celebrates the one-year anniversary of its soccer management title, PES CLUB MANAGER. With more than 11 million teams created on iOS and Android devices, Konami commemorates this milestone with a series of player appreciation events and giveaways.
PES CLUB MANAGER reveals that in the past year, more than 725 million goals have been scored across the span of over 600 million matches. Based on the statistics pulled from those matches, Club Managers from Germany scored a near 49.2 million total goals, while Italy follows hot on their trail with a respectable 27.7 million. In the Americas, Brazil sits at the top with 21.6 million shots made while the United States follows at 11 million.
While Neymar Jr, put his prolific ability on display, helping his club win its second consecutive La Liga title, in PES CLUB MANAGER, Neymar Jr. has logged a record 54.8 million matches, dishing 21.5 million assists and scoring more than 40 million goals, which accounts for 1.26 shots made every second.
Beginning Friday June 3-10, PES CLUB MANAGER will be running its "Win a Dream Player" contest from the official PES CLUB MANAGER Twitter (www.twitter.com/officialpescm). To enter, Club Managers will be asked to share a screenshot of their current starting lineup and comment with what "Dream Player", of the choices given, they would like to add to create a winning roster. Daily winners will be chosen at random and will be awarded their "Dream Player."
In addition to the PES CLUB MANAGER "Win a Dream Player" event and to show appreciation to the millions of Club Managers, there will be a bevy of community giveaways, including a chance to receive an autographed jersey signed by FC Barcelona's Neymar Jr. and Spanish striker Álvaro Morata. Details on the event can be found on the PRO EVOLUTION SOCCER Facebook fan page.
Additionally, as part of Konami's ongoing Legends Campaign which saw the recent additions of Filippo Inzaghi and Luis Figo, PES CLUB MANAGER welcomes Nigerian soccer legend, Tijani Babangida to its roster. The legendary winger is available now for players to add to their clubs through in-game scouting and the limited-time "Goal for High Star" event.
PES CLUB MANAGER is available in 18 localized versions, including U.K. English, French, Italian, German, Spanish, Portuguese, U.S. English, Russian, Turkish, Traditional and Simplified Chinese, Swedish, Greek, Brazilian Portuguese, and Korean..