Games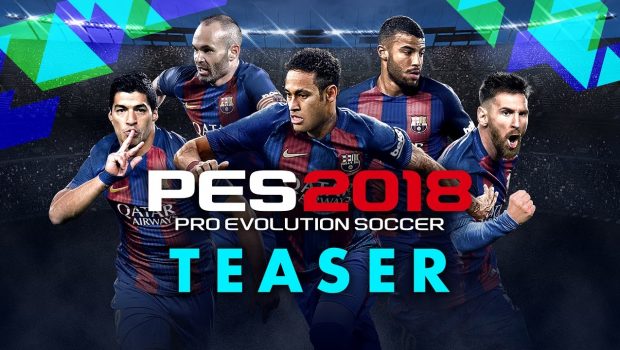 Published on June 14th, 2017 | by Admin
PES 2018 to boast world's fastest man as Usain Bolt joins KONAMI as latest Ambassador
Sydney, 14th June 2017 – Konami Digital Entertainment B.V. has announced that Usain Bolt – track running's most decorated athlete and the fastest man in the world – has become the latest ambassador for PES 2018.
Usain Bolt is a legend in athletics and is the current World Champion in the 100m, 200m and 4x100m relay events. Since bursting onto the athletics scene in 2002, Bolt has been an unstoppable force and has won countless medals and huge acclaim, while his famed 'to di world' winning pose has become iconic. The Jamaican athlete is also a huge football fan and an accomplished player, and his new agreement with KONAMI will see him faithfully recreated as an in-game player via a special pre-order incentive for those purchasing PES 2018 ahead of launch.
Anyone pre-ordering PES 2018 ahead of its September 14th (global) release date will be able to unlock Bolt as an in-game player at launch exclusively for myClub. KONAMI has used its proprietary face-scanning systems to perfectly recreate the athlete in-game, while his running style and – more importantly! – incredible pace will make him an asset to any side.
Usain Bolt joins the KONAMI team as PES 2018 gears up for the new season. Centred on the concept that PES 2018 is "Where Legends are Made", the new game boasts more new features and enhancements than any PES title in the last 10 years, more new ways to play, and a PC version to the standard of the leading console iterations.
No part of PES 2018 has been left untouched, with its famed gameplay ensuring users enjoy complete control over the on-field action, as they guide players that behave, move and react just like their real-life counterparts to victory. New additions to the control systems add more fluidity to the game, while a new user interface gives the game a more broadcast-like feel and makes accessing the many facets of PES 2018 more user-friendly.
Matches are played at a more realistic pace, while a new strategic dribbling system offers greater close control, including contextual shielding, use of the control stick to initiate shimmies and a REAL Touch + process, wherein players will react to receiving a ball using the chest, head and legs to bring a pass under control dependent on the height and pace of the received ball. The game's many set piece routines have also been reworked, including penalty kicks and a one-player kick off routine.
A new REAL Capture system also provides PES 2018 with true-to-life lighting across day and night games, while over 20,000 components have been faithfully recreated to recreate the turf, tunnels, and the surrounding areas of stadia such as Camp Nou and Signal Iduna Park. The individuality of how the likes of Usain Bolt and key players move, shape to shoot and make passes is also closer to real life, with KONAMI motion-capturing players within realistic environments in a complete overhaul of the in-game animation system. Core movements such as walking, turning, and posture have been reworked also, while the player models now have greater variety, with attention paid to the way kits fit differing physiques. KONAMI's agreements with partner teams will also see tattoos recreated on players as well.
PES 2018 also allows more ways for people to play. Full 11-Vs-11 online options and the myClub mode where players build a team from scratch, are joined by co-operative 2-Vs-2 and 3-Vs-3 modes with support for local guests. The much-requested 'Random Selection' match returns with all new content, while the Master League implements pre-season tournaments, a new transfer system, pre-match interviews and an insight to the changing rooms. Similarly, ahead of next season's eSport tournament, the official PES LEAGUE will be integrated into the main game making registration much easier.
"PES fans will know that, historically, the legendary Babangida is the fastest player in the game – but not anymore more!" commented Jonas Lygaard, Senior Director Brand & Business Development at Konami Digital Entertainment B.V. "We are delighted that a legendary athlete and committed football fan such as Usain Bolt has agreed to become an Ambassador for the PES series, exclusively. Those who pre-order now will be able to add the fastest man in the World to their myClub team. Usain's enthusiasm and willingness to help with his inclusion in the game have been fantastic, and we look forward to those pre-ordering the game unleashing his pace on unsuspecting defences when PES 2018 is released on September 14th."
"I love football and have played PES for as long as I can remember – it's the best football game there is – and it's a great honour to be a part of it and its success," added Usain Bolt. "When the opportunity arose to be a player in PES 2018, it was too good to be true. Having my face and movements scanned for use in the game was a fascinating process and I hope those who pre-order the game make full use of my pace and skill!"
PES 2018 will be released for PlayStation®4 and Xbox One™.
For more information, please visit: https://www.konami.com/wepes/2018/