Games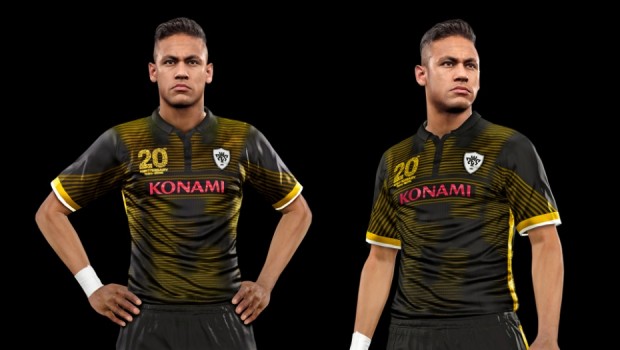 Published on September 25th, 2015 | by admin
PES 2016 launches in Australia and New Zealand today
Konami Digital Entertainment B.V. today releases PES 2016 for PlayStation®4, XboxOne™, PlayStation®3 and Xbox 360 marking an incredible 20 years at the top for the eternally popular series.
As KONAMI celebrates the series' 20th anniversary, it does so with a game that is in its best form in franchise history. Having been voted 'Best Sports Game' for the second year running by the gamescom judging panel, PES series' heritage is appropriately celebrated in PES 2016's 'Love The Past, Play The Future' tagline. This message perfectly illustrates the series' return to core PES values in last year's PES 2015, while introducing the many new gameplay and presentational elements that have seen critics and football fans alike hail PES 2016 as the definitive football experience.
Befitting a game that showcases skill, close control and individuality, PES 2016 boasts Neymar Jr and Alvaro Morata as its pack stars. The new game also strives to create a realistic yet always exciting match between users, and continues to deliver quality gameplay as per KONAMI's ongoing 'The Pitch is Ours' mantra. From further integration of the industry-leading Fox Engine which brings the on-pitch action to life, to the full commitment to creating the best gameplay experience, and the full redevelopment of Master League, every facet of PES 2016 has been enhanced to deliver yet another outstanding product.
Every aspect of the game has benefitted from refinement and improvement, following feedback from the incredibly well received PES 2015. On the pitch, the physicality of top-level matches is stressed via a significantly improved collision system that calculates how players interact and shows a unique outcome depending on the type of impact. Aerial battles are also a completely unique experience this year as the left stick is used to unsettle a larger, more powerful player, or find the best position to make the header/volley. Other on-field advances include one-on-one control adding a wider range of movements within the existing control structure. Response times have been improved, allowing players to maneuver in tight situations and benefits the upgraded feint moves that allow sudden directional change.
The individuality of players is also further demonstrated via the ongoing Player ID and Team ID projects. This ensures players in PES 2016 not only resemble, but have all the playing traits of their real-life counterparts. Defenses will automatically be set up to play to a team's strengths, while the special skill sets of players will be used intelligently within the game's extensive tactical options. The ID system has also been extended to goalkeepers, in a bid to improve quality and add unique individuality in performance. New goalkeeper parameters have been added spanning catching, clearance, diving and deflecting. This adds definition to 'keepers', who you can count on catching the ball rather than punching, or are accomplished shot-stoppers.
PES 2016 has also received a stunning aesthetic overhaul. The new game boasts 3x the number of animations of last year's iteration. Goalkeepers have an abundance of save animations added, while outfield players shoot, pass, dribble and tackle with incredible variety depending on the situation. Players complain when a foul isn't given, berate a teammate when a pass isn't made, while tricky players can wrong-foot their opponents with shimmies and feints that can result in causing the opposing player to lose his balance and fall in the wrong direction!
The many advancements of KONAMI's Fox Engine also benefit the game visually in other ways. Surface water during rainy match days will splash as players slide in to win possession, or the turf will kick up as you strike the ball into the top corner. New evening lighting and real turf textures are among some of the many improvements as well. Crucially, and for the first time in the PES series, dynamic weather has been introduced. Rain can start during a match and the ever more realistic ball physics will accommodate the change in circumstances. Rain changes how the game can be played with passes speeding up, less skilled players are likely to struggle with trapping and players are more likely to slip and fall due to incorrect studs or blades. The variety in playing conditions also demonstrates PES 2016's incredible ball physics, wherein every spin, bobble or ricochet, has been calculated using real ball physics data, helping keep every moment in every game unique and unpredictable.
With the on field elements in place, PES 2016 also sees a determined focus across the game's backroom. The eternally popular Master League enjoys a total revamp, allowing users to immerse themselves in the managerial world of football. Every element has been redesigned or reworked, from all-new menus, to the new and exciting player transfer system, PES 2016 sees one of the series' most integral modes redefine the single-player experience. A brand new Team Roles feature allows players to function as a Star Player, or Icons, who are players committing their career to just one team and influence the management of the club and team performance.
The game's myClub option has also been further improved based on user feedback. Player level systems, and players exclusive to the mode, have also been added, while users can use points acquired through matches, or with myClub coins, to experience realistic club management to develop a squad. The mode – introduced last year – consistently updates players on a weekly basis. More competitions, events and campaigns are to be expected. Choose the manager, consider coaches, and build the strategy based on your specific aims. Build Your Team, Create Your Legacy!
Edit mode has seen some important improvements for PS4 users, which allows the ability to import images to be used to customise squad kits, which extends to team emblems and manager pictures.
This year there is a special anniversary edition on PlayStation®4 computer entertainment system is available and valued at RRP $109.95. PES 2016 is also available for the PlayStation®4 computer entertainment system and the Xbox One, the all-in-one games and entertainment system from Microsoft for an RRP of $99.95, and for the PlayStation®3 computer entertainment system, Xbox 360 games and entertainment system for Microsoft for an RRP of $79.95 and PC for $59.95.