Games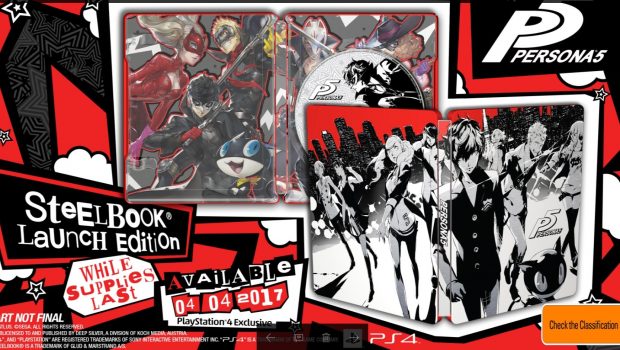 Published on November 18th, 2016 | by admin
Persona 5 Receives Dual Audio in the West!
Sydney, November 18 – The Phantom Thieves – there's no stopping them! They pulled a daring heist just to prove how powerful they are and that no obstacle is insurmountable.  They have done the impossible and stolen the P5 Japanese VO data and delivered it to Atlus USA for inclusion in the western release of the game as free DLC at launch! It means Persona 5 will have dual Audio, Japanese and English, in the West.
As this is the case, the launch will be nudged back just a bit – Persona 5 will now release on April 4, 2017 in the USA, Europe, ANZ and all PAL regions simultaneously. The wait has been agonizing, but the Japanese release of Persona 5 smashed all expectations, and as a company, Atlus USA decided that they owed all fans the very best effort to make Persona 5 their gold standard for the English localization. Practically, this means redoubling QA and localization efforts, even returning to the studio to record previously unvoiced lines. They do not want to rush this game and in this instance, it meant they needed to move the release back for the last time.
As announced on Atlus' Persona 5 stream, the Ryuji Theme & Avatar Set will be available as a free download on PlayStation®4 for 24 hours on November 24th.
Yusuke Kitagawa
Don't stop there, we also have two new members of the Phantom Thieves to reveal. First off, we've got the elegant Yusuke Kitagawa. He can most aptly be described as an artistic savant, and his love for aesthetics and talent for art is second to none. Unlike the rest of the Phantom Thieves, this Bohemian beatnik attends Kosei High School and joins the motley crew after a very fateful event involving his art mentor/idol Madarame. Although Yusuke can be eccentric, codename Fox harnesses his love of true beauty to help the Phantom Thieves. I mean, it wouldn't be a group of social misfits without at least one starving artist right?
YouTube https://youtu.be/yQlxqrlGokQ

Makoto Niijima
Next up, we have Shujin Academy's resident overachiever Makoto Niijima. So how did a straight-laced honor student and the student council president get involved with the mischievous Phantom Thieves? Let's just say that it's her duty to figure out the identities and motives of the group (she is student council president after all). Even though codename Queen appears to be the antithesis of a rebelling high schooler, she has a strong sense of morality and will do what she can for a righteous cause. Besides, it's a probably a VERY good thing for the group to have an intelligent strategist formulate their heists. Just imagine if Ryuji had to plan them…
YouTube https://youtu.be/1LvxfhMtvS8
Lending her amazing talents to the role of Makoto is Cherami Leigh, who took the time to speak with Atlus US about what it was like working on the project and being the rock of the Phantom Thieves!
Interview https://youtu.be/Ww6fnoUUMW0
Persona 5 is a game about the internal and external conflicts of a group of troubled youth who live dual lives. They have the typically ordinary day-to-day of a Tokyo high-schooler – attending class, after school activities and part-time jobs. But they also undertake fantastical adventures by using otherworldly powers to enter the hearts of people. Their power comes from the Persona, the Jungian concept of the "self;" the game's heroes realize that society forces people to wear masks to protect their inner vulnerabilities, and by literally ripping off their protective mask and confronting their inner selves do the heroes awaken their inner power, and use it to strive to help those in need. Ultimately, the group of Phantom Thieves seeks to change their day-to-day world to match their perception and see through the masks modern-day society wears.
Persona 5 will release on April. 4 in the Americas, Europe and ANZ for PlayStation 4. Pre-orders are now available at participating retailers. For more information, please visit http://www.deepsilver.com/en/games/persona-5/

FEATURES RECAP
Persona 5 is the first numbered title of the award-winning franchise on home consoles since the PS2 generation.
Fast-paced Japanese role-playing game mechanics, exciting action sequences, deep and engaging story.
Vibrantly stylized characters, enemies, and environments, elegant anime-style cut-scenes.
Soundtrack featuring the fresh sounds of acid jazz composed by the legendary composer Shoji Meguro.
A standalone story experience that welcomes newcomers and veteran Persona players alike.
PRODUCT DETAILS

Title: Persona 5
Release Date: April 4th 2017
Platform: PlayStation® 4
Developer: Atlus
Publisher: Deep Silver (PAL)
Genre: Japanese Role Playing Game (JRPG)
Players: One
Target Rating: COB CTC
Price: SteelBook Launch Edition: $99.95
Languages: English & Japanese Voice, English Text