Blu-ray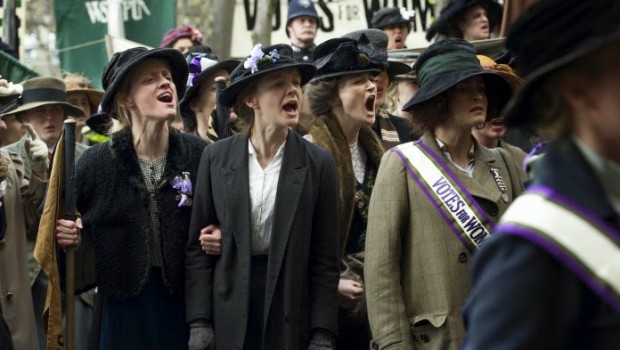 Published on March 21st, 2016 | by admin
THE PERFECT MOTHER¹S DAY PRESENT ­ SUFFRAGETTE
AVAILABLE ON DIGITAL 21 APRIL 2016
AVAILABLE ON DVD AND BLURAY 28 APRIL 2016
With over 100 minutes of extras and behind the scenes footage, SUFFRAGETTE on DVD and Blu-ray not only makes the perfect Mother's Day gift but also is a must-see for everyone who believes in equality.
Find out the beginnings of women's rights with the inspirational film that tracks the story of the foot soldiers of the early feminist movement in the UK.  SUFFRAGETTE reveals the intensity of the time for women fighting for the right to vote, from the genteel and educated classes to the working class, a protest movement that still has an impact upon the world today.
In early 20th-century Britain, the growing suffrage movement forever changes the life of working wife and mother Maud Watts (Carey Mulligan). Galvanized by political activist Emmeline Pankhurst (Meryl Streep), Maud joins a diverse group of women who fight for equality and the right to vote.  Faced with increasing police action, Maud and her dedicated suffragettes must play a dangerous game of cat-and-mouse, risking their jobs, homes, family and lives for a just cause.
The story of her fight for dignity is both heart breaking and inspirational.
DIRECTOR: Sarah Gavron
CAST: Carey Mulligan, Helena Bonham Carter and Meryl Streep
RELEASE DATE: 21 April 2016 – Digital
28 April 2016 – DVD and Blu-ray
RRP: $24.99 (DVD) and $29.99 (BD)
CLASSIFICATION: M
RUN TIME: 106 minutes
GENRE: Biopic, Drama, Historical
FORMAT: DVD (1), Blu-ray, and Digital download.
SPECIAL FEATURES: The Making of Suffragette; Feature commentary with Director Sarah Gavron & Writer Abi Morgan
DIGITAL ASSETS: Available to download at http://www.suffragettemovie.com.au