Games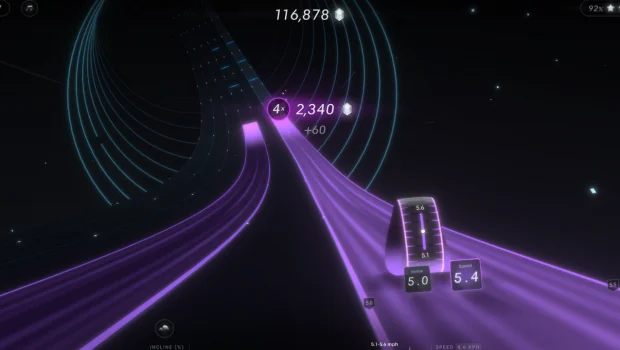 Published on June 29th, 2023 | by Andrew Bistak
Peloton Launches gamified workout on Tread
Peloton announced today the launch of Lanebreak Tread. Available to all Peloton Tread Members globally, Lanebreak Tread combines gaming-inspired fitness content and music for a fun interactive cardio workout that is tailored to the Peloton Tread. Today's announcement follows the introduction of Lanebreak Bike in 2022 with millions of Lanebreak workouts completed since launch.
Run, Jog and Walk to score points! 
Lanebreak Tread is a gamified workout where users have to match and sustain their incline or speed according to animated cues on the tablet to get the highest score possible. The experience, which is available to All-Access Members using a Peloton Tread, combines immersive visuals, fitness-inspired challenges and a beat pumping soundtrack.
Hill Climbing in a 3D environment.
This new experience takes inspiration from Peloton Instructor-led classes and leverages the Tread's hardware capabilities to provide an immersive auto-incline experience through a new Hill Moment. When entering a Hill, the Tread will adjust its incline automatically to follow the curve shown to the user in the 3D world displayed on the Tread tablet.
Pacing through Intervals  
More new features on Lanebreak Tread include a Pacer mechanic designed to reward Members for following an interval workout design, as well as updated visuals and controls that have been re-designed specifically with running and walking in mind, such as a new Tread-inspired avatar and a breadth of pace-based difficulty options. Additionally, just like the Peloton Instructor class library, Members can expect community led features such as leaderboards.
"The Peloton experience has been infused with gamification principles since the beginning, with features such as the in-class leaderboard, achievements, and streaks. Lanebreak was created to offer an entirely new workout experience that combines an expertly designed workout with immersive graphics, energizing playlists and enhanced game mechanics. Lanebreak classes are fun, immersive, and drive you to hit workout cues in a unique way," says Tom Cortese, Peloton's Co-Founder and Chief Product Officer.
"Lanebreak Tread has been informed by Member feedback and we've injected the excitement and competitive elements of gaming to create a fitness experience that is tailored to the Peloton Tread. As with all we do at Peloton, we'll continue to iterate by adding new levels and music genres."
Music you know and love 
On both Lanebreak Bike and Tread, Peloton offers its unparalleled music catalog with every Lanebeak level set to a unique playlist of top tracks and levels that are designed to follow the flow of on-screen cues and the goal or type of workout. Music genres at launch include Pop, Electronic, R&B, Hip Hop, Rock, Metal, Country and Latin. In addition, to celebrate the launch of Lanebreak Tread, Peloton will release a custom 30-minute level featuring the music of Tiësto. It includes tracks from his latest album, DRIVE, and is mixed by the iconic DJ/Producer.
"Super excited to partner with Peloton on this new Tread experience! Music has a unique ability to motivate and bring out energy when we need it most. Being active and working out is something I love to do, and the high energy in my music is the perfect fit. I am thrilled Peloton selected the DJ Mix version of my latest album DRIVE for the new Lanebreak Tread workout," adds Tiësto.
The launch of Lanebreak Tread highlights Peloton's continued commitment to expanding its diverse array of workout content, with new and innovative experiences that meet Members wherever they are on their fitness journey. Peloton Members can find Lanebreak Tread on the Peloton Tread in the 'More Runs' tab at the bottom of the tablet, as well as browse through individual levels within the on-demand class library.