Blu-ray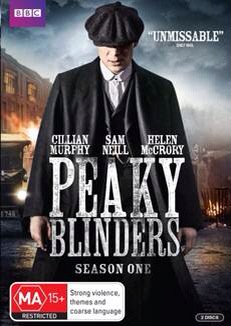 Published on August 21st, 2014 | by admin
PEAKY BLINDERS, Season 1 – Out on Blu-Ray, DVD & Digital HD 9 October
"Sharply drawn characters, the grim but oddly compelling production design and a willingness to leave behind the comforts of heritage costume drama." – THE AGE
PEAKY BLINDERS, SEASON 1 – OUT ON BLU-RAY, DVD & DIGITAL HD 9 OCTOBER
eOne are releasing Peaky Blinders, Season 1 on DVD on 9 October, and would and would like to partner with you for any DVD promotional/give away opportunities across your networks.
Peaky Blinders is an epic gangster-family saga that begins in 1919 in the lawless slum neighbourhoods of post war Birmingham. Returning soldiers, newly-minted revolutionaries and criminal gangs all fight for survival in an industrial landscape gripped by economic upheaval. Guns smuggled home from the trenches find their way onto the streets and become lethal currency. Communists don't just dream of revolution – they are planning for it and the Government is expecting it.
Sitting at the top of this industrial jungle is the Shelby family, whose many brothers, cousins and uncles, make up the fiercest gang of all, the 'Peaky Blinders'. Named for their practice of sewing razor blades into the peaks of their caps, the Peaky Blinders make their money from illegal track betting, protection and robbery.
Peaky Blinders is a dazzling picture of England, with the characters and events taken directly from the pages of their secret history. The real Peaky Blinders were a scandal and this 6-part drama series is the same.
• Stars Cillian Murphy (The Dark Knight, 28 Days Later) and Sam Neill (The Tudors)
• Commissioned for a second season
• Created by Steven Knight (Dirty Pretty Things, Redemption)
• Directed by Otto Bathurst (Black Mirror, Hustle)