Norton AntiVirus was originally released in 1991 and home computers were starting to make the transition into homes during this era and if you were lucky, you may have owned a bulky personal computer. 20 years later and technology is even more integrated into our lives as not only do we own computers but we also own other devices capable of accessing the internet from Smart Phones to tablets and even refrigerators.
No longer is the average home just limited to one PC but rather, most modern Western homes have a plethora of technological devices and unfortunately the tentacles of the ever changing threat landscape now reach these devices. From stealing personal information to infecting your PC, threats are now a common part of the internet.
Fortunately this is where Norton 360 Everywhere from Symantec comes into play which offers easy protection of up to 5 devices for 12-months. Given that a recent survey of American Households state that the average number of internet enabled devices in homes is 4.8, Norton 360 Everywhere seems to cover the average quite well.
For just $149.99AUD (June 2012), Norton Everywhere not only offers one license key to protect five devices such as your PC, Mac, Android Smartphone's and Tablets but it also offers 25GB of online storage, free 24x7 support and even a 60-day money-back guarantee should this product not live up to its expectations. Thankfully this is definitely not the case with Norton 360 Everywhere and we tested this product on a PC, Mac and an Android Smartphone.
Interestingly enough if you own an Apple iPhone or iPad, security is a little more challenging for cybercriminals but this is not to say that these devices are 100% failsafe. It's actually far from it, especially with some third party apps that can access your personal information. Nonetheless, let's have a look at the features of Norton 360 Everywhere;
Norton 360 Everywhere Features
Multi-device security lets you mix and match protection.

Lets you mix and match protection for any combination of PCs, Macs or Android mobile devices.

Defends against viruses, spam and spyware, and protects you from online identity theft.

Includes tracking and recovery for lost or stolen Android mobile devices.

Automatic PC backup to safeguard all the important stuff on your PC.

Safeguards your music, photos and other important stuff you keep on your PC.

Flexible cloud management from a single Web-based interface.
In essence, Norton 360 Everywhere is a multiplatform security suite that allows the user to mix and match their technological devices with appropriate protection. This product bundles together Norton 360 Premier, Norton Internet Security of Mac and Norton Mobile Security for Android devices.
Norton 360 Premier
Norton 360 offers a wide gamut of tools that not only stops traditional threats such as viruses and Trojan horses but also prevents other threats such as identity theft and bots. Add in back-up features, pc tune-ups, recovery tools, browser protection and this is only scrapping the surface of this powerful program. Our full review of Norton 360 can be found here which we scored an impressive 9.9/10.
Norton 360 Premier Features
Comprehensive Protection–detects and eliminates viruses, stops online threats, defends against online identity theft and safeguards your important stuff from loss.
Norton Protection System – provides four unique layers of powerful protection that proactively stop online threats before they can infect your computer.
Insight – checks where files came from and how long they've been around to stop new online threats before they can cause you trouble.
Download Insight 2.0– protects you from dangerous applications before you install them by telling you if they are harmful.
Norton Safe Web– warns you of potentially harmful websites and proactively blocks unsafe sites right in your search results.*
Automatic Backup – safely backs up your photos, music, financial documents and other important stuff to a disc, USB device or online to one of our secure data centers.
PC Tuneup:– fine tunes key system settings, frees up memory and removes unnecessary clutter from your computer's hard drive to help keep your PC running fast.
Norton Management – cloud-based management lets you download, install, transfer, update or renew your Norton products from anywhere, right over the Internet.
Norton Identity Safe – secures, remembers and automatically enters your user names and passwords as you type. Now includes an online version, so you can share logins with other computers that are protected by the latest Norton products.
Parental Controls Management – lets you track your kids' online activities through Norton Online Family, so you can help protect them from online dangers.
Norton Bootable Recovery Tool – creates an emergency CD/DVD/USB that gets your PC back up and running even if it's so infected that it won't start up.
Web-Based Backup Access – lets you download and share photos, videos and other stuff you've backed up online, anytime, anywhere, through a password-protected Web page only you can access.
Network Threat Protection – detects threats as they travel over a network and eliminates them before they can reach your computer.
Browser Protection – proactively protects you by checking for and blocking online threats as your browser loads, to stop online threats before they can do damage.
SONAR 4 Behavioral Protection – monitors your computer for suspicious behavior to more quickly and accurately detect new threats and stop them in their tracks.
Norton Safe Web for Facebook – scans your News Feed for dangerous downloads and links to unsafe websites, and warns you and your Facebook friends about them.
FREE 24x7 Support – offers you expert help and answers by phone, live chat or online whenever you need them.**
Vulnerability Protection – stops cybercriminals from sneaking threats onto your PC through security holes (vulnerabilities) in applications.
Antiphishing Technology – blocks dangerous websites that cybercriminals use to steal your identity and your money.
Bandwidth Management – limits non-critical Norton updates when you connect to 3G networks to avoid using up your monthly data allotment or causing overage fees.
Norton Pulse Updates – updates your protection every 5 to 15 minutes—without disrupting you—for up-to-the-minute protection against the latest threats.
Email and Instant Message Monitoring – scans email and IMs for suspicious links, attachments and other tricks cybercriminals use to steal your identity and your money.
Smart Two-Way Firewall – prevents cybercriminals from hacking into your PC and stealing your personal information—without constantly asking you to make the security decisions.
Professional-Strength Spam Blocking – keeps your mailbox free of unwanted, dangerous and fraudulent emails.
Network Mapping and Monitoring – shows all the devices connected to your home network, so you can spot uninvited guests using your wireless connection and/or eavesdropping on you.
Silent Mode – puts alerts and noncritical updates on hold when you're watching movies or playing games in full-screen mode on your PC.
Start-Up Manager – helps reduce the time it takes your computer to start up.
Smart Scheduler – runs scans and updates only when you're not using your PC.
Monthly Report– tells you what Norton 360 has done in the previous month to keep you safe from threats.
Power Saver Settings – maximizes your laptop's battery life by putting off noncritical activities until your computer is plugged in.
Norton Internet Security for Mac
If you own a Mac, Norton 360 Everywhere will install Norton Internet Security for Mac on your Apple computer which features all the strong protection of the PC version but targets the Apple O/S directly. With a relatively straight forward interface, NIS for Mac ensures that all facets of your protection, including web surfing and identity are kept safe.
This also includes two-way firewalls, local awareness technologies which adjusts your protection where you are (e.g. home, airport or other internet hotspot) plus traditional AntiVirus protection. Like the PC version, the Mac suite silently runs in the background and monitors a variety of Apple chat programs to prevent unauthorised users from stealing your personal information.
I must admit that compared to the PC version of Norton Internet Security, the Mac version features a similar yet user friendly layout and installation is just as easy. The only drawback for the Mac is that Norton Internet Security for Mac does not offer online storage nor a parental control facet which we would recommend to families. Nonetheless, the programs does what it should, protect your Apple computer and keeps protecting it for up to 12 months.
Norton Internet Security for Mac Features
Norton Safe Web: Proactively protects you while you surf the Web by warning you of and blocking unsafe and fake websites right in your search results. (Mac OS® X 10.7 only)
Antiphishing Technology: Blocks fraudulent phishing websites created to steal your identity and your money.
Smart Two-Way Firewall: Prevents cybercriminals from hacking into your Mac®, stealing your personal information and messing with your stuff.
Location Awareness: Lets you adjust your level of protection depending upon where you're using your Mac® (at home, the office, the local coffee shop, on the road).
Vulnerability Protection: Updates daily to stop cybercriminals from using vulnerabilities in applications and other software to sneak threats onto your computer.
AntiVirus Protection: Protects your Mac®, iPhoto® pictures, iTunes® media, iMovie® projects and all your important stuff from viruses, spyware and other threats without slowing down your computer.
Confidential File Guard: Password protects your stuff to keep it safe from prying eyes.
Daily Protection Updates: Runs in the background to protect your Mac®—and your stuff—from new, late-breaking threats.
Email and Instant Message Monitoring: Scans MobileMe®, iChat® and other IMs for suspicious attachments and other tricks used to steal your identity and your hard-earned money.
FREE 24x7 Support: Symantec provides free 24/7 email, chat and phone support for a period of one year from initial product installation.*
Protection options for Mac OS X 10.4 to 10.7: Includes both Norton™ Internet Security 5 for Mac® (for Mac OS® X v10.7) and Norton™ Internet Security 4 for Mac® (for Mac OS X 10.4.11–10.6 running on Intel® and PowerPC-based Macs)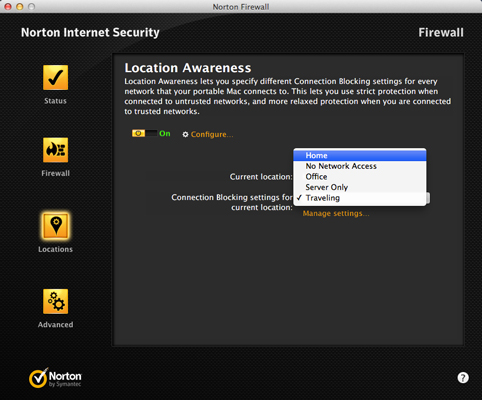 Now that our PC and Mac are protected, the next step was for our Android Smartphone. Simply by downloading the App on your phone, this installs Norton Mobile Security which monitors the websites you visit from nefarious cyber criminals who may use tactics such as Malware.
It also allows you to shop online without the threat of your banking details from being stolen. We loved the ability to block "spam text" SMS and calls from your phone with a simply setting option. Another useful aspect of this app is the SMS Anti-Theft technologies employed by the program. If your phone does get stolen, you can simply log onto any computer around the world and perform a variety of options on your Smartphone from Remote Locate, Sim Card Lock and Remote Wipe. Our full review of Norton Mobile Security can be found here.
A great thing about all three software programs/apps is that depending on your PC, Mac or Smartphone configuration, there is absolutely no slowdown when you have these installed.
Norton Mobile Security Features
Remote Locate - Shows you the location of your phone via Web or SMS, so you can find it if it's lost or stolen.
Remote Lock - Lets you remotely lock your lost or stolen phone via Web or SMS to prevent strangers from seeing your private stuff or running up your mobile bill.
Remote Wipe - Lets you remotely erase the stuff on your phone via SMS if it's lost or stolen, including any data on your phone's memory card.
Web-based Lost Notice - Displays a customizable message to anyone who finds your missing device, so you can make arrangements to get it back.
Web-based Sneak Peek - Snaps photos of anyone in front of your device then saves the images. (Webcam devices only.)
Call & Text Blocker - Lets you block calls and text messages from specific people or phone numbers.
Buddy List - Lets you identify certain trusted contacts (friends or family) who can send an unlock code to your phone.
Antiphishing Web Protection - Blocks fraudulent (phishing) websites. Protects your device and your stuff on mobile networks and Wi-Fi connections, without slowdowns or interruptions.
Download Threat Protection - Automatically scans all the apps and app updates you download to your mobile device for threats.
Norton Community Watch - Collects information volunteered by millions of Norton users to spot new threats faster, identify safe files, and provide stronger, more efficient protection.
"Scream" Locator - Lets you send a text to your missing phone that sets off a "Scream", so you can find it fast.
Final Thoughts
At the end of the day, Norton 360 Everywhere targets both business and home users who have access to a plethora of technological devices. Considering that most of these devices have some form of personal information on them, it's definitely an idea to ensure that they are protected in one form or another. One downside is that if you have 6 devices, you will unfortunately need to purchase another license as there is no option to purchase additional licenses for this product.
However this product is not for everyone but if you own multiple devices, this is one product that you should investigate. It should be noted that to purchase these programs separately, a user would be up for $259.97AUD (Norton 360 Premier - $149 + Norton Internet Security for Mac $79.99 + Norton Mobile Security 29.99), so the program is not only a huge saving but definitely gives you 360 protection of your internet enabled devices.