Norton 360 Version 6.0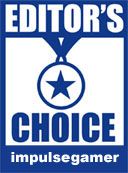 For just $99.99AUD, Norton 360 Version 6.0 offers PC users total protection from a wide variety of both known and yet to be discovered threats. This includes viruses, Spam and Trojans from the traditional threat landscape to more modern attacks such as identity theft, Bots and Malware. Add social network protection, regular back-ups and PC tune-ups and this programs addresses a variety of important facets of your computer without any compromise to performance.
Key Features
PC tune-up
Automatic backup
2 GB of secured online storage
Parental Controls Management
Online identity protection
Phishing protection
Smart firewall
Network mapping and monitoring
Pulse updates
Antivirus
Antispyware
Antispam
Worm protection
Rootkit protection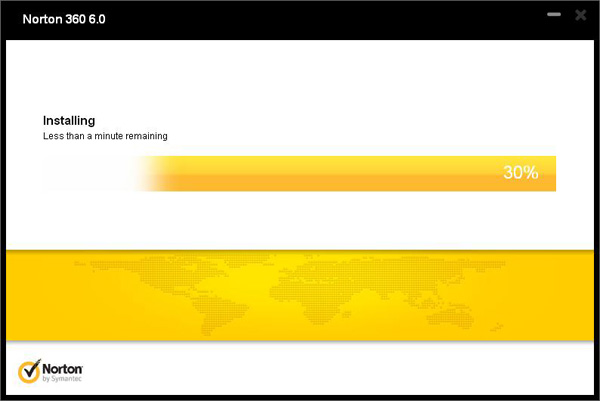 The flawless installation process
Another highlight of the program is that no matter what your computer knowledge is, the installation of Norton 360 Version 6.0 is never a daunting process. The installation on your test machine took under a minute and once installed on our PC, the program proceeded to update itself to ensure that our system was protected. I'm always surprised at how fast the installation is of the previous Norton products and version 6 was no exception to this rule.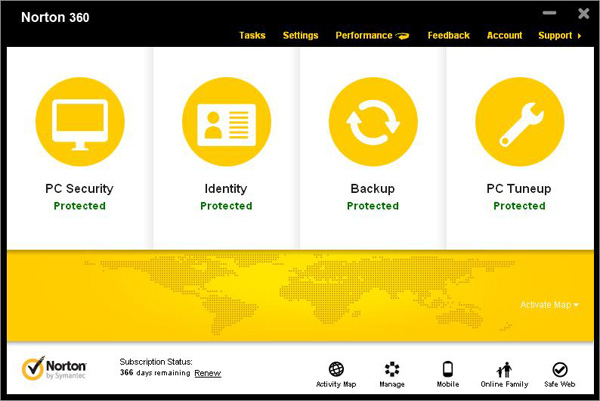 Easy to navigate interface
The interface of Norton 360 version 6.0 is reminiscent of previous editions, however there are a few new changes to the interface such as Norton Management. Given that, some users will never need to enter the interface of Norton 360 as the software silently sits in the background of your PC, protecting your PC and automatically updating the software to ensure "360" protection.
As you can see from the above screenshot, the program is divided into four main categories that include PC Security, Identity, Backup and PC Tune-up. If something is amiss, this will screen will inform the user by changing the colour of the icon to red. The program also offers two scans, a quick scan and a full scan.
A quick scan will scan only certain files on your computer, whereas a full scan will scan every single file that can be quite time consuming if you have a considerable amount of files. However quick scan is generally more than enough and with its built-in SONAR 4 behavioural protection heuristics, this will keep an eye on new files that are not yet in the database.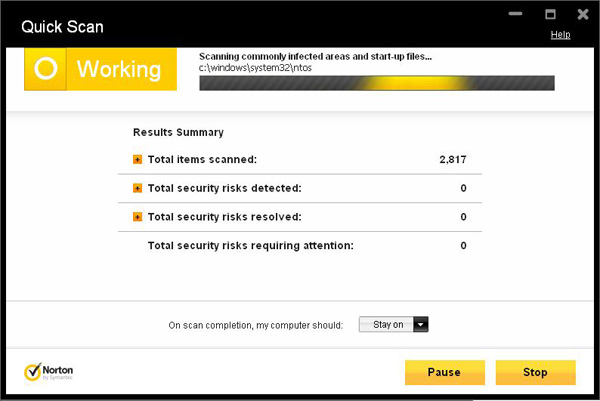 Norton Quick Scan
As mentioned, another new aspect of the interface is Norton Management which is a central hub for your Norton products and basically allows you to manage installs, transfers, renews and even PC health of all all your PC's. This is ideal for businesses or even families who may have several PC's. Norton Management can be accessed anywhere in the world. I accessed my home computers from work and it was quite easy to get this data.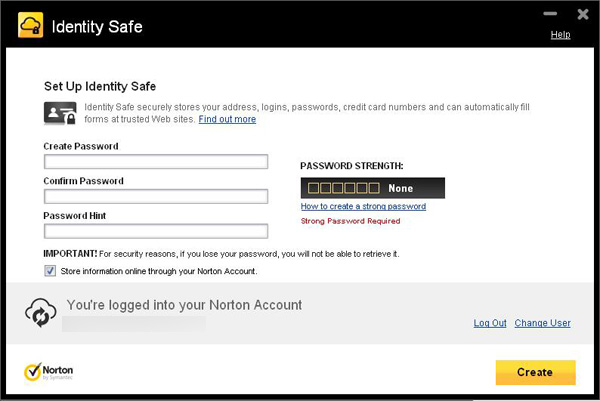 Identity Safe
As mentioned, the software protects your identity and through the Norton Identify Safe online vault, this stores your login and banking details on the encrypted Norton Cloud. This feature can even be expanded to non-banking sites such as Facebook and other important logins such as work.
What I did like about the Identify Safe of Norton was that you can log onto sites with just a click of the mouse as your passwords are stored securely. This also protects you against keyloggers. If you do come across a malicious website, Norton 360 will immediately warn you and will block the site thanks to Norton Safe Web Browser Protection. This is also similar to dodgy links on Facebook walls or e-mails.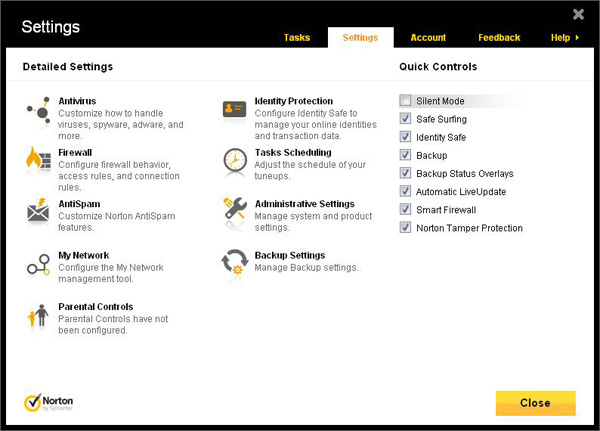 The advanced settings of Norton 360
For those users who need to tweak the software, the settings for software can be quite comprehensive as a majority of facets can be modified or disabled. One of my favourite features of version 6.0 is the new Bandwidth Management that limits when the software updates itself.
For example, if you are accessing the internet through a mobile network, the program will only download critical updates so when you are back at your base, the program can then use your office or home bandwidth. Definitely ideal to keep your usage charges down.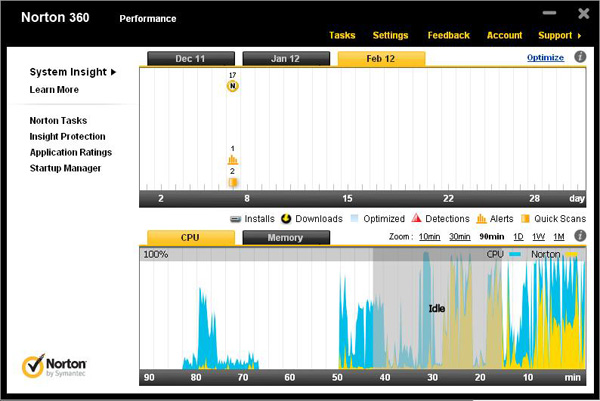 System Insight
System Insight returns in version 6.0 which not only gives you detailed information about your computer's CPU and Memory but also a three month record of a wide gamut of Norton data such as downloads, installs, detects, alerts, quick scans and optimisations.
Apart from protecting your PC from security threats, the product contains a powerful backup element which allows for both online and offline backups. From USB sticks to blu-ray discs, there are a considerable amount of choices. Add in a disc optimisation program and this defrags your drives, ensuring faster access to computer files. Add in PC Tune-up and your computer should run as smooth as the day you received your new system by removing clutter and checking start-up files.
Final Thoughts
Once again Norton by Symantec prove why they are the leader of the packs in both internet security and pc tune-up. Norton 360 provides total 360 protection from all facets of cybercrime and offers comprehensive tools to keep your PC performance top shape plus the inclusion scheduled back-ups. Add in 24x7 support, social network protection and the new Norton Management and Bandwidth Management and this software package is all you need to keep your computer safe and fast.
Features
Comprehensive Protection–detects and eliminates viruses, stops online threats, defends against online identity theft and safeguards your important stuff from loss.
Norton Protection System – provides four unique layers of powerful protection that proactively stop online threats before they can infect your computer.
Insight – checks where files came from and how long they've been around to stop new online threats before they can cause you trouble.
Download Insight 2.0– protects you from dangerous applications before you install them by telling you if they are harmful.
Norton Safe Web– warns you of potentially harmful websites and proactively blocks unsafe sites right in your search results.*
Automatic Backup – safely backs up your photos, music, financial documents and other important stuff to a disc, USB device or online to one of our secure data centers.
PC Tuneup:– fine tunes key system settings, frees up memory and removes unnecessary clutter from your computer's hard drive to help keep your PC running fast.
Norton Management – cloud-based management lets you download, install, transfer, update or renew your Norton products from anywhere, right over the Internet.
Norton Identity Safe – secures, remembers and automatically enters your user names and passwords as you type. Now includes an online version, so you can share logins with other computers that are protected by the latest Norton products.
Parental Controls Management – lets you track your kids' online activities through Norton Online Family, so you can help protect them from online dangers.
Norton Bootable Recovery Tool – creates an emergency CD/DVD/USB that gets your PC back up and running even if it's so infected that it won't start up.
Web-Based Backup Access – lets you download and share photos, videos and other stuff you've backed up online, anytime, anywhere, through a password-protected Web page only you can access.
Network Threat Protection – detects threats as they travel over a network and eliminates them before they can reach your computer.
Browser Protection – proactively protects you by checking for and blocking online threats as your browser loads, to stop online threats before they can do damage.
SONAR 4 Behavioral Protection – monitors your computer for suspicious behavior to more quickly and accurately detect new threats and stop them in their tracks.
Norton Safe Web for Facebook – scans your News Feed for dangerous downloads and links to unsafe websites, and warns you and your Facebook friends about them.
FREE 24x7 Support – offers you expert help and answers by phone, email, live chat or online whenever you need them.**
Vulnerability Protection – stops cybercriminals from sneaking threats onto your PC through security holes (vulnerabilities) in applications.
Antiphishing Technology – blocks dangerous websites that cybercriminals use to steal your identity and your money.
Bandwidth Management – limits non-critical Norton updates when you connect to 3G networks to avoid using up your monthly data allotment or causing overage fees.
Norton Pulse Updates – updates your protection every 5 to 15 minutes—without disrupting you—for up-to-the-minute protection against the latest threats.
Email and Instant Message Monitoring – scans email and IMs for suspicious links, attachments and other tricks cybercriminals use to steal your identity and your money.
Smart Two-Way Firewall – prevents cybercriminals from hacking into your PC and stealing your personal information—without constantly asking you to make the security decisions.
Professional-Strength Spam Blocking – keeps your mailbox free of unwanted, dangerous and fraudulent emails.
Network Mapping and Monitoring – shows all the devices connected to your home network, so you can spot uninvited guests using your wireless connection and/or eavesdropping on you.
Silent Mode – puts alerts and noncritical updates on hold when you're watching movies or playing games in full-screen mode on your PC.
Start-Up Manager – helps reduce the time it takes your computer to start up.
Smart Scheduler – runs scans and updates only when you're not using your PC.
Monthly Report– tells you what Norton 360 has done in the previous month to keep you safe from threats.
Power Saver Settings - settings – maximizes your laptop's battery life by putting off noncritical activities until your computer is plugged in.