PS4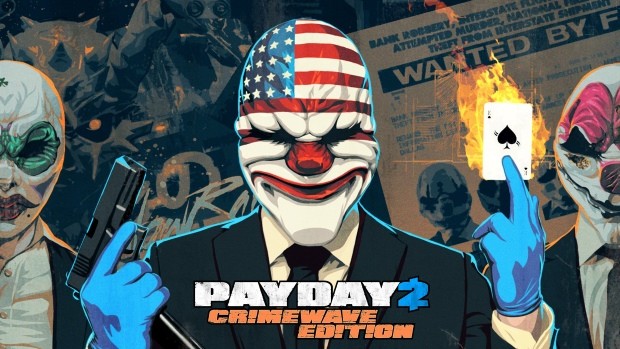 Published on July 10th, 2015 | by Rohan Fowler
Payday 2 Crimewave Edition PS4 Review
Summary: Payday 2 Crimewave Edition boasts countless new features such as the Crime.Net feature that allows for seamless and riveting gameplay sequences.
Featuring new and returning heists and missions, Payday 2 Crimewave Edition offers up intense 4 player co-op action that will satisfy any new or returning players. Though it possesses few stark differences to its last gen component, the title implements an extensive array of enticing features showcased in the game's predecessor, in order to forge a riveting and intense co-operative experience.
What about the story? Payday 2 Crimewave Edition is all about heists and though it may have some parallels with Grand Theft Auto, it's definitely its own entity when it comes to performing these elaborate heists. The idea is to work together with other players or the AI in order to make money, avoid being killed or captured and continue until you make a truckload of money while the death toll rises.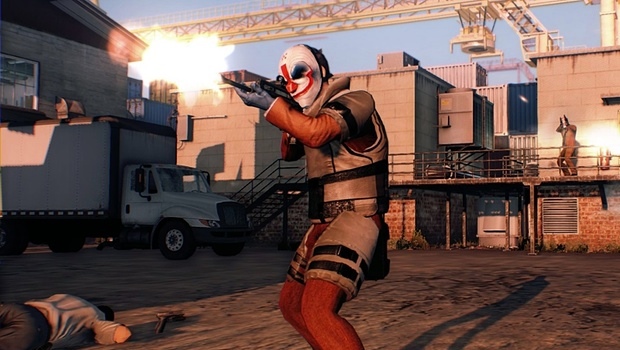 The game entails an extensive array of unique and diverse heists that players can take on as a solo mission alongside AI, or as multiplayer heists with 3 friends of their choice. However certain missions put a poignant emphasis on stealth tactics and obligate the player to utilise certain traps and cameras to their advantage, in order to attain their loot and abscond the area much more swiftly. You also need to crack safes, locks and even take hostages while you perform these heists.
Payday 2's main menu is styled as a fictional website titled Crime.net, in which various diverse missions periodically appear as contracts in the map of Washington. Players have a wide array of choices regarding the game's contracts, as they can forge new and unique missions, join another player's game, or utilise the game's money transfer system to purchase specific contracts.
Each contract will possess a specific difficulty level, ranging from level 1 to 5, each with an increased reward and experience payout amounts, as well as pertaining to certain play styles. The game also contains a decent levelling system that allows you to level up, unlock additional skills. Furthermore Payday 2 Crimewave Edition gives the player several options in terms of load-outs like different guns and all sorts of goodies to help with your heists.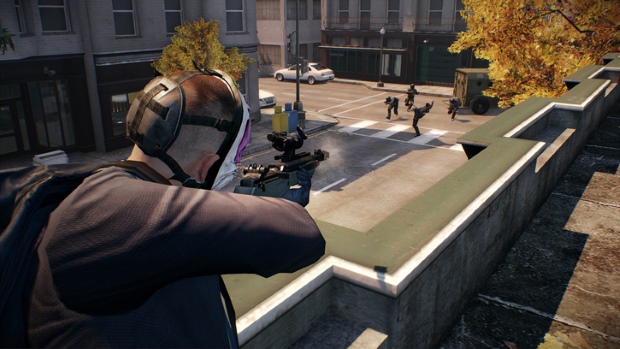 Despite being prompted to utilise stealth for the duration of each mission, players can still opt to use more complex options such as the ability to emit a poisonous gas into the surrounding area knocking out all who inhale its noxious stench. As well as this, players also possess the ability to utilise their diverse arsenal to eliminate all surrounding enemies allowing them to abscond the area with ease.
Throughout the game's heists, players will encounter various diverse and common enemies such as Swat Teams, DC police officers and FBI teams. However on sparse occasions players will be pitted against GenSec private security contractors, whom will partake a far more diverse arsenal than their AI brethren, making heists more difficult to abscond no matter what form of entry you try.
If players succumb to their putrid injuries, they will become incapacitated and will require their team-mates aid if they wish to continue the heist. However if they are left unattended for a long duration of time, the player will be transferred into custody, severing them from the heist for the foreseeable future. A job/heist will be marked as failed if all players are taken into custody which means you need to use teamwork to triumph.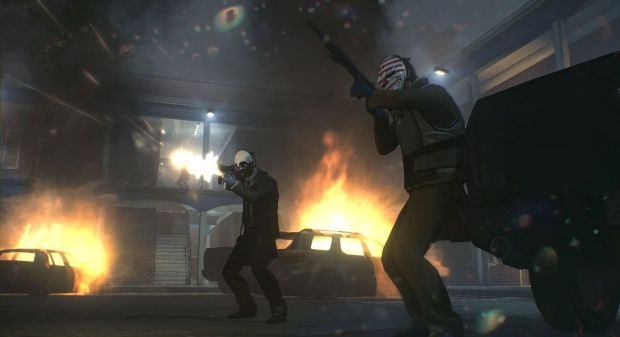 Following the completion of a heist, the player is presented with three different bonus cards, named Paydays. These cards come in the forms of bonus pay, weapons/weapon upgrades, or new masks, allowing the player to drastically alter their character.
Throughout the game players are also awarded with large sums of cash, of which 20% is given directly to the player to purchase equipment for upcoming heists, whilst the remaining 80% is placed into their offshore account which acts as part of the player's "retirement" fund, a crucial part of the story. As players progress through the game they accumulate experience points, allowing them to attain new abilities and skills from their personal skill tree.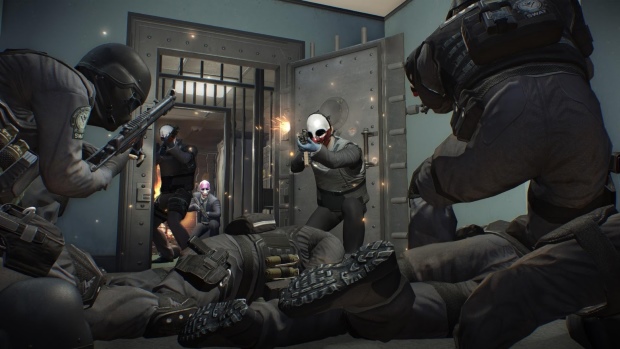 Despite the fact it possesses a wide array of remade traits, the game harbours little graphical potential and is ridden with game breaking bugs that will consistently affect the player throughout matches. With that said, the game does support 1080p but it definitely looks like a last-gen game but is still acceptable.
Final Thoughts?
Payday 2 Crimewave Edition boasts countless new and revolutionary features such as the Crime.Net feature that allows for seamless and riveting gameplay sequences. All in all, it's a good experience on the PlayStation 4 console but if you played the previous game on the PC, PS3 or XBox 360, than you might want to pass unless you didn't access the new DLC.
Key Features
Additional content. A slew of DLC brings a huge range of updates and upgrades to the Crimewave Edition, with a multitude of heists, weapons and gadgets that extend the experience. DLC In total:
Armored Transport
Gage Weapon Pack #1
Gage Weapon Pack #2
Gage Mod Courier Pack
Gage Sniper Pack
The Big Bank Heist
Gage Shotgun Pack
Gage Assault Pack
Hotline Miami
Gage Historical Pack
The Diamond Heist
Clover Character Pack
The Bomb Heists
Dragan Character Pack
The Death Wish Update
The Election Day Heist
The Shadow Raid Heist
John Wick Character Pack
The Hoxton Breakout Heist
Old Hoxton Character Pack
The Infamy Update
The Diamond Store Heist
The White Xmas Heist
The PAYDAY 2 Soundtrack to play in game.
1080p Visuals bring heisting into glorious full HD on both Playstation 4 and Xbox One. See every bank note fly and Feel every bullet blast past your head!
PAYDAY Loot – Finishing a job isn't just an accomplishment to be proud of. After a successful heist gamers will also earn rare and powerful new equipment such as masks, weapons mods, mask modifications and a variety of other accessories.
Mission Assets – Every job has a set of purchasable assets that can alter and enhance the heist such as a faster escape car, blueprints or even inside help.
Character Upgrades – The signature PAYDAY mask can now be customized into tens of thousands of different combinations, color and material variations and there is a bigger selection of gear to wear for the discerning high-fashion heister.
Multistage Jobs – Many contracts feature several separate stages allowing for mission forks and different outcomes depending on what the players accomplish in each individual stage.