Events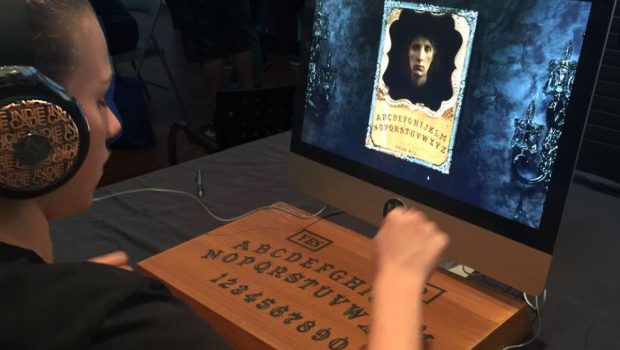 Published on September 21st, 2019 | by Alex Novus
PAX Australia will present The Black Widow
The Black Widow will be featured as a PAX Rising Official Selection at PAX Australia in Melbourne, October 11-13, 2019.
Created by Flux, The Black Widow gives players an unflinching look into the trial, sentencing, and execution of Louisa Collins – the last woman to hang in New South Wales.
The Black Widow booth at PAX Australia will showcase the custom wooden spirit board controller that became the talk of IndieCade 2017.
Hearing Louisa's own words – faithfully reenacted from original court records and letters – players have the opportunity to make their own assessment of Louisa's purported killings and generate their own lines of inquiry through an onscreen "spirit board" – akin to the famed Ouija board that debuted as a parlor game in 1890 (less than one year after Louisa Collins was executed) and has been featured in a plethora of modern horror films. More than a game, The Black Widow challenges players to reflect on their own prejudices in reconsidering the verdict of a contentious legal case. Was the accused a callous adulteress, drunkard, and liar – or a victim of sexist expectations and misogyny?
"With The Black Widow, I wanted to explore unlimited choice in character conversation over preset options for more imaginative role-playing, complex storytelling, and character development," says Richard Fox, founder of Flux. "As an experienced historical storyteller, I'm always looking for new ways to interact with characters from history. The Black Widow distills the insights I've learned so far in an instantly recognisable format that dares players to evaluate the facts of the case on their own."
Key Features

• Communicate with a convicted killer.
• Ask questions using topics via an onscreen spirit board.
• Delve into a complex and dramatic true crime murder mystery.
• Immerse yourself in a faithful, dramatic recreation of a Victorian Era court case.
• Enjoy vivid graphics and an unnerving, atmospheric interface.