Events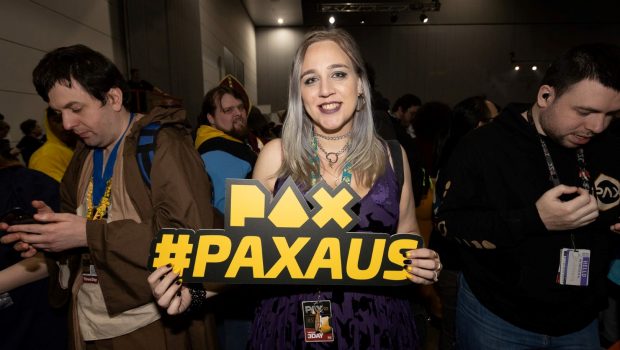 Published on October 7th, 2023 | by Adrian Gunning
PAX Aus Celebrating 10 Years With Sunday Tickets Still Available
The 10th anniversary of PAX Aus has already 'welcomed home' thousands of gamers, cosplayers and pop culture fans to the Melbourne Convention and Exhibition Centre where the theme of stories and memories made was apparent throughout. Trending No. 1 on Twitter, with limited badges still available for Sunday, there's no denying that PAX Aus continues to inspire and excite the Australian audience.
Renowned voice actor, Erika Ishii, the Storytime Keynote speaker for PAX Aus 2023 said in her keynote, "You need to live life to the fullest and experience everything as all those experiences make you a better storyteller."
And so far PAX Aus 2023 has delivered lots of new experiences ensuring the PAX Aus visitors have lots of stories to tell.
Whether it's learning to become a One Shot Dungeon Master, taking part in a Live Action Roleplay (LARP), being the first to play Super Mario Bros. Wonder or Star Wars™: Unlimited, trying out the latest and greatest local games at the PAX Indie Showcase, PAX Rising and PAX Collaboratory, PAX Aus is a buzz with new experiences and shared stories.
With hundreds of panels, as well as the awe-inspiring Expo Floor, the Mario Kart 8 Deluxe AU/NZ Championship live final and the Cosplay Central Crown Championship Finals taking place, Sunday at PAX Aus has to be the 'must have' ticket in Melbourne.
There are also opportunities to see well-known streamers, The TOS Girls at a panel and Meet and Greet, enjoy a Fireside chat with Tenchu creator and President of Acquire Games, Takuma Endo, and see a preview of Plucky Squire, a game being developed by All Possible Futures (part Aussie team) and published by Devolver Digital.
PAX Aus 2023 also features huge interactive and 'very slick' installations from the likes of Nintendo, Aftershock and SEGA and a much larger representation of Aussie devs and their games than the 2013 version, demonstrating the continued growth of the Aussie gaming industry.
The legendary gaming con has come a long way since its first event at Melbourne Showgrounds. But the one thing that has clearly stayed the same is how the community feels about this event with visitors and panellists explaining that PAX is where they feel like they 'belong,' where they realise their passion for games, discover new games (and friends) and genuinely feel like they are being 'Welcomed Home.'
As Erika Ishii said, "We have a deep need to be with each other, share stories and share in something bigger than ourselves." If you want to know what PAX feels like, PAX feels like that.
Here's what you're missing!