Events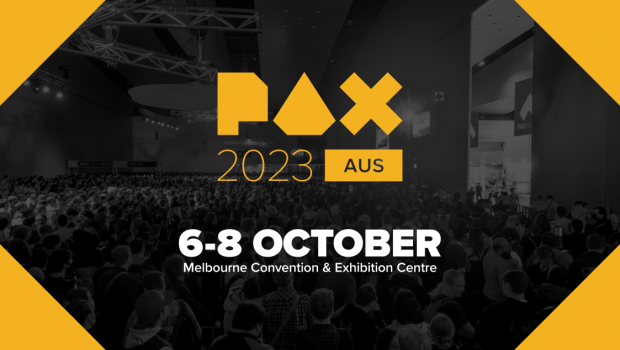 Published on October 8th, 2023 | by Daniel
PAX Aus 2023: Day Three!
We're down to our final day at PAX Aus, but don't think it's gonna be a slow one. There's still so many things to do, so try not to be sad as we dive into some indie games, check out the last few panels on offer and catch the last glimpses of top tier cosplay from all forms of gaming and pop-culture media! We'll have a full review of the weekend as a whole, once the event concludes:
We started our day off by hitting up the Main Hall, it's time for my yearly PAX Sunday tradition of playing as many indie games as I could get my hands on. There was a lot to digest this time around, with games from both Australia and New Zealand taking centre stage, including some made right here in Melbourne. Of course, that's not all that was on display. With my partner in tow, we zig-zagged our way through the displays ogling the different games on display this year. I'll go ahead and take the liberty of listing the ones that made the biggest impressions:
Ailuri:
A beautifully hand drawn 2D platformer with the most adorable fox. From what we could gather of the story, our little fox is left alone to face some dangers out in the wild, there are monsters about and it's up to our little furry friend to venture out on their own. Survive the dangers, rescue various animals and defeat the evils spreading across their lands. It's reminiscent of other games of similar styles, like Ori and the Blind Forest. Its biggest feature that I liked is that it's co-op, from what I learned it's designed to be shared and split-screen co-op too, meaning my partner and I should be able to play together no matter where we are. It's coming to the Switch next year and is also slated to come to Steam as well. This is one game I'm looking forward to as my partner is always nagging me to get other games for us to play together that are a bit less stressful. The art is gorgeous and the controls are simple yet interestingly challenging at times.
The Godfeather: A Mafia Pigeon Saga
This game, I learned about at the GCAP (Games Connect Asia Pacific) I was attending just a few days prior to PAX. In one of the seminars about taking funny seriously and making funny games. Rick Salter of Hojo Studio gave an excellent panel that really struck a chord with me about the process of making funny games and being able able to turn them into serious contenders. The Godfeather, is a game about pigeons. Who all believe they're part of a mafia smuggling ring, importing bird seed illegally. And that there are rival gangs and the feds are out to get them. What's the aim of the game? It's pretty simple, cause chaos. How? You're a bird, how else? Rain poop from the sky like nobody's' business and don't forget to swoop anyone who gets in your way, to strike fear into the hearts of your enemies and show them who's boss in this neighbourhood. The game has a lot going for it, simple and easy to pick up controls; swoop, dash and poop. Straightforward mechanics, cause chaos by swooping, pooping on everything. And when the feds come after you, hide in the bushes. There's also boss battles, collectables, currencies for consumables and customisation. I love that you can deck your pigeon out in all kinds of colours and outfits. I love a game that doesn't take itself too seriously, but seriously commits to giving the player unbridled and unhinged fun.
Copycat
This immediately reminded me of Stray, you play as a cat, obviously. In a narrative driven game that's perfect for those cold rainy nights. Snuggled up with your furry friend, with a mug of hot chocolate and controller in hand. The story follows Dawn, a cat who would much rather be in the wild, than be adopted all over again. But she has second thoughts when she's adopted by Olive, a lonely older lady mourning the disappearance of her last pet. The two form a deep bond before Olive becomes ill and a stray cat steals Dawn's place in the home. Cast out and alone, Dawn goes through a ton of different emotions, from loss, to love and finally, letting go. With incredibly simple controls, the game presents itself as more as an interactive journey than an adventure game. Though it definitely has elements of the latter. With a relatively simplistic design, the game focuses heavily on colour, lighting and moment to moment activities to really drive the key messages of loss, loneliness and love home. As a cat owner, I can't say no to a good cat game, so this one's already sitting in my wishlist ready to pounce on it as soon as it releases.
Solium Infernum
Prepare yourself for Solium Infernum, the grand strategy game of politics, intrigue and betrayal, set in the ultimate arena of Hell. You are one of six archfiends, vying for control of Pandaemonium, the seat of the now vanished Prince of Darkness. Gather your armies, choose from one of six unique archfiends, each with their own tools of trickery, power and deception. And play this turn based strategy game, with striking visuals of red and black. Incredibly detailed characters and crafted cutscenes, straight from the depths of hell itself. Master powerful sorceries, or become a wrathful warmonger. Use Events, Rituals, Diplomacy and Schemes wisely, as you make your choices and specialise your play style with Power trees that unlock dark powers. Play solo, or bring five other friends with you for an all out torturous war amongst you. Solium is different to other RTS games, taking the turn based route puts a larger emphasis on building strategy over time, perfect for those types of people we call turtles, in reference to their desire to sit back and let everyone else duke it out until they've built up an unstoppable army. In other words, it should be perfect for me. I didn't get a whole lot of time with this one, as is the nature of RTS games, to get a true representation of the game one must spend more than a few minutes trying it out. It's definitely one that I have my eye on and thankfully it has a demo available on Steam right now. I'm even downloading it as I write this on the side, if RTS games are to your liking, do give this one a try!
With a few games in our system, it was off to our only panel for the day. D&D but we do every roll for real, a hilarious panel where they acted out a oneshot adventure. But instead of making a roll for an ability check or save. The person making the check was tasked with making the check/save in real time. Making a check to avoid being frightened? Try to stare down the DM as he suddenly, without warning rushes towards you with murderous intent. Trying to persuade the duke that you're not there to murder him and take his wife for yourself? Persuade the audience to make a specific sounds without directly informing them what said sound is. What ensued was a hilarious play of spontaneous comedy. Coupled with donations from the audience including messages being played out on screen whilst the actors played their parts. From Bunnings advertisements, to an obsession with a woman named Georgia, nothing was left off the table in this crazy mess of D&D adventures, meets who's line is it anyway, meets live comments from the audience. Not a single member of the audience left that theatre without letting off a laugh at least once, most left in stitches. A truly amusing way to close off the lazy PAX Sunday.
With our last hour upon us, we ventured into the main hall one last time to make some last minute purchases and for me to visit the JBL booth to collect my next piece of gear to be reviewed. Meeting with the JBL team and collecting my JBL Quantum 100P headset, which I'll be testing out from today onwards, review to follow soon. I was even gifted a couple tries at the claw machines to win myself some swag. After a couple of dismal attempts, the staff were kind enough to give me some swag anyway. Thanks guys! From there, my partner bought herself a lovely figure from Anime works while my photographer wrapped up his day and we headed out for the final time. Bidding farewell to PAX for another year, a saddening feeling creeping over me as the event came to a close and the realisation that it would be another whole year before we do it all again at the MCEC.