Events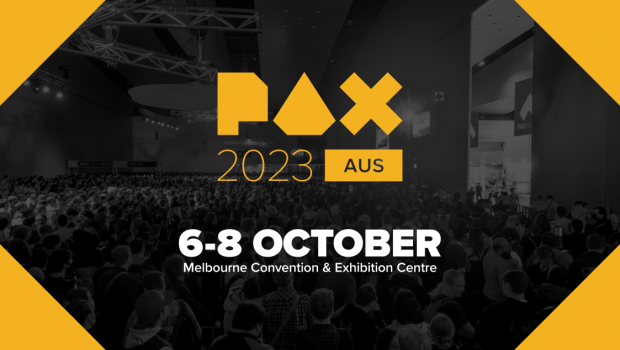 Published on October 6th, 2023 | by Daniel
PAX Aus 2023: Day One!
PAX is back and we're doing things a little differently this time around, so sit back and relax. Get your fill of the days' antics and pictures. We'll have a full review of the weekend as a whole, once the event concludes:
The day began with a tour of the main halls, with our early access granting us a whole hour of free access to check out all the booths, play some games, chat to some of the organisers before the masses came steam rolling through the front door. It's always an interesting perspective, getting the chance to see what everything looks like, seeing all the empty booths, eyeing all the last minute preparation from all the stalls as they prepare for the wall of flesh, that is building just outside the closed off waiting line, ready to charge into the hall the moment the gates open.
I sent my photographer one way, whilst I headed in the other, each grabbing photos of the booths and stalls in all their glory. PCs whirring quietly, neon lights pulsing, controllers polished and ready to feel the grip of a thousands pairs of hands. As each new player steps up to try their hand at all the various games on offer over the next 72 hours, the greatest 72 hours of the year for a gamer.
There's nothing quite like a countdown to get the crowd hyped up for the event we've spent a whole year planning for, the atmosphere becomes electric. Akin the the hair raising, goosebump inducing feeling sports fans get for a grand final or big name concert. It's simply euphoric.
The moment the count reached zero and the crowd erupting into cheers was just an amazing moment. As gates opened wide and rivers of gamers flooded into the hall, it's like those scenes on the news, whenever a new tech product comes out or there's a super special sale with huge discounts. The line and subsequent charge into the hall reminded me of those moment. The only difference being that everyone is calm, well behaved and waltzes in with an almost swag-like confidence. Everyone is here for the same reason and knows there's no need to rush, which is very heartening to see. Not that the lines weren't full barely minutes after opening, however. For as always, there is plenty to see and do and everyone is keen to get as much of the action as they can and I am no different.
With my partner now at my side and media access no longer in effect, we strode into the hall and I showed her all of the booths and stalls that lined the length of the main hall. This is only her second time at PAX ever and the awe is not lost on her, with a twinkle in her eyes as they darted from booth to booth, sampling wears and mentally noting down all the games she wants to try out later. I almost felt like I was experiencing it for the first time all over again, vicariously through her eyes. After having her fill touring the main hall, it was off to the first of many panels planned over the entire weekend.
Our first panel was Storytime with Erika Ishii, where she performed a skit with information from a few questions she had prepared in advance for the audience to answer. Before answering questions about her career, giving inspiration to the audience whilst cracking a few good jokes along the way. The perfect keynote to start the weekend off. From there we had a break to our next event, so it was off to a quick lunch, before attending the FFXIV Cosplay meetup, we'd spotted quite a number of Final Fantasy 14 cosplayers as we first arrived, surprisingly as much, if not more than there was last year. This despite the smaller presence by Square Enix as they were busy preparing for Fan Fest in London is just a couple weeks time. It was great to meet a bunch of players, compare experiences and even meet a few friends from past and present FCs (XIV's equivalent of Guilds)
Then it was off to Fireside with Mick Gordon, where we joined New Zealand podcaster Kiwi Talkz on a retrospective 10 years of PAX. Mick Gordon was there when it all began, so many years ago. And that's when it occured to me, I've been attending media for pax for 8 years, granted that we lost of of them to covid. Mick talked about his experiences, inspirations and unique methods to his music and answered fan questions from the audience. It was a strange sensation, like meeting an idol, a celebrity I admire. Stranger still when you remember that he a home brewed Aussie talent, casually walking around the convention. Who was all too happy to stop and greet people, to answer questions and even take photos with fans! Needless to say that I found myself a little star struck.
After a break for a late dinner, it was off to our final panel of the night Acquisitions Inc. plays Call of Cthulhu feat. Erika Ishii. Where the team at Acquisitions Inc. enlisted the help of special guest Erika to investigate the disappearence of a sacred artifact from an auction, only for the item to belong to that of a cult, or rather, the one thing controlling the cult. Silly adventures ensued in this short two and a half hour panel, many laughs were had as their team investigated and slowly lost their minds to some otherworldly dark entity. Did they make it out alive? Even as day one came to a close, nobody knows..