Events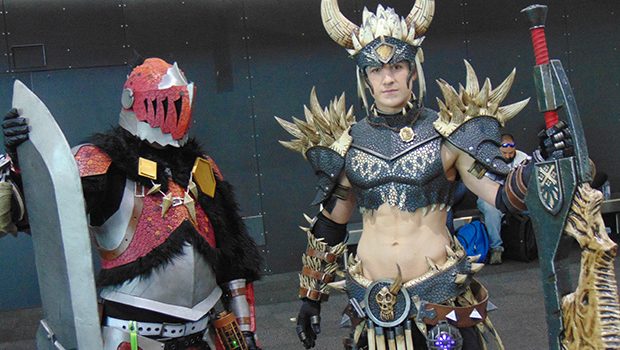 Published on October 13th, 2019 | by Daniel
Pax Aus 2019 Day Two
Day two of PAX Aus started like many previous years, with Penny Arcade's: Make a Strip panel. Where Kris and Jerry answer questions written by audience members and fans alike. All whilst Kris draws a comic strip relating to their current DnD antics. It's a great way to start day two, which is always the most hectic day of the weekend. A relaxed panel full of laughs to ease into the day.
Saturday at PAX Aus baffles me every year, it's the only convention, I think personally, that is still seeing massive growth. With the emergence of eSports, more streamers than ever before and generations of gamers now. The number of attendees, across the whole weekend now, not just Saturdays, have exploded. It's destroyed the stigma around games, the average age of gamers now is mid twenties, to late thirties. These days most people are playing games, be it on their phones, on high end PCs or on console. It's a definite sign that gaming is no longer a stereotype and that its become a professional sport of sorts taking on the world stage and saying loud and clear we gamers are here to stay.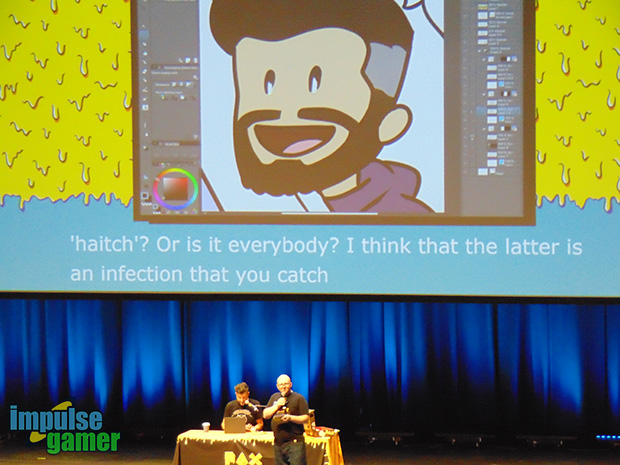 From there it was straight into my first media appointment. Riot games were hosting a private luncheon with a number of media outlets and I was lucky enough to be invited. I can't tell you all the details about it, because we're bound by strict secrecy, that is punishable by death! But what I can tell you is that they're working on an awesome looking new project to follow up after the amazing success League of Legends has given them.
While I can't fully assume how popular this game will be, what platforms they intend on releasing it for, their price points and just when it will be released. I know that I found the game addictive and can't wait to get a shot at testing it out fully. There will be an announcement very shortly about this project from the developers and you can be sure that Impulse Gamer and hopefully, yours truly, will be right on top of it. So stay tuned for more on that.
Is there a battle royal mode in this game?
With a thirty minute gap to my next panel, I ran around grabbing some shots of some amazing cosplayers. Then it was off to hear people pitch their good, terrible or terribly good, game ideas to a panel of experienced game journos and developers. Most of the guys who pitch ideas see the humour in this, some actually had some good ideas, while others may or may not have put too much or too little thought into their design. I think we can all agree however there needs to be an Australian exclusive DLC for Untitled Goose game where you're an Ibis, or Bin Chicken as it's better known by, flying around making life difficult for Queenslanders. Oh, and don't forget about the Battle Royal mode!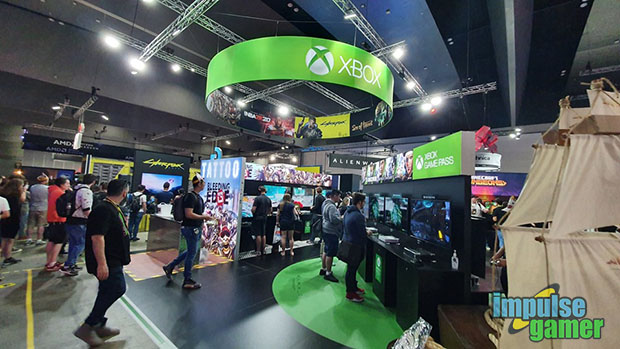 From here I was supposed to go check out CD Projekt Red's Cyberpunk 2077 showcase panel, however, it was capped before even half the crowd made it in. Which was disappointing. But it just goes to show how much anticipation has been built and continues to build, as this Triple A title draws closer to its release in early 2020, I for one am definitely among the thousands thirsty for more. I'll have more on Cyberpunk in my day three summary so please do check that out.
Instead, I met back up with the friends I had just left and checked out Fakin It II: The Reviewerning a panel where they rip into some popular games and try to hide who really hates each title. An amusing panel, gamers have never been afraid to share their opinions. And this panel is a great representation of that. After they were done trashing our beloved games, they handed the mics over to us. Allowing us all a safe place, without fear of judgement to have our own harsh opinions about games that are usually highly acclaimed.
A dinner and a couple of refreshments later and we were down to watch a panel of awesome ladies, play some more bad dating sims.
Our poison? The only dating sim where fast food is apparently a master food; I love you Colonel Sanders! The title makes it seem obvious and it doesn't help that they made Colonel Sanders an absolute hunk of a man. There was a child chef, a talking dog, some flamboyant rivals, the generic best friend and then the godly Sanders himself. It's always amusing by this time of night, to attend the less safe for work panels and just watching and listening to how silly we can all get about adult humour.
The crowd was so determined to fail, we got a game over in about 30 seconds flat. After another attempt, we ran over time and still didn't get far enough to corner the Colonel and profess our love. But as always with these bad dating sims, the journey is more important than the destination. And it was a hilarious journey, I can wait to see what terrible games they grace us with next year. We closed off the day by finding out just what video game cryptid would make the best lover. Let's be honest, the minotaur always wins.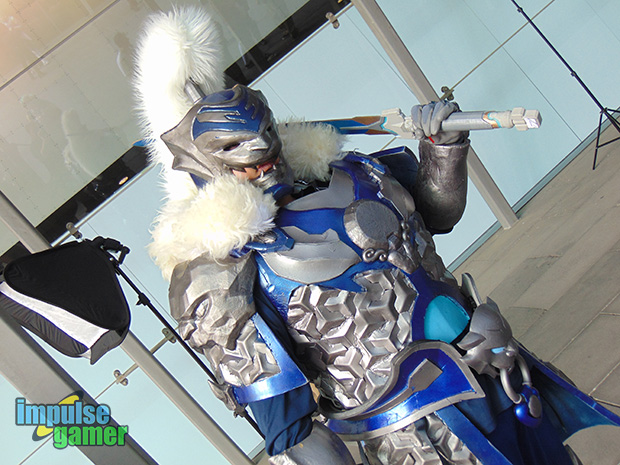 Day two is basically always the busiest day, so I usually like to take it easy. Take photos, view panels, escape the lines as much as possible. As always, please checkout the amazing cosplay below and check out their other works by checking out their Instagrams, you can find the list below. Not all of them have social media so please do head on over to Melbourne Cosplay and NSW cosplay groups to find the rest.
Cosplayers featured; NateOK, Wright_Cosplay, Izzyforge, Fason_mreeman, Leiscrafts, Cospasifik, Gavin_Giles_, Fifty_Face_Jayce, Porateo, Cosplay_Pyro, Roxas_Wind_Cosplay